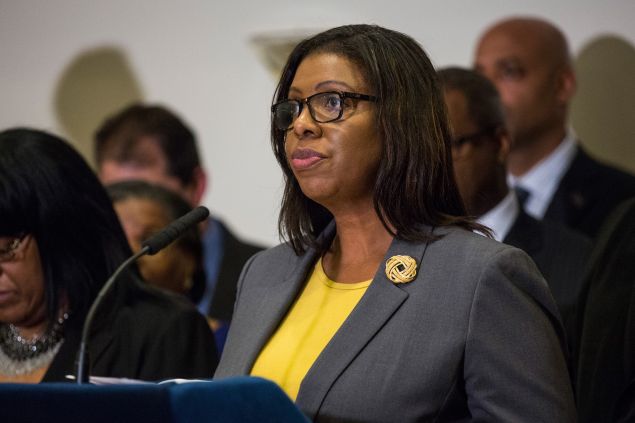 Assembly Speaker Carl Heastie is not the only elected official who has had "enough" of the long-running feud between Mayor Bill de Blasio and Governor Andrew Cuomo.
Public Advocate Letitia James says it's time to "heal the rift" between the two politicians for the sake of the city and the state—saying it was the first step, in her mind, to increasing diversity in the city's government and its contracting.
"There are a number of questions that I have as I travel everyday in this city, and it's beginning to concern me, the growing income inequality," James said. "So how would I adjust this? First, we need to heal the rift between our governor and our mayor for the sake of New York State and New York City. And they should be allowed to play in the same sandbox so that all of us can benefit."
Ms. James comments, which garnered significant applause, came during a conference hosted by City & State exploring contemporary issues surrounding diversity, with a focus on contracting opportunities for minority- and women-owned businesses.
"These political games that individuals are playing are having a profound adverse impact on the quality of life in the state and the city of New York, including but not limited to the crisis of affordable housing, growing homelessness, the lack of supportive housing and…MWBEs," she continued.
The public advocate continued by offering up plenty of her own policy ideas on how to address the city's diversity issues, in what sounded a bit like a preview of a Letitia James mayoralty might look like. Ms. James, the first black woman elected to citywide office, is a natural candidate for City Hall someday—though her historically close relationship with de Blasio makes her less likely to challenge him directly in a primary than some of the other candidates bandied about, like Comptroller Scott Stringer or Bronx Borough President Ruben Diaz Jr.
Today, she shared a number of concrete proposals to better tackle the issue of increasing opportunities for MWBEs—an area where she has been critical of de Blasio—and more generally aimed at increasing diversity throughout the city, including setting up a public-private partnership and a point person who would be responsible for increasing opportunities in the private sector.
She also said she would hire MTA Chief Diversity Officer Michael Garner as the chief executive officer of the city of New York and that he would be tasked with ensuring every city agency is diverse as well as establishing a metric system to report on outcomes in the city. She proposed that the city consider adopting a system similar to the NYPD's CompStat program for tracking contracting with MWBEs.
The public advocate also said she would hire a chief diversity officer for the Department of Education in order to address segregation in city public schools, which she said is more rampant now than it was in the 1960s and the 1970s.
"There's a number of initiatives that I have in my head right now," she said.
She rattled off her accomplishments such as serving as a counsel to the Black and Puerto Rican Caucus in Albany where she said they rewrote Article 15A of the state of New York to promote diversity in the contracts in the state and her work in drafting Local Law 1—a law that governs the city's MWBE program—while serving as councilwoman in Brooklyn.
She also said that as public advocate, she had called on the city to hire a chief diversity officer and that it ended up happening, in the form of Carra Wallace, chief diversity officer for the office of Comptroller Scott Stringer.
City Hall has not yet appointed a full-time chief diversity officer, although former counsel to the mayor Maya Wiley served as the director of the city's MWBE program—and some said she wore too many hats. Jonnel Doris, a senior advisor, currently serves as the city's MWBE point person.
James said she was trying to make her tenure as the first black woman to hold her office count.
"It absolutely would and absolutely means nothing if I don't do anything with this title, which is why I've been pushing for diversity for a very long time," she said.
During the panel that explored strategies on workforce diversity, the public advocate also said it is "unacceptable" that the city does not have a legal relationship with subcontractors and that it was "abysmal" that out of a $17.8 billion procurement budget, less than 4 percent was awarded to businesses of color.
"I've urged this administration, my friend, my colleague…Mayor Bill de Blasio, to do more to increase WMBEs in the city of New York because if you are committed to addressing income inequality, yes, we can support policies and practices and do legislation, but the best way, the best way to promote and to advance income inequality is to make sure that we contract with WMBEs because WMBEs tend to hire their own," she said.