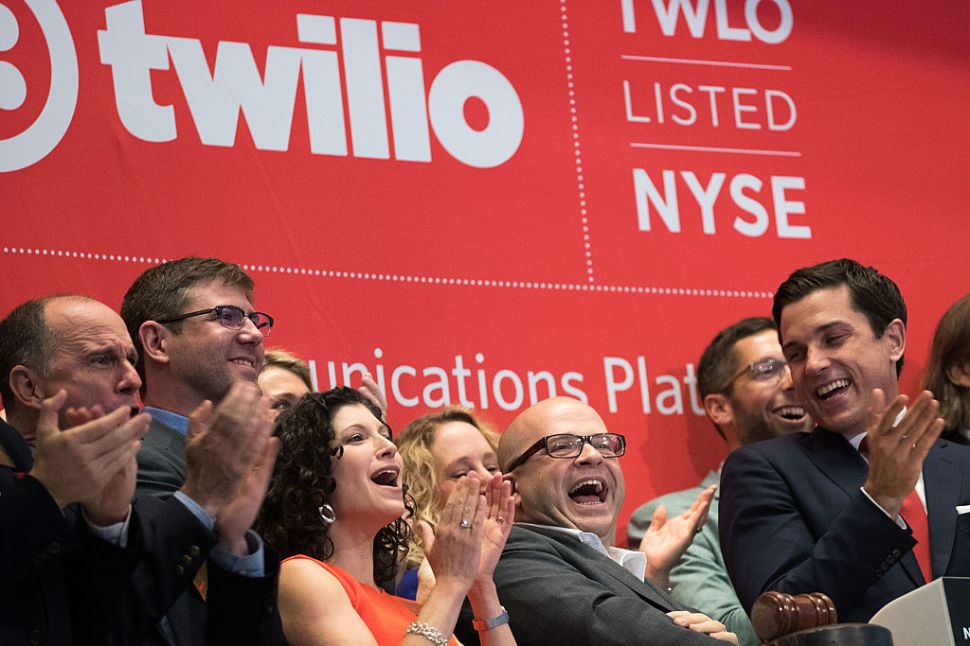 Not all magical creatures are equal. Some unicorns are bigger than others, but the little ones have strength in numbers.
In February, we brought you a list of the 13 American tech unicorns valued right at one billion dollars, on the theory that keeping an eye on this set of companies could help gauge the health of the overall tech ecosystem. Here's a roundup of significant news of each of the littlest unicorns since, their names in bold for easier skimming.
Exits
Retiring from this list, Twilio exited on June 23 with the first venture backed IPO of the year, joining the New York Stock Exchange. The company makes it easy for other companies to integrate their products with telephony services, such as talk and SMS. With all the talk of bots, the game seems theirs to lose.
Sales software company Apttus hired a new CFO (formerly of fellow unicorn, ZScaler) to lead it into a 2017 IPO, according to Marketwatch. Fashion loyalty startup JustFab also hired a new CFO with IPO experience, according to the Wall Street Journal.
New littlest unicorns
ForeScout joined the list in January in a late stage round. The cybersecurity company guards the attack surfaces created by internet of things devices.
Stealth autonomous car startup Zoox joined the club in May, with a $200 million Series A round. Its whole website is just a logo with a link to an email address (safe bet it's pre-revenue).
SMS Assist, which connects property owners to service providers, joined the unicorn club this month, with its $150 million Series D round, led by Goldman Sachs.
Acquisitions
Mobile security firm Lookout acquired mobile security firm Bluebox in April. An executive at security giant RSA, Niloofar Razi Howe, said on the Cyberwire Podcast that a "bloodbath" is coming in the sector. What she meant by "bloodbath" was lots of acquisitions. Which is often the sort of bloodbath in which founders walk away with a fat sack of money (though not always).
Leadership
In April, a new CEO took over at Mode Media, replacing one of its co-founders, Samir Arora, according to Techcrunch. The company makes a number of websites covering consumer oriented topics. A longtime staff member at the company, Jack Rotolo, took over the position. He was announced as an "Interim CEO," but the company appears to have dropped the "interim." An April 2 archived version of the company's leadership page shows him listed that way, but an April 10 version simply says "CEO." Mode was not immediately available for comment. Internet oldheads will appreciate that Mode is the proud owner of Ning, the customizable social network that everyone used for a minute in 'oos, until they stopped.
Eventbrite co-founder Julia Hartz took over as CEO in April from co-founder and husband Kevin Hartz, who remains on the board.
Partnerships
23andme announced that its been selling pharmaceutical companies access to its DNA library, the largest in the world, according to the MIT Technology Review. The company sells consumers analysis of their genetic code.
Cloud-powered lender Kabbage has been announcing partnerships with major banks to digitize their small business lending, including Scotiabank, ING and Santander, according to American Banker.
Online education company Udacity is pushing its new Android developer nanodegree hard right now. More interestingly, though, the company has begun to make noises about teaching skills outside of tech, according to Reuters, perhaps suggesting that the company believes it is strong enough in teaching tech skills that its safe to expand into new areas, technical skills needed by older industries.
Fellow cloud-based education provider, Pluralsight, announced an enterprise-facing software training strategy in mid-June. The press release included a phrase that probably left many of its peers in its not-exactly-uncrowded space of online skill development scratching their heads: "the world's first and only technology learning platform."
Customer insight platform Qualtrics announced wider partnerships this month with the Federal Government and with intranet provider Slack.
News
In the Daily Mail today, an anonymous former Datto employee chastised the company's security practices, which was relevant because the startup held a copy of Hillary Clinton's emails under contract with another firm. The company hired to keep Clinton's emails, Platte River Networks, had contracted with Datto to back them up, as Politico explains. However, the Daily Mail does not suggest the cloud backup service lost control of any of Clinton's emails.  With an expansion to Europe, CEO Austin McChord gave an extensive interview to MSPmentor.
Simplivity also manages large pools of data, but with "hyperconverged infrastructure." Whatever that is, it must be working: its customer base went up 177 percent in the first quarter, according to the Worcester Business Journal.
Mobile gaming company Kabam laid off 8 percent of its workforce in February, announcing its intention to narrow its focus on massively multiplayer mobile games exclusively, according to VentureBeat. The strategy may have contributed to its success in China, where its title, Marvel: Contest of Champions, topped the charts, according to Gameindustry.biz. To make it happen, the San Francisco-based company reportedly set up a 35 person team in Beijing and redesigned play around the predilections of Chinese consumers.
Mobile productivity concern Evernote placed further restrictions on free users and raised the prices for its paid tiers, according to ZDNet. The company just turned 8.
North Carolina's enterprise software behemoth, Red Hat, is long on Docker, the software containerization company. DockerCon 2016 wrapped up last week in Seattle.
Intranet search provider for enterprise MarkLogic held its own user conference in London last month. One day, the tech industry will just be one long conference that never ends. Somehow it will switch cities and names each week without any friction for attendees, thanks to the cloud and Uber probably.
Cybersecurity firm ZScaler threw some shade on its blog, which—by the way—is a great place to watch for the latest terrible ways hackers are trying to rob you.
Patents
Most of these are impossible to follow, but here's a few that sound interesting. Most of them sound like aspects of the web we've seen forever. Patenting software is ridiculous.
Zscaler has one that sounds like it's meant to make sure employees at a company don't put sensitive information on websites they shouldn't. It has another one for authenticating that two systems haven't been tricked by a third party, which could be an internet of things application.
23andme has one for sorting out people's ancestries.
Kabam built a way for people who play a game together to communicate outside the game, perhaps even when they aren't playing it.