Karlovy Vary is this crazy-charming spa town in the mountains west of Prague. Known primarily for its subterranean waters, which people drink from ceramic souvenir sippy cups—or, less charmingly, used plastic water bottles—it has a fascinating history (Goethe and Beethoven strolling together, etc.), amazing ornate architecture (search images in general and the Grand Hotel Pupp in particular), Becherovka (an herbal bitters) and the Karlovy Vary International Film Festival.
An important release hub for Eastern European productions, KVIFF is also a relaxing place to catch up on hits from the bigger festivals, such as Maren Ade's Cannes critics favorite, Toni Erdmann, Jim Jarmusch's droll Paterson or Park Chan-wook's luscious, steamy sex-and-swindle period drama The Handmaiden. (Hand fans and/or loose trousers recommended.)
The 51st version of the festival got underway on July 1 with a gala featuring Willem Dafoe, in town to pick up the festival's Crystal Globe for Outstanding Contribution to World Cinema, an award that figures in all of the festival's amusing trailers along with its annual recipient. (Here's one with John Malkovich, and this year's with Czech actor and writer Zdeněk Svěrák). Herewith, the most note-worthy films I saw:
Anthropoid (Czech Republic, United Kingdom, France, 2016)
Sean Ellis's opening night film was a natural given its subject matter: the plot to assassinate the "Butcher of Prague," top Nazi Reinhard Heydrich in 1942, by real-life Czech resistance fighters Jan Kubiš and Jozef Gabčík, played here by Jamie Dornan and Cillian Murphy. Much like the Germany-Italy soccer match the day after the gala—a scoreless draw ending in an incredibly tense flurry of penalty kicks—Anthropoid unfolds prettily but ponderously, taking off only when the assassination attempt goes into play about three quarters of the way through the film. That's when you feel Ellis, director of Metro Manila (2013), enter his comfort zone. He stirs up a fever pitch when the search for the assassins leads to a lavish battle pitting the two heroes and four compatriots—holed up in a church—versus an endless number of well-armed German soldiers. Suddenly, Dornan's shaky shooting hand resolves into a Terminator-like killing machine; all he has to do is wave his pistol in the general direction of a German and down the Nazi goes like Whac-a-Mole. The shootout's result is never in doubt, of course, but Ellis undermines what should have been a devastatingly straightforward ending with an absurd bit of romantic kitsch—kind of like a muffed penalty kick.
The killing of Heydrich, the number-three Nazi and architect of the Final Solution, had far-reaching repercussions: Hitler's reprisals for his death wiped out the entire village of Lidice and caused the deaths of an estimated 5,000 Czechs. Kudos to Ellis for bringing this story of almost unimaginable courage and pain to a wide audience. It's a pity it isn't more memorable, but another chance at it comes later this year when French director Cédric Jimenez's film HHhH, based on Anthropoid—and the Laurent Binet novel—opens with an intriguing cast: Rosamund Pike and Mia Wasikowska along with Jack O'Connell and Jack Reynor. Meanwhile, Anthropoid gets its U.S. release on August 12.
House of Others (Georgia, Russia, Spain, Croatia, 2016)
The aftermath of war is also the subject of this a world premiere from a deeply talented new Georgian director, Rusudan Glurjidze. A family on the "winning" side of Georgia's 1990's civil war arrives in a mostly deserted hillside village to live in a house abandoned by its vanquished inhabitants. The only neighbors are two sisters in their 30s, one with a 17-year-old daughter, Nata, the other a beautiful but tough, androgynous marksman obsessed with guns and security, no doubt with good reason. The new family attempts to acclimate, but the father especially finds it difficult to live in the shadow of the past. It's hard to describe what happens, exactly—nothing and everything; small pleasures and awkwardnesses; sudden explosions and disturbing sex. House of Others is quiet and powerful, unsettling and enigmatic and somehow entirely clear. It's beautiful to look at, thanks to the photography of Gorka Gómez Andreu and to Glurjidze's clear vision, which grew out of her own experiences of the war. It feels like fear, and determination. At Karlovy Vary, which wrapped up this weekend, House of Others received the East of the West Grand Prix award, and its $15,000 prize.
A Date for Mad Mary (Ireland, 2016)
Atmospheric disturbances and depressions are a common theme at Karlovy Vary, and leave it to the Irish—or at least Irish director Darren Thornton—to make a light comedy of them. Seána Kerslake stars as said mad Mary, just getting out of prison for seriously maiming another girl in a fight. She's home in time to be maid of honor in her bff Charlene's wedding, for which she also needs a date. The trouble is that conflict is Mary's norm, and just about everyone in her life is sick and tired of her bad attitude and knee-jerk reactions, which are usually loud, obscene and violent. But she can also be quite funny, even endearing. A Date for Mad Mary isn't a coming of age story so much as one about overcoming the coming of age, moving beyond a rebellious youth and the anger behind it. For Mary, things begin to change when she meets the wedding's videographer, and the story becomes something else, one of discovery and eventual delight. Thornton has a nimble touch, with charm enough to bring Mad Mary to a theater near you, hopefully, but the film rests on Kerslake's fine shoulders. No problem, it's a pleasure.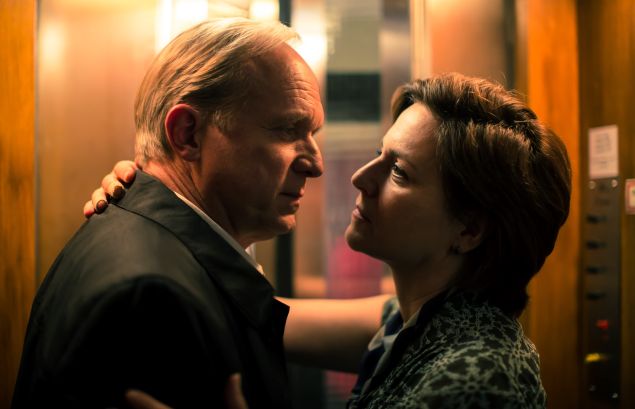 Original Bliss (Germany, 2016)
Several films deal with love already made but in trouble or hopelessly fucked up. In this very German production of the Scottish novel by A.L. Kennedy, a woman who has lost her faith, living in an unhappy marriage, seeks out a popular psychologist who turns out to have a few issues of his own. (Think: ewww.) Their off-kilter acquaintance-cum-friendship builds to a point of catharsis in her marriage, adding a new level of discomfort to the old saw that what doesn't kill you makes you stronger. In Sven Taddicken's astute adaptation, Martina Gedeck (Lives of Others) is just superb – such an odd, powerful presence, like human emotions reduced to their essence — with Ulrich Tukur (White Ribbon) creepily effective in support. If the film has a particular flaw, it's a very German one: Johannes Krisch as her loving but violent husband is, like so many German actors, incomprehensibly over the top. (At least by American and British standards. I had director fantasies watching it: "Take it down a notch, Johannes. Good, now another notch. And another. There, perfect.") But as in so many real relationships, German or otherwise, his whack job doesn't take away from her sublimity, despite his worst efforts. Original Bliss received the Award of International Film Critics (FIPRESCI), as well as the Europa Cinemas Label Award for the best European film in the Official Selection – Competition and in the East of the West – Competition. 
The United States of Love (Poland, Sweden, 2016)
This is a terrible title for a very good film by the precocious Polish director Tomasz Wasilewski, whose script won the Silver Bear at the Berlinale. Set in a cold, bland housing project circa 1990, it follows the intertwined stories of four women—two sisters, a friend, an older neighbor—all of whom yearn for something more, and someone else. Marzena, a former beauty queen who teaches dance and exercise lessons, has lost her man to a work visa in the West. Her sister Iza, a school principal, becomes unhinged when her lover pulls away after the death of his wife. Agata, unhappily married, improbably stalks the local priest. (Talk about chasing the unavailable!) Renata is forced into retirement by Iza, then becomes obsessed with Marzena, who happens to be her neighbor across the hall. It may sound a little insane, but it doesn't play that way in this understated film, its pale hues and dreamy desperations beautifully captured by Wasilewski and cinematographer Oleg Mutu.
Collector (Russia, 2016)
Alexei Krasovskiy's first feature is an ultra contemporary thriller about an arrogant, egoistic, elitist debt collector played with smarmy aplomb by Konstantin Khabenskiy. With just one actor in one office location—all of the dialogue is by phone, and an ear-piece, no less—Krasovskiy cleverly illuminates the shady economics of contemporary Russian society and their human costs.. The Federation of Film Critics of Europe and the Mediterranean (FEDEORA) named Collector the best film from the East of the West – Competition.
Zoology (Russia, France, Germany 2016)
A 55-year-old zoo office clerk, plain and dull in all aspects, mysteriously grows a tail and, well, she changes. In a festival interview, the young director Ivan I. Tverdovsky said that when he and his DP first got the idea, they thought it was funny, but when they began to write it, they decided it should be a drama. This sort of schizophrenia plays out in the film, which is sometimes funny, sometimes serious, a little all over the place and short on actual character development. That's unfortunate because it largely wastes a trenchant performance from veteran stage actress Natalia Pavlenkova. Zoology is potential unfulfilled, but it has its fans: Tverdovsky took home KVIFF's $15,000 Special Jury Prize.
The Pleasure Is Mine (Mexico, 2015)
At the start of Elisa Miller's 2015 film, one in the KVIFF series A Female Take on Mexico, a young couple sets up their new life in a country house belonging to a family member. They work, sort of (he is taking apart a car, she's some sort of designer), cook, eat, drink, have sex. (See title.) Friends and relatives visit. What seems idyllic begins to strain, with no clear cause, or direction. They drink too much, do things they shouldn't. In the end, they are left in a state of shock: What the hell just happened? An observational essay on modern relationships, The Pleasure Is Mine felt the most contemporary of all the films I saw here, formally and otherwise.
By the Rails (Romania, Sweden, 2015)
Globalization is at the root of Romanian director Câtâlin Mitulescu's film about a young couple split apart by financial circumstances. While the husband works as a waiter in Italy, his (extremely sexy) wife, tired of being alone with their son so long, takes a lover. His return to Romania to repair the relationship sparks a battle of wits and perseverance. At times, By the Rails feels like a Harold Pinter improvisation class gone too long, at others a vivid, realistic view of life in a Romanian village. Either way it's an effective exploration of, once again, the human price of modern economics. By the Rails received a Special Jury Mention.
Love True (USA, 2016)
Israeli director Alma Har'el's new doc is the realest of the relationship stories, and the suckiest. Three stories of love gone bad in three places—Alaska, Hawaii, and New York. A nerd turned stripper, whose need to be eye-fucked does her—not to mention us—no favors. A weed-stoked surfer whose girl cheats on him cares for their little boy and stews. New York's Boyd family singers, whose joyous familial tightness belies the facts behind their missing mother/wife. Each of these is in its own way, despite certain beauteous details, a terrible story, and I hated watching them. But I got stuck rubbernecking. Har'el, whose 2011 film Bombay Beach won the top prize at Tribeca, has chosen to include weird fictionalized elements meant to make Love True look and seem like something it's not. What it is is a straight-on bummer. So of course it won the best doc award at KVIFF.
I AM A HERO (Japan, 2015)
Exhausted by a long day of movies, and a soccer match thrown in, I stuck my head into a late screening of Shinsuke Sato's zombie flick and, despite having missed the beginning, there was no turning back. Based on the horror manga by Kengo Hanazawa, the story revolves around frustrated manga artist Hideo Suzuki, who survives the zombification of Tokyo and meets up with a partially infected teenage girl he is determined to save. Set mainly and brilliantly in an outlet mall, where zombies are still trying to get into their favorite shops, I Am A Hero features enough flesh-eating, head-exploding gore to last a lifetime, including an epic final battle pitting Hideo and his skeet-shooting shotgun against the zombie horde led by an especially horrific former track star.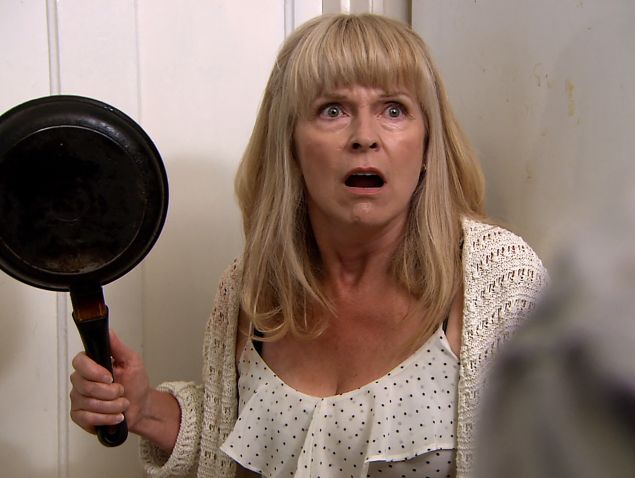 Aaaaaaaah! (United Kingdom, 2015)
Ever wonder what it would be like if humans went around acting like dogs or apes? And communicated like them, too? You can thank comedian Steve Oram for bringing your absurdist fantasy to life, or at least to the screen, in a sort of Monty Python sketch gone long and very, very wrong: Two men walk through the woods, one of them near tears. His helpful friend massages his legs. The sad man throws down a framed photo of a woman in a wedding dress, presumably his wife. They take turns pissing on it, then the helpful friend leans down and gently wipes the other's penis with a handkerchief. Meanwhile, two young women sit on a park bench, one of them holding a bottle of vodka in one hand and scratching herself between the legs with the other. With a few ape grunts and thrusting motions, she indicates that she got the itch from having sex with so-and-so. Her friend helpfully suggests that she pour the vodka on the itch, which she promptly does, bellowing in pain. If either or both of these scenarios make you laugh, as they did me, you will very much like Aaaaaaaah!; there's much more to come, and though by the end you may wish that it was shorter than its 80 minutes, you will laugh. Hard.
Last laugh: In the Romanian relationship drama By the Rails, the young woman complains that while her husband was away working in Italy, her mother-in-law "kept buggering me all the time." Grounds for divorce, I say, or at least a new translator.