"I check religiously, on the first of the month, at Astrology Zone, Susan Miller is a golden goddess of celestial tidings," gushed Lisa Salzer, the designer behind the Lulu Frost jewelry label. "She really gets it right most of the time…and I often find myself marveling at how many of her observations are accurate reflections of what's going on in my life."
As such, it doesn't come as much of a surprise to learn that Salzer looked to the stars (actually, the constellations) to inspire her latest collection. Titled Zodiacs, this array of earrings, rings and necklaces map out all 12 signs in 10 karats of solid gold, with white sapphires to denote stars. But that's not all; alongside Taurus is a symbol for the earth element; Aries is paired with fire. Yes, each astrological sign is partnered with the element symbol it relates to.
"Lulu Frost Zodiacs in particular stemmed from my quest to find the perfect jewelry to wear for my wedding this past October. I wanted to represent my sign, Scorpio, and my husband's sign, Cancer, so I created stud earrings for my special day," Salzer told Observer. Following her wedding, a few of her friends asked if the pieces could be made in their own signs and the jewelry designer obliged, rolling out all 12 signs.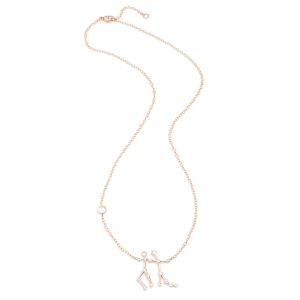 Salzer is a true Scorpio, admitting that she relates to being "emotional, intuitive, observant and even a little psychic." But the jeweler also promises that this range is accurate to the constellations that inspired each of the zodiac signs. "In designing, I researched and compared multiple scientific photographs of the major constellations and stayed true to the star placement, number of stars and their relative size to one another in each zodiac sign," she said, adding, "We worked with three varied sizes of white sapphires, for example, to give the feel of starlight coming to earth from varied distances."