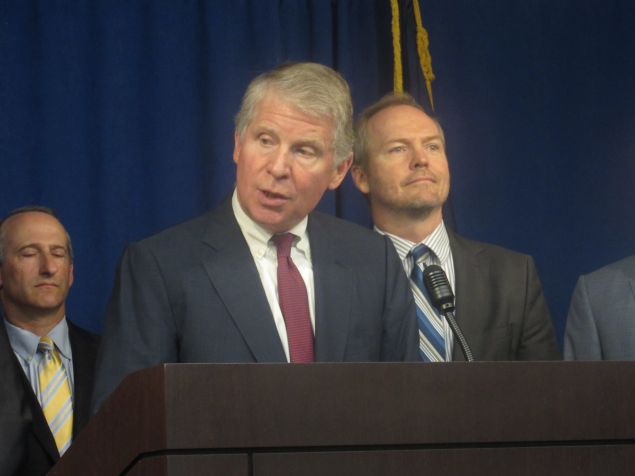 The Manhattan district attorney, the Public Advocate and the Buildings Department commissioner have a warning for tenant-harassing landlords: you won't go unpunished.
At a press conference this morning, District Attorney Cyrus Vance announced criminal charges against landlord and building owner Ephraim Vashovsky, property manager and contractor Adam Cohen and contractor Shaoul Ohana, for endangering the lives of tenants of 21 East 115th Street in East Harlem. They accused Vashovsky of purposefully creating hazardous living conditions through ongoing illegal construction and renovation and leaving a family of seven—including five children—without heat and hot water.
They were also charged for coercing them to vacate their rent-stabilized apartment through a campaign of harassment and intimidation.
"Let this indictment serve as a powerful message to they and all other unscrupulous landlords out there who think they can get away with this type of maltreatment in the name of earning another dollar," Public Advocate Letitia James said. "New York City stands behind its tenants regardless of their status, their immigration status and anyone who employs illegal tactics and harasses tenants will be left with more than just a slap on their wrist."
The investigation was a multiagency effort that involved a James, Department of Investigation Commissioner Mark Peters and Department of Buildings Commissioner Rick Chandler.
Speaking about the family that was still living in the building when the illegal construction was taking place, Vance said that while most tenants in the building had already moved out—some of whom had accepted buyouts from the landlord—the family resisted and chose to stay. He also said that the landlord took advantage of the fact the tenants were undocumented immigrants from Mexico.
"Their children are thriving at the local school, the family is very close to their neighborhood church which was an important part of their community to them and they had many neighbors and friends in that neighborhood," Vance said.
The defendants were taken into custody this morning and were scheduled to be arraigned this afternoon. Vance's Asset Forfeiture Unit has also filed a civil forfeiture lawsuit against the defendants and their companies seeking more than $3 million in connection with the criminal case.
Vashovsky, owner of 21 East 115th Street Ventures, LLC, allegedly conspired with Cohen, his property manager and eventual contractor, to force a couple and their five young children, ranging in age from 1 years old to 12 years old, to leave a rent-stabilized apartment at 21 East 115th Street in Harlem, according to court documents.
With Ohana, their initial contractor, they risked the lives of their tenants and the construction workers they employed by conducting ongoing construction and major demolitions in violation of DOB and HPD regulations, the documents said.
The defendants were charged with giving the DOB fabricated documents when they applied for work permits and stealing from the tenants and the city by cashing the tenants' rent checks while breaching the terms of their lease. And even weeks after the tenants left the apartment, they continued to cash rent subsidy checks from the Department of Social Services.
Last March, the Department of Housing Preservation and Development called the Department of Investigation to the site after informing the agency that tenants were living there without heat and hot water and in a building that had been gutted around them.
The agency learned that floors had been removed, that the roof was close to collapsing and that water was leaking into the building—all as a way to get the tenants to vacate the apartment. The DOI worked with HPD and DOB inspectors, James and Vance to expose the history of violations at the site, culminating into a full stop worker order this past March.
Peters said Vance and his team have been at the "absolute forefront" of efforts to reform dangerous construction practices in the city.
"This investigation underscores what DOI has found time and again: that there is a direct nexus between a dearth of integrity and dangerous building conditions," Peters said.
DOB Commissioner Rick Chandler says the charges are part of Mayor Bill de Blasio's efforts to stand up for city residents.
"This multi-agency effort reflects Mayor de Blasio's commitment to use all tools available to protect vulnerable New Yorkers," Chandler said. "Bad actors who put profits ahead of people's lives need to take warning: You can't tear apart a building, especially when it's occupied, when a family with two young children is living there."
Vashovsky could not be reached for comment.