The townhouse in which celebrated poet, novelist, and activist Maya Angelou lived before her death in 2014 has officially sold, for a bit under its most recent asking price.
Angelou reportedly purchased the five-story home at 58 West 120th Street in 2002, gut renovating the then-shell of a house in order to make it livable. Angelou was known for hosting parties at the brownstone, which were attended by friends like Oprah Winfrey and Cicely Tyson.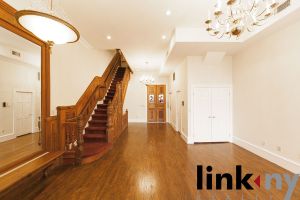 The renovation included refurbishing the oak front door, parlor-level wainscoting and carved staircase banister, as well as the fireplaces, according to The New York Times. Angelou also added an elevator, recessed lighting and two skylights, and transformed the basement into a "recreation/entertainment area."
Angelou's son, Guy Bailey Johnson, handled the $4.08 million sale of the 5,640 square-foot home, which was put on the market in January with a $5.095 million listing price, and went into contract five months later.
While we must admit that we are somewhat disappointed to see that the buyer of Angelou's five-bedroom, 5.5-bath home is hidden behind 58 West 120 LLC, we do know that the new owners get to enjoy such lovely features as original wooden banisters and hardwood flooring throughout, two fireplaces and a dumbwaiter.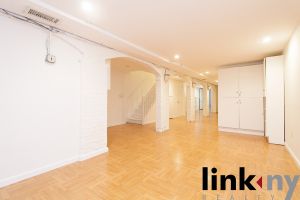 The 20-foot-wide townhouse also boasts a living room with ceilings over 12 feet, two wet bars and stained glass doors that lead to the dining room. A private garden can be reached by way of the dining room, and there's a library with bookcases and three windows. The master suite takes up the third floor of the home, and is complete with a fireplace and a library, while the master bathroom has a Jacuzzi, according to the listing held by Link NY Realty broker Valon Nikci.
While the home is "fully furnished," per the listing, the current photos depict an entirely empty interior, with the exception of a number of elaborate chandeliers. While the colorful décor Angelou chose to adorn her home in might not currently be in place, the abode once housed much of the artwork and library of books the poet collected over the years. Plus, the knowledge that both Maya Angelou and Oprah once hung out in the living room gives the buyer some pretty amazing bragging rights.