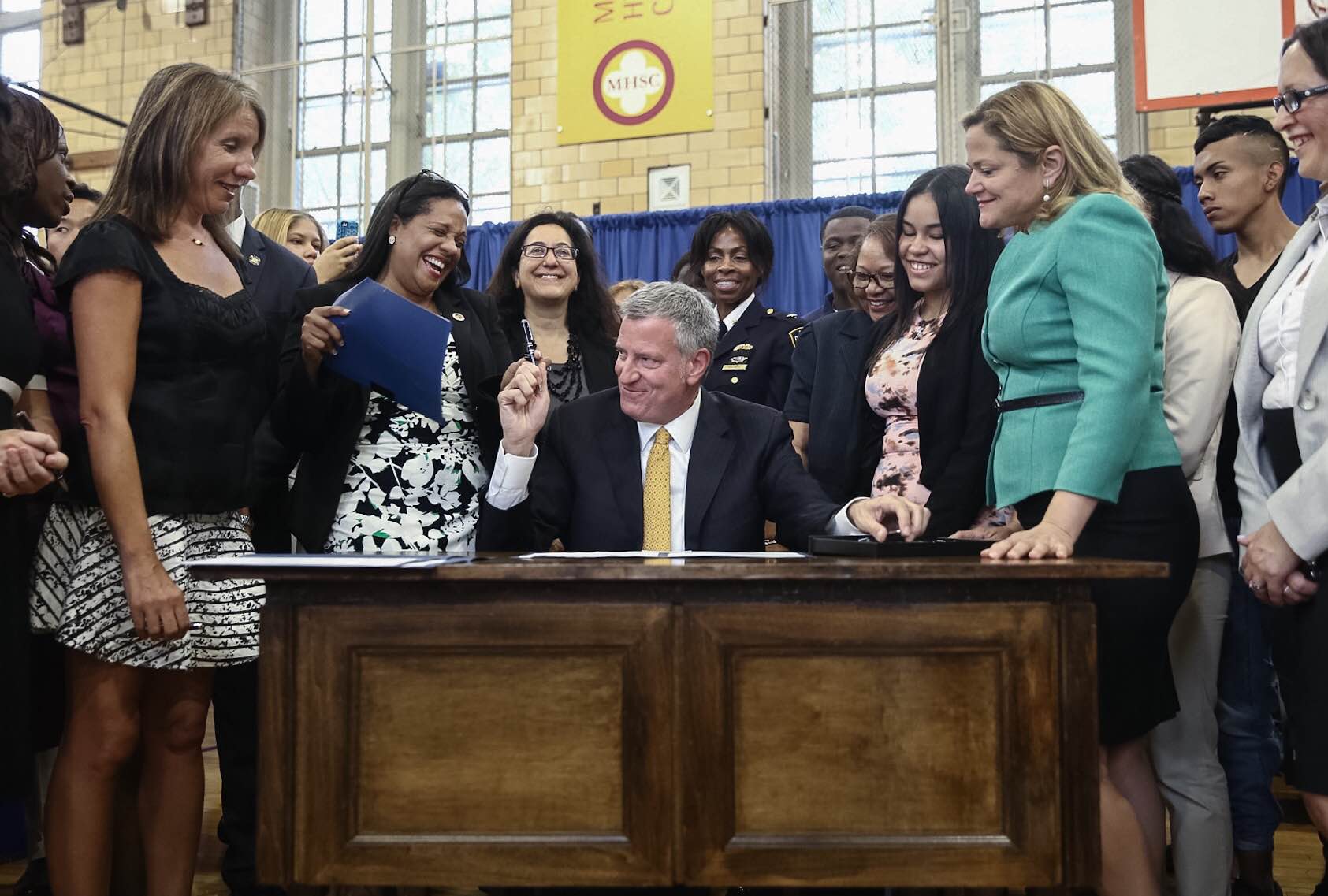 New York City's girls and women in schools, prisons and shelters are now guaranteed access to free tampons and pads after Mayor Bill de Blasio signed three bills today—a high-profile step in a growing "menstrual equity" movement nationwide.
The three bills, whose sponsors include Councilwoman Julissa Ferreras-Copeland and City Council Speaker Melissa Mark-Viverito, grant access to the products for all female Department of Correction inmates; people living in a city shelter and youth under the care of certain children's services facilities; and public school students. The bill includes access for transgender, intersex and non-conforming New Yorkers.
Young girls and advocates—mostly of color—stood behind the mayor as he praised the legislation at the bill signing ceremony this afternoon at the High School for Violin and Dance in the Bronx.
He commended a speech by an 11th grade girl at the school, who said she remembered feeling "uncomfortable and embarrassed" whenever she needed a pad, saying that the "poise and clarity" of her message should be admired by all.
"Here is the place we choose to announce this great advance for our city and here, starting this new school year in September, students will be able to find free feminine hygiene products in the bathrooms throughout their schools," de Blasio said. "What was not true in June will be true in September. That's how quickly this is going to change."
For the mayor, this initiative serves a dual purpose: to reduce the stigma surrounding menstruation and give girls and women easier access to the products—but also to address the overall inequality that exists in the city.
"It's part of a wave of change across our school system in every neighborhood and it comes down to the larger discussion we've been having in this city about equality and about fairness for all New Yorkers," he continued. "We talk about it in terms of housing, we talk about it in terms of public safety, well here's another way, a very fundamental way to ensure equality and fairness."
Mark-Viverito said that as a Latina and as a woman, she was inspired by the student's boldness and called the new laws "a great day for women in New York City."
But she reminded the audience that the battle is not over—she wants to see Albany take initiative on the issue of menstrual equity, too.
"While the city is taking a big step forward today, New York still must do more on this issue. When the Council passed these bills, we also passed a resolution calling on Albany to make feminine hygiene products tax-exempt," Mark-Viverito said. "Today I want to take a moment to renew that call so that we can further decrease barriers to access of feminine hygiene products that women face."
Ferreras-Copeland was impressed by the mayor's embrace of the issue—saying to "hear our mayor say pads and tampons really gave me goosebumps."
"The process has moved smoothly which is not common always in government but I believe that it's because of the partnership this has," she said. "This is the result of having women in leadership. The speaker immediately saw this as an important initiative and supported it and we have a progressive feminist amazing strong mayor who understood the need and worked with us to make it a reality."