There are no less than six different hues of tiger stripes in the first three images released from H&M's collaboration with Kenzo. But the wild prints aren't the most attention grabbing feature of this campaign, instead, it's the models featured in it.
These aren't your average amazonian catwalkers; the Swedish retailer and the storied French label decided to shine the spotlight on a slew of artists and activists in their collaborated threads.
In the pink fleece-lined black jacket is Isamaya Ffrench, an illustrator and makeup artist. You may have seen her makeup prowess on Fergie's visage, for her "M.I.L.F. $" music video. She also painted Rihanna's face for "Sledgehammer," a song in the latest Star Trek flick.
Oko Ebombo is the fellow in the olive green jacket, plus the pink, blue and red zebra pants. He's also a well-known musician and performance artist, born and raised in Paris. But this H&M gig wasn't his first foray into the fashion world; he was the musical opening act for the streetwear label, Pigalle, in 2015.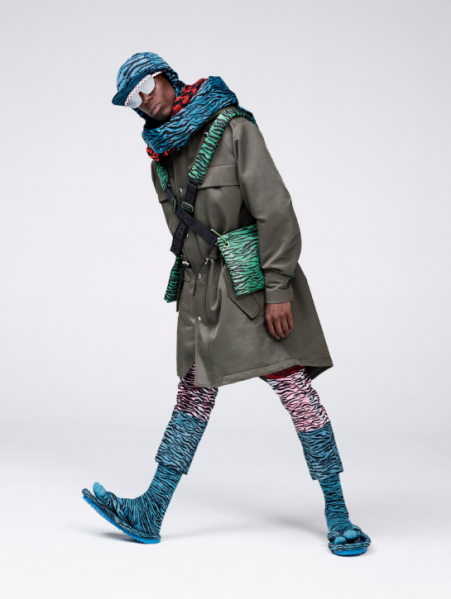 And finally, the duo in coordinating catsuits is Amy Sall and Juliana Huxtable. The former is the founder of SUNU: Journal of African Affairs, Critical Thought + Aesthetics, and she's also a grad student at Columbia University; the latter is an outspoken artist-slash-DJ-slash-poet and the co-founder of the #ShockvalueNYC party.
While there's certainly nothing wrong with a storm of gorgeous models showing off designers wares which have been produced for the masses (see Olivier Rousteing's Balmain army, for example). But by showing real people in their ads, albeit ones who are in the public eye due to their voice and opinion, is a good message to send to customers. There's no doubt that there will be lines wrapping around the corner of all 250 H&M stores, when this collection drops on November 3. But if a handful of those shoppers are inspired by Sall's dedication for human rights or Ffrench's deft, artistic hand, well, that's far better than empty consumption.