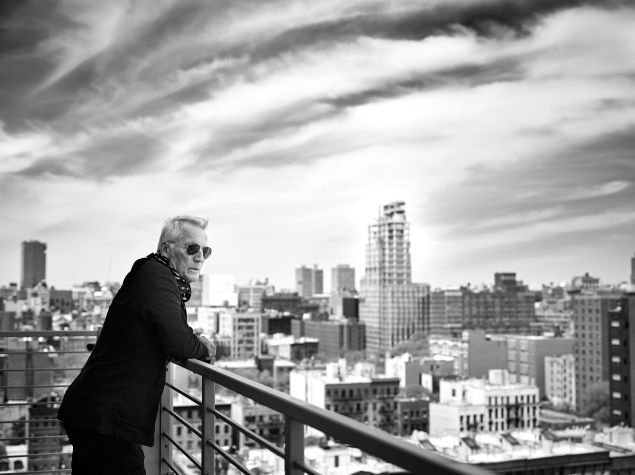 As he launches his most comprehensive travel compendium Nomad Deluxe published by Assouline, we met Herbert Ypma at New York's Hotel on Rivington. The founder of Interior Architecture magazine and the creator of the wildly popular HIP Hotels series, Ypma offered the Observer some insight into his nomadic world of adventure and mystique.
Tell us about your interior design background
I have my uncle in Amsterdam to thank for that. He was a doctor and lived with his partner, an architect named Pierre. They had an enormous house on the canal. Their taste was very cutting edge—we're talking a royal blue Pirelli rubber floor with British Regency antiques mixed with Danish modern in stainless steel and hemp on the walls. They decided that I was too rough around the edges so they let me stay with them for awhile, but I would have to pay by learning about design. We'd go to the markets and design stores and I thought it was so cool to be exposed to all this amazing design. I never imagined that I would do anything with it. I then moved to Australia and became a sales rep for a textile company, and by the time I was 25, an odd age to start a magazine about architecture and design, I did just that.
Being the editor of a successful design magazine you were exposed to so many different ideas. How did you choose to decorate your own space?
My interiors are a reflection of my life. They combine the ethnic, antique, precious and unusual. For example I have a Dogon dance mask. Of all the tribes the dogon have the most advanced dance rituals. These masks were the very origin of cubism—the cubists were inspired by African wood sculpture. I also have a very unusual pot from Fes that has the entire Koran painted on it. It's as if Basquiat was a little more disciplined and working with only one color. One of my favorite homes was an all-white apartment in Chelsea in London. The floors had been painted white about 20 times and you had to wear these grey flannel slippers that I had at the front door. Hugh Jackman came to stay with me, and to this day he remembers how he couldn't do anything without getting a lecture. I'd make him toast in the morning and tell him the toast rack was designed by Christopher Dresser—he'd say, "yeah, yeah…just give me the damn toast!" In that living room everything was white except for a gilded bronze Buddha. The only other bit of color was a table I built that was red lacquered with a gold pattern embedded into it. Above it hung a Gustavian chandelier from Sweden.
Then of course you began the HIP Hotels series. So what makes a hotel "HIP?"
It has to have something unique to it's location that gives a sense of place. What always does it for me is a memorable experience and something that actually fits. There's nothing stranger than travelling to Shanghai then staying in a hotel that could be anywhere else in the world.
What would you say is the most "HIP hotel in New York?
The Hotel on Rivington introduced something no one in New York had seen before: a view of Manhattan from the Lower East Side—a view that was not possible until a building high enough was introduced and that's the Rivington. It's not easy to do something new or to be first at…anything. That's why the Rivington is special—it's a pioneer.
What are some things you love doing when you're in town?
I love just getting a bicycle and riding through Central Park, I love that there's a swimming pool up in Harlem. Whenever I get To New York I have to wake up early and have breakfast at a diner. I love shops like Saturdays, aero and click and I love the Ralph Lauren mansion.
What is the most exotic place you've ever travelled to?
The Ice Hotel in Iceland and Ringha, Tibet would certainly be contenders, but I think the most exotic place I've been is the recently shuttered Shompole in Kenya. They decided to create these pavilions with no doors, windows or walls. When I got there they told me that I was lucky to have gotten the best pavilion because that's the one whose pool the leopards like to drink out of every morning. So I'm lying there totally exposed in the middle of the night and every little sound makes me jump, and I'm just waiting for those leopards to come. Thankfully they never did, but the leopards may or may not have something to do with the place shutting down!