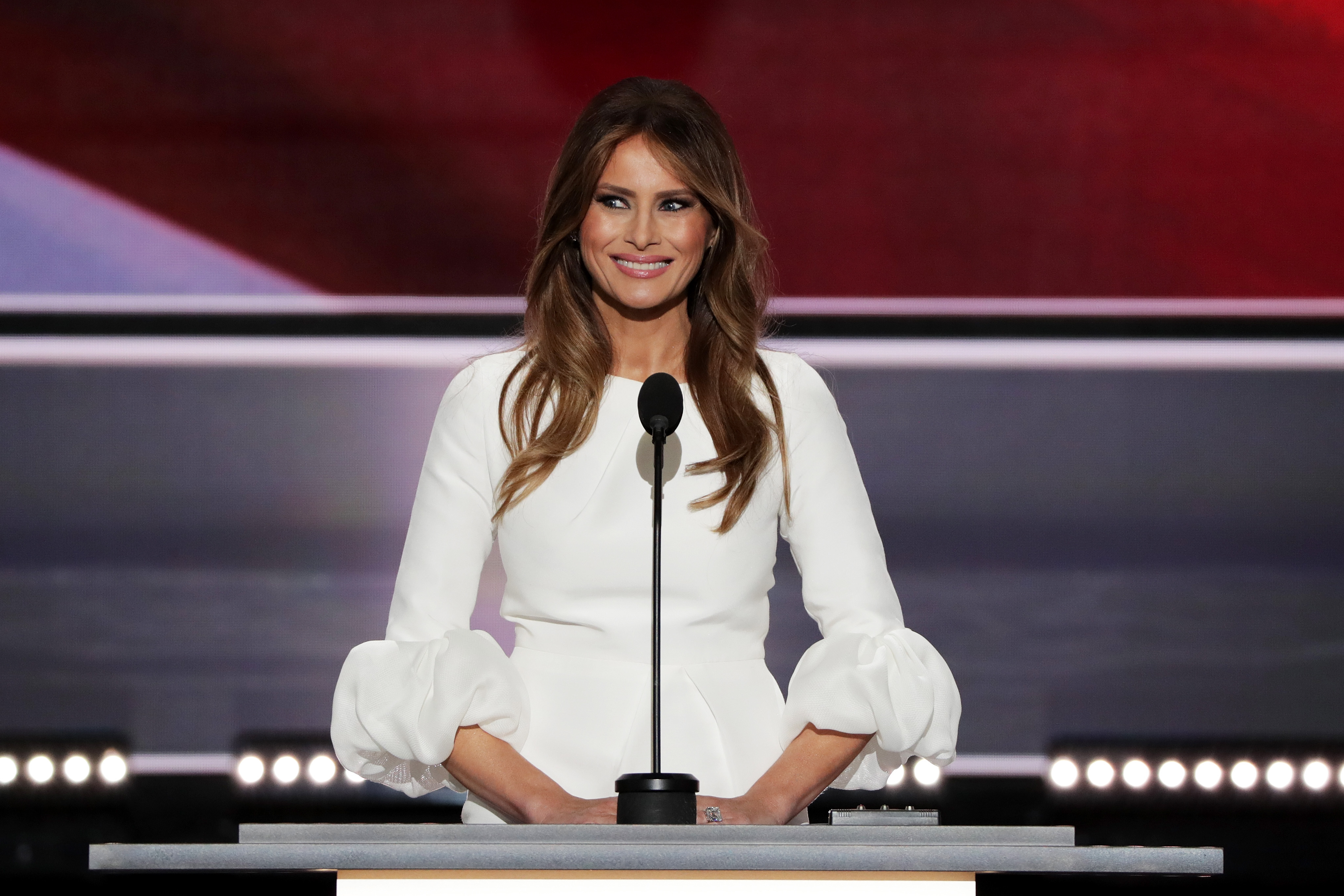 In Melania Trump's first major political speech of her husband's campaign, she sought to paint a picture of a kind-hearted father, devoted husband and dogged businessman whose values lined up with the ones she learned in her native Slovenia.
"If you want someone to fight for you and your country, I assure you he's the guy," she said of her husband Donald Trump during the opening night of the Republican National Convention in Cleveland. "He will never, ever give up. And most importantly, he will never, ever let you down."
Her speech, part try-out for the job of first lady, part "pivot to the center," as the pundit class is so fond of saying—was delivered smoothly for any political novice, let alone one whose first language is not English (she speaks five of them). But it is unlikely to be the most memorable moment of the night—that will likely go to a bombastic speech from former New York City Mayor Rudolph Giuliani, who loudly rallied behind the country's law enforcement officials and railed against "Islamic extremist terrorism," a phrase he made a point of repeating.
And Donald Trump stole a bit of the spotlight himself—literally—when he emerged in silhouette, to Queen's "We Are The Champions," to introduce his wife. It is unusual for a party's candidate to be present on stage this early in the convention, but then again, it's also unusual for them to call into a cable news show during their own convention—which Trump did earlier in the evening. While his entrance to the stage tonight was characteristically huge, his remarks were uncharacteristically short—he simply promised to keep winning and introduced Melania, whom he deemed a great wife, mother and woman.
In a campaign perhaps defined by Trump's promise to build a wall on the border with Mexico, Melania Trump's immigrant story is one way for the candidate to try to push back against opponents who have deemed his rhetoric about immigrants racist. She spoke tonight about being born in Slovenia, "a small, beautiful and then-communist country," but recounted values taught by her parents that would resonate with Americans.
"From a young age, my parents impressed on me the values that you work hard for what you want in life, that your word is your bond and you do what you say and keep your promises, that you treat people with respect," she said, noting she and Donald Trump passed those values to their son.
She touted his success as a businessman, saying she'd seen him work hard to finish projects and noting soon that work would be on behalf of the people. She spoke of his loyalty and his patriotism, and though her speech didn't include many personal anecdotes about their life together, she argued there was a softer side to him not often shown by the media.
"He is tough when he has to be, but he's also kind and fair and caring," she said. "This kindness is not always noted but it is there for all to see. That is one reason I fell in love with him to begin with."
At a time when the country is "under-performing," she argued her husband was the only one who could lead it forward. She spoke about him as a leader for all kinds of people—a narrative undoubtedly meant to try to set at ease undecided voters tuning in for primetime, who might be concerned about plans to ban Muslims from the U.S., or the sharing of an image widely regarded as anti-Semitic, or assertions that Mexicans crossing the border are "rapists."
"Donald intends to represent all the people, not just some of the people. That includes Christians and Jews and Muslims. It includes Hispanics and African-Americans and Asians and the poor and the middle class," she said.
But while she urged the party to come together after a tough primary—despite her husband noting earlier in the night that hometown Ohio Gov. John Kasich, who has declined to attend the convention, was "beaten very, very badly"—she cautioned there would still likely be many tough times ahead in a race that would be hard-fought.
"It would not be a Trump contest without excitement and drama," she said.
Disclosure: Donald Trump is the father-in-law of Jared Kushner, the publisher of Observer Media.