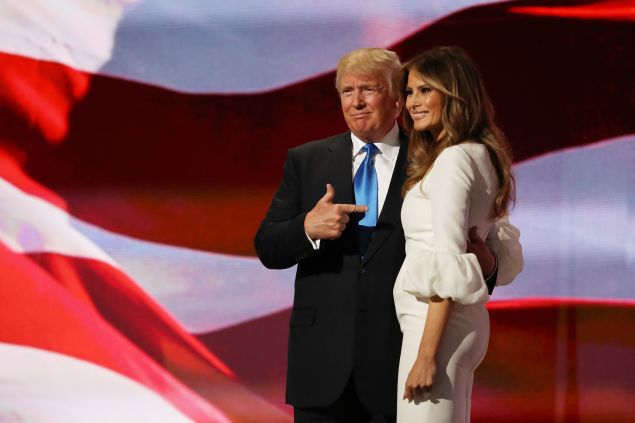 CLEVELAND—It wasn't just that paragraph and a half of Melania Trump's speech to the Republican convention last night that sounded familiar.
Hours after news outlets noticed the Slovenian-born ex-model's description of the life lessons she learned from her parents weirdly mirrored the ones Michelle Obama's mom and dad handed down (as described to the Democratic Party conclave eight years ago), the Trump campaign admitted it wasn't a coincidence. Sort of.
"In writing her beautiful speech, Melania's team of writers took notes on her life's inspirations, and in some instances included fragments that reflected her own thinking," spokesman Jason Miller said in a statement blasted to the press.
This explanation—that Lady Trump's scripters somehow accidentally shuffled verbatim jottings on other works into the final draft of her speech—could itself have been cribbed from any number of high-profile copycats (and god knows how many college students). Consider:
Roots Author Alex Haley
Haley won the Pulitzer Prize in 1977 for his account of an alleged ancestor's journey to and in America as a slave, a tale he claimed to have recreated from family lore and interviews with African sources. The book was a bestseller and spawned several miniseries, the most recent of which aired on the History Channel this year.
But in 1979 he agreed to pay $650,000 to author Harold Courlander, who had taken him to court and alleged Haley had stolen the plot, premise and numerous passages from his earlier novel The African. Haley admitted "various materials from The African by Harold Courlander found their way into his book," but claimed it was the fault of research assistants who had brought him pages from The African without telling him where they came from.
Historian Doris Kearns Goodwin
In 1987, publisher Simon & Schuster had to chuck its entire stock of Goodwin's The Fitzgeralds and the Kennedys after biographer Lynne McTaggart found a number of her own sentences "embedded" throughout the book. Kearns, accused of copycat crimes in the past, claimed it was a slip-up due to shoddy research practices.
"I failed to provide quotation marks for phrases that I had taken verbatim having assumed that these phrases, drawn from my notes, were my words not hers," Goodwin claimed. "Drawing on my notes, I did not realize that in some cases they constituted a close paraphrase of the original work."
Neurosurgeon and Ex-Presidential Candidate Ben Carson
Before his brief stint as GOP frontrunner and his later role as Donald Trump surrogate, Carson was a renowned doctor and conservative celebrity weighing a bid for the White House. He owed much of his fame to his legendary skill with the scalpel and for his autobiography Gifted Hands, made into a TV movie with Cuba Gooding Jr. in 20019. But he distilled and marketed his traditionalist philosophy in his 2012 book America the Beautiful, which included a diatribe against left-wing economics.
The problem was, as Buzzfeed found, much of that tirade on "planners" and "bureaucrats" had been lifted from the site www.socialismsucks.net. Other portions of the book seemed to closely echo several right-leaning authors without attribution.
Carson claimed he had simply failed to insert proper footnoting when he borrowed from the writers in question.
"I attempted to appropriately cite and acknowledge all sources in America the Beautiful, but inadvertently missed some. I apologize, and I am working with my editors to rectify the situation," Carson told the press.
GOP Presumptive Nominee Donald Trump
In March, the conservative Daily Caller concluded that an editorial Trump published in a newspaper in Guam contained undigested chunks of an opinion piece Carson penned the month before for an outlet in the North Mariana Islands.
"Medical care in the American territories and commonwealths has historically lagged far behind the continental states, and Obamacare has only made the situation worse. Good health is an essential part of a thriving society and economy, and citizens of the territories and commonwealths deserve policies that work," both op-eds lamented.
Carson, by then part of Trump's cheerleading team, brushed off the frontrunner's recycling of his commentary, noting the frontrunner had adopted much of his old campaign staff.
"Many of the people that worked for me previously are now working for Donald Trump, so that doesn't surprise me at all," Carson told CNN.
Disclosure: Donald Trump is the father-in-law of Jared Kushner, publisher of Observer Media.