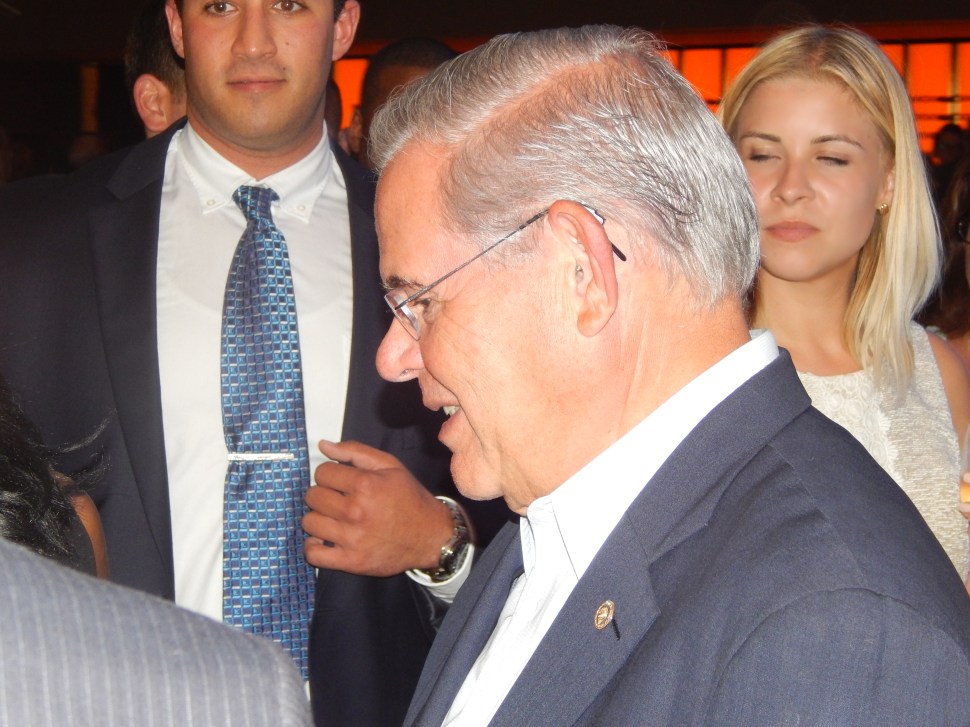 PHILADELPHIA – Zapped by an untimely indictment, U.S. Senator Bob Menendez (D-NJ) could not take to the stage this time for what might have been his Mount Rushmore microphone moment on behalf of his favorite presidential candidate going back to 2008.
But although it was not to be, and much gnashing of teeth accompanied the senator's hardest nosed Hudson County allies over the brutal political irony of having to watch junior Senator Cory Booker (D-NJ), a 2008 Obama protege, supplant the substantive fireplug from Union City as a 2016 Clinton surrogate, Menendez stamped away the demons of bad timing on the dance floor at the Kimmel Center tonight.
Deprived of the national spotlight in 2008 and 2016, Menendez threw arguably the best party all week, a salsa-fueled downtown fun-fest, complete with a driving band, grooving operatives who too suddenly unleashed a whole's cycle's worth of passion, and a balcony overlooking the city, where middle aged men chewed sagely on cigars and blurred the lines in conversation between politics and philosophy.
"Don't count him out," veteran party operative Bill Maer told PolitickerNJ, referring to New Jersey's senior senator.
Also spotted in the crowd at the animated shindig: state Senator M. Teresa Ruiz (D-29), Jersey City Mayor Steven Fulop, Assemblyman Nick Chiaravalloti (D-31), Assemblyman Andrew Zwicker (D-16), Bayonne Mayor Jimmy Davis, Passaic County Freeholder T.J. Best, Union County Freeholder Mohamed Jalloh, 2008 Obama NJ State Director Mark Alexander, Newark Councilmen Anibal Ramos and Luis Quintana, and North Jersey Democratic Party operative Idida Rodriguez (pictured below).