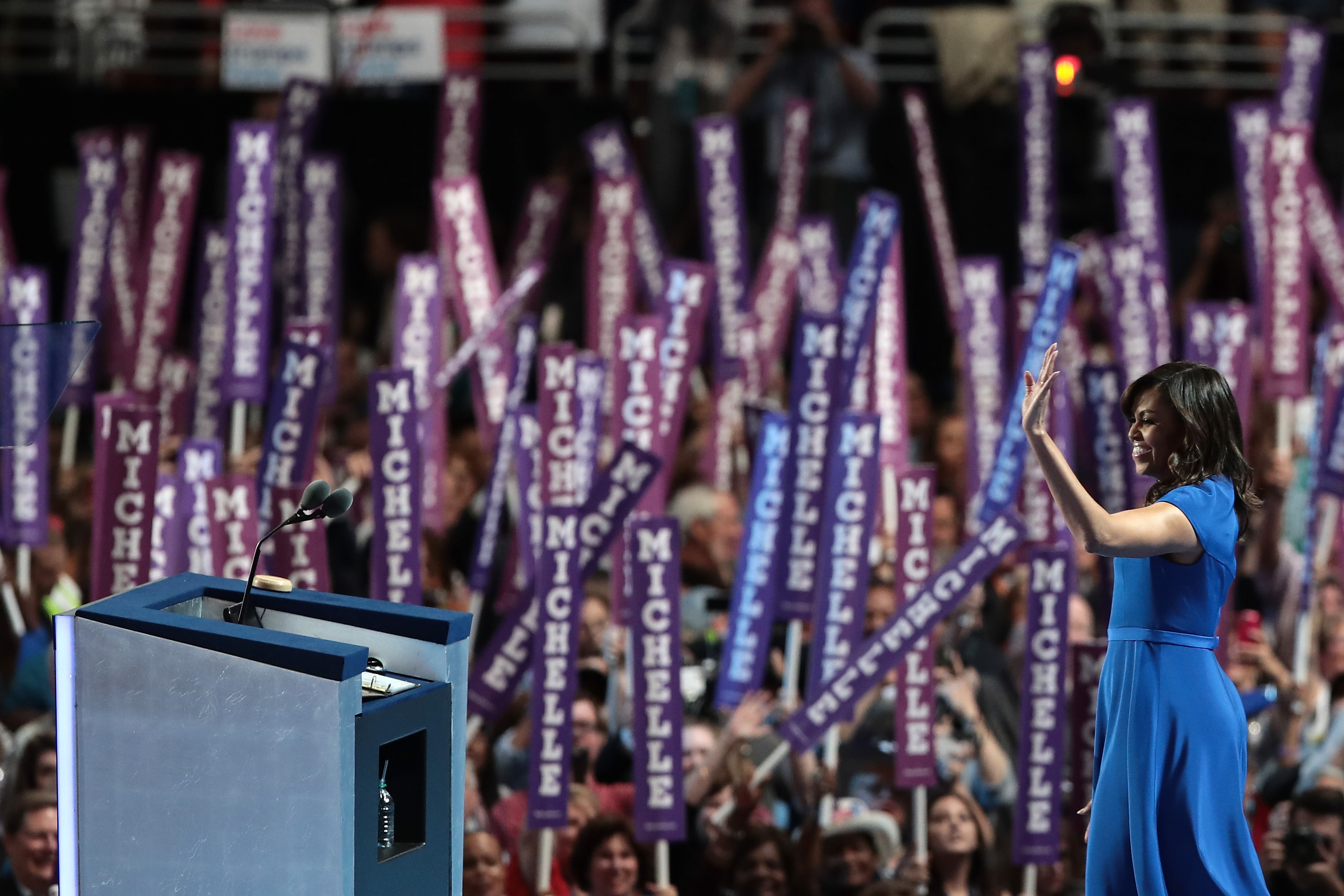 There was no booing during Michelle Obama's speech.
Taking the stage after hours of outbursts of dissent from Bernie Sanders delegates during the first night of the Democratic National Convention, the first lady seemed to unify a crowd that had been at turns restless and rowdy with a rousing speech framing the next election as a dire referendum on what kind of person should lead the nation and shape its children.
"That is what we're deciding: not Democrat or Republican, not left or right. No, this election and every election is about who will have the power to shape our children for the next four or eight years of our lives," she said. "In this election there is only one person who I trust with that responsibility, only one person I believe is truly qualified to be president of the United States—and that is our friend Hillary Clinton."
Obama deftly delivered a speech that laced withering criticism of Trump with celebrations of what Clinton's presidency would mean not just for the nation but for children, including her own and an understanding of the history her own family had made.
"I wake up every morning in a house that was built by slaves. And my daughters, two beautiful, intelligent black young women play with their dogs on the White House lawn. And because of Hillary Clinton, my daughters and all our sons and daughters now take for granted that a woman can be president of the United States," a visibly emotional Obama said. "Don't ever let us tell you that this country isn't great. Because this country, right now, is the greatest country on earth."
The speech drew only applause—the boos about Clinton or outbursts about issues that had plagued other speeches seemed to disappear. At one point, the arena had gotten so divisive that Sarah Silverman, the comedian and Sanders supporter who has now backed Clinton, told "Bernie or Bust" voters they were being "ridiculous."
Obama called for unity too, in an equally pointed if less blunt way—recalling that her husband had beaten Clinton and prevailed at a convention like this one eight years ago.
"When she didn't win the nomination 8 years ago, she didn't get angry or disillusioned," she said, in a line that felt the oratorical equivalent of a subtweet.  "Hillary did not pack up and go home, because as a true public servant, Hillary knows that this is so much bigger than her own desires and disappointments."
Instead, she went on to serve as secretary of state, Obama noted, work that was difficult and she could have left earlier.
"Hillary Clinton has never quit on anything in her life," she said.
Disclosure: Donald Trump is the father-in-law of Jared Kushner, publisher of Observer Media.