Shirley Cheng made it anything but easy for her daughters to receive the ingredients to her famous sauce. In fact, she waited three weeks before her brood, Hannah and Marian Cheng, were set to open their eatery, Mimi Cheng's Dumplings, in the summer of 2014.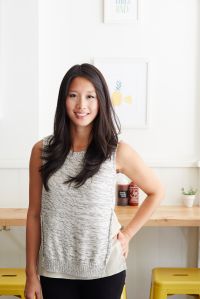 "In typical mom fashion she didn't tell me the exact recipe," Hannah said. "She listed twenty ingredients and she said 'I'm taking off now. Got to go.'" Shirley quickly disclosed the recipes while boarding a plane to Asia in July 2014. Waiting for the ingredients, though, was arguably worth the wait because now, two years after their first opening, the dumpling goddesses are set to open their second location in Nolita.
Hannah and Marian, the only children in the Cheng family, first learned the craft of dumpling making — and yes it is a craft — while attending elementary school in Rockland County, NY. Lovingly familiar with their mom's specialty, Hannah went off to Georgetown and Marian to University of Maryland for college with coolers of pre-made, handcrafted dumplings from their mother. Mimi's dumplings, as they are affectionately known, remained a staple in the girl's fridges and hearts.
"I feel like the way that music brings back memories and just transports you back to a place and experience, I think that food has the capability of doing that as well."
"The way music brings back memories and transports you back to a place and experience, I think that food has the capability of doing that, as well," Hannah said of the memories she has of her family's fondness for fresh ingredients and daily dumplings.
Straight out of college, both sisters had landed their dream jobs: Hannah was on the trade floor of J.P. Morgan and Marian working at Dolce & Gabbana and Burberry. But it seemed that the only thing missing in their lives was that little taste of home they found in their mother's home cooking.
After an extensive search for dumplings that could compare to Mimi's —  they found none — the girls, who had no established food experience, acted on their cravings and crafted a business plan. As they perfected dumpling folding en masse, their plans were met with parental fears. "They freaked out, [our] Asian parents freaked out," Hannah laughed, recalling the memory of presenting the idea to her parents.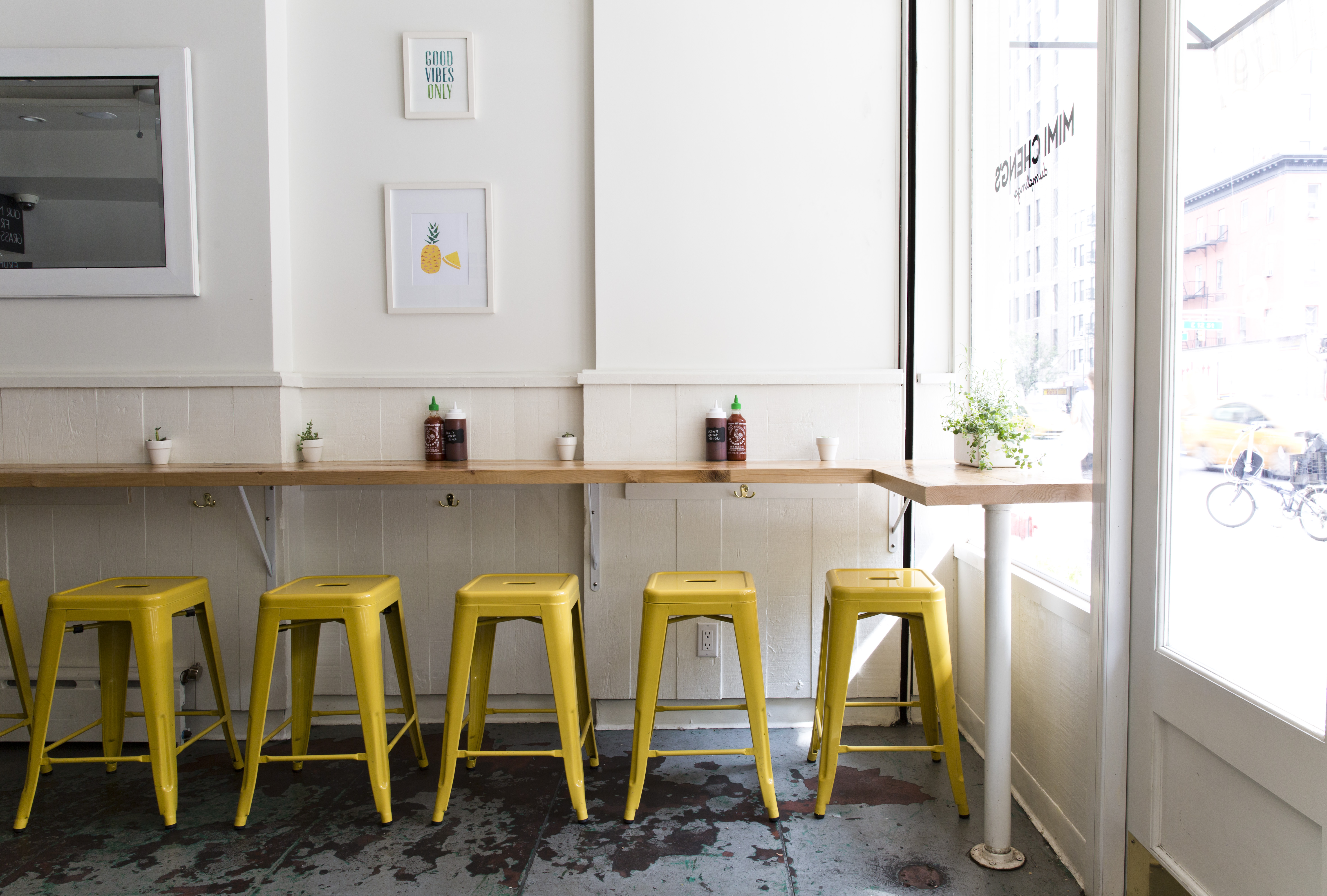 Pushing past their parents anxieties, the girls settled on an East Village location, which they described as a "no brainer" due to its long history with "niche food products" and "speciality places." "The East Village is one of those neighborhoods in the city that has such a neighborhood feel to it," Hannah said.
"It's such a community here," Marian echoed–as the sisters often do when together.
Though their craving for local vegetables and Asian delicacies was at the dumpling shop's core, a necessity for social justice defined the Cheng's decision to make waves in the New York restaurant scene.
"We had been reading a lot about stories of slavery happening right here in our city … they get these jobs in these restaurants where they're basically indentured servants, so we also wanted to create an environment which was warm, welcoming and safe for people," Hannah said.
This mission to serve a better, safer community is more than evident in the Cheng's business motto, which allows the staff of 25 to take extended time off for school or family visits, knowing that a job is waiting for them when they return.
This transparent business motto is matched by a transparency concerning their food. "We would never make something we wouldn't feed to our own family," Hannah said of the dumplings, which are made from Fleisher's meat and garden fresh vegetables.
After selling out on their first day in July 2014, the girls continuously faced a 2 a.m. bedtime to accommodate prep work for the next day's crowd. Now accustomed to long lines for lunch and dinner, the shop has secured itself a spot on a list of New York restaurant favorites. Though humble in light of all the praise, the girls remain occasionally shocked at their customer's behavior.
"It's unbelievable," Hannah said of customer's questions about the use of chemical MSG in their food. "It's straight up offensive actually."
Made with organic zucchini, pasture raised chicken and an absence of MSG, the girls both favor an order of half-chicken, half-veggie dumplings. The menu also includes steamed Tawianese greens and spicy Dan Dan noodles, alongside dumplings made of veggie, pork, chicken and a special that changes monthly.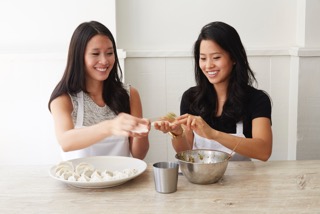 Hannah, who manages the back-end of the business and Marian, who tends to the day-to-day operations, still make appearances cooking in the kitchen. Both sisters who are perfectly familiar with the diligent, time-consuming craft of dumpling making are outfitted with hopes and dreams of expanding even further.
"We would love to be able to call it an empire someday," Hannah said.
"When you come here you're basically being invited over for dinner with our family."
The Nolita location, cemented in a ten-year deal on Broome Street between Mulberry and Mott Street near local favorites Two Hands Cafe and Cha Cha Matcha, has been ready to open for two months but with delays from Con-Ed, the slated opening has been delayed. Adorned with personalized photos, a family-style wooden table and bright yellow chairs for bar seating, the girls treat their shops like their home. Because, according to Hannah, "when you come here you're basically being invited over for dinner with our family."
Collaborations with Emily, Mile End, Luke's Lobster and vegan all-star By Chloe, has cemented the girl's love for New York City food and has solidified their penchant for working with food's most creative pioneers. Dubbing ABC Kitchen, Mission Chinese, The Garret East and Dominque Ansel's frozen marshmallow spectacular as some of their foodie favorites, the girls have collectively voted to rid the trend of aesthetically pleasing food for the sole purpose of looking good.
"I feel like everybody's always trying to one up each other with pictures and I think at the end of the day, at least for me, the priority is, it must taste good and make me feel good," Hannah said.
But for the Cheng sisters, the collaboration between look and taste are just the beginning. Experimenting with dessert dumplings, Sunday night dinner dumplings and truffled mushroom risotto dumplings, the girls have recently partnered with Black Tap, a burger and milkshake joint in Soho famous for its long lines and Instagrammable milkshakes. 
Beyond their monthly collaborations and a hope of a rooftop garden to grow their own organic vegetables, the Cheng's have their eyes set on a string of expansions including an eventual dumpling hub in Los Angeles. And with the new Nolita location opening any day, it seems as if Hannah and Marian Cheng are on dumpling duty for good.
"I think this is it," Hannah said of her career running Mimi Cheng's Dumplings. And of course, as they so often do, Marian agreed. "Yeah, this is life."