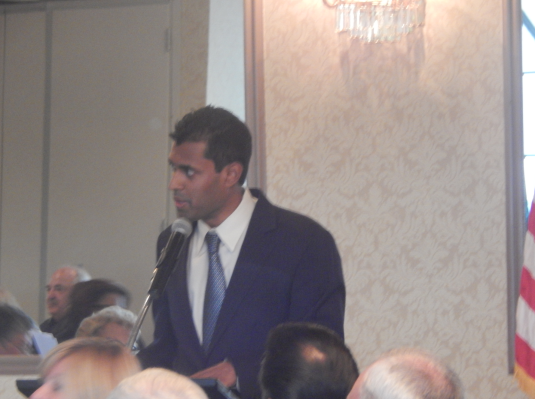 NEPTUNE — The chairman of Monmouth County's Democratic organization made his intentions more than clear Wednesday night as he stood beside the freshmen Assembly members he helped to elect last year in the biggest upset of that otherwise sleepy off-year cycle. 2017, he said, will be about keeping newcomers Joann Downey and Eric Houghtaling (both D-11) in office while setting the party's sights on the state Senate.
Chairman Vin Gopal addressed a crowd that included all of the Democratic leadership from both houses and the better part of Democrats' deep bench for the gubernatorial election that same year. The governor's office is expected to be the Democrats' to lose, and Gopal intends to campaign hard against Republican incumbents on his home turf.
"We're going to go straight after Senator Kyrillos, we're going to go after Assemblyman O'Scanlon, we're going to go after Assemblyman Rible, we're going to go after every one of those legislators in Monmouth County, we're going to field and finance strong races for all of them," Gopal said in his remarks.
"Joe Kyrillos and Jen Beck, they said, Declan and Dave, they all said 'give us a Republican governor and if you give us a Republican governor we will deliver for you.' We've seen what that's been for the last seven years," he said, referring to Governor Chris Christie.
Gopal also took a shot at Donald Trump in light of the Republican National Convention going on a time zone away, where Christie has been the most vocal establishment supporter of the real estate mogul.
"I can tell you, for those of you who know me with my religion, my race, my ethnicity, I would not be welcome in Donald Trump's Republican party," he said.
Houghtaling and Downey are pinning their hopes on a school funding proposal from Senate President Steve Sweeney (D-3) that would reallocate money to districts that are currently underfunded because of quirks in the state's school funding formula — many of which lie within Monmouth County. Though that bill would capture one of Beck and O'Scanlan's signature issues for the Democrats, it faces opposition from Christie.
Houghtaling called Christie's opposing proposal a political gesture rather than a viable alternative to the bill he and Downey are co-sponsoring. Christie's would offer flat funding to every district regardless of property tax income rather than tweaking the formula.
"That other thing is very tempting for a lot of people but it's very, very unrealistic and it would be a terrible thing for anybody to do," Houghtaling said. "And for a governor on his way out the door to propose something like this now, when the problems he creates will be in somebody else's hands, is very irresponsible as far as I'm concerned.
"This is all politics right now, what he's doing."
As for whom the two can count on for fundraising support in their reelection campaign, both of the central Jersey Democrats demurred from saying whether they will be looking to the South or the North in 2017. Staying neutral could prove difficult, however, if the gubernatorial primary race pits Sweeney's southern coalition against Jersey City mayor Steve Fulop and the North.
The General Majority super PAC helped to push the two over the line in 2015 with eleventh-hour ad buys mostly funded by NJEA contributions. Downey and Houghtaling also had the guidance of Assembly Majority Leader Lou Greenwald (D-6), an ally of Sweeney's.
Downey said she expects the same combination of labor support, private donors and contributions from public groups like the NJEA will come through a second time. 
"I'm an attorney and I have other ties that way, and I'm sure that they're all happy that we're here," she said. "We're just going to keep doing what we do: walk around and make sure people understand it's really great to have us there. We have labor behind us, we have like I said the attorneys behind us, we have honestly all different people in between."
"We try and consider ourselves just the Monmouth County caucus. Just me and Joann," said Houghtaling.