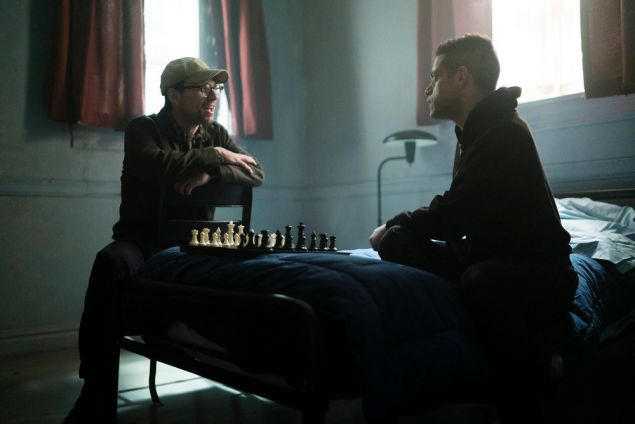 "A game to end all games between us…"
The principle of Chekhov's Gun tells us that if you introduce a gun in the first act, the damn thing better go off by the third. Mr. Robot, true to its form, took this idea and updated it for our modern, analog age of tech-paranoia, introducing us to what I think is TV's first Chekhov's Instagram Post.
I'm talking, of course, about this week's brilliant pre-credits opening, a flash backward to a time before the hack, before FSociety before even Elliot's stint at Allsafe to an origin story of sorts for Mr. Robot and the mustachioed mask that gives FSociety its face. As it turns out, the mask is NOT a twisted take on The Monopoly Man (sorry, Dennis), but a cheap 99 cent knockoff from fictional slasher flick The Careful Massacre of the Bourgeois, the type of low-budget, art school pretentious thing you can only suitably watch while stoned and wallowing in self-pity. Luckily, Elliot and Darlene do both, before Darlene whips out her phone and documents the occasion on Instagram, because "people need to know this movie exists."
Say what you will about Mr. Robot, but it rarely if ever does anything without a purpose. I can't think of one gun Sam Esmail has brought into center-frame he didn't eventually fire (I mean, someone used that gun in the popcorn machine). And how appropriate to Mr. Robot's aesthetic for a years-old social media post, the one piece of technology that's in front of our face daily, to be the smoking gun in the case of FSociety. FBI Agent Dominique DiPierro is already putting the pieces together: Romero's body led her to a flyer, to an arcade, to an End of the World party that we know was broadcast over social media. We've seen it this season, seen that no matter how many firewalls or failsafes FSociety creates to bury their tracks the one leak they can't stop is its own members, taking selfies with a pair giant brass balls. It's as arrogant as using a building with the letters F  SOCIETY plastered on it front as your secret hideout, taking on the iconography of a film that no one has ever heard of but you. "People need to know this movie exists." How long before the wrong people do?
Darlene's post wasn't the only significant detail of this week's brilliant opening, which was as horror-tinged and eery as any episode of Netflix's Stranger Things. The music, somewhere between 80's spookiness and mid-90's wonder, underscored a scene in which we watched the literal creation of a monster. It's strange to think that Rami Malek, face-actor extraordinaire, gave one of his most arresting performances here, under a mask. But it works, because for the first time we're seeing Malek play Mr. Robot, not Elliot. (It helps that the whole thing ends in a MR. ROBOT audio jump-scare that, in pure, scientific TV critique terms, scared the shit out of me).
The genius of the opening makes it all the more disappointing that it led directly into one of Mr. Robot's weakest episode's to date. Look, the show about the computer-hacker with a double personality played by Christian Slater has never been subtle, exactly, but it's also never talked down to us. The main conceit of "Eps2.2init1.asec"–a literal game of chess between Elliot and Mr. Robot, winner take, uh, life?–is so on-the-nose it took me out of the show. I mean, it's just such an explanation of the show's entire thesis that I think, at this point, we understand. Elliot is fighting himself, always has been, a battle he can't possibly win because Mr. Robot is crazy and maniacal and off-kilter but he's also vital. And it's some strange middle-point between the two that effectively changed the world; to kill one would be to destroy the other, leaving nothing. But to spend an entire episode taking that core idea and putting it on screen? It establishes nothing. It's a step back. 
Save, maybe, for this week's one truly beautiful sequence, a daydream look at Elliot's idea of a happy future, one spent among the people he cares for, that care for him, and some that he may come to care for one day against all odds. It's effective, because it takes the obvious ideas raised by the chess game and puts them in a different light. For all his loneliness Elliot has, somehow, amassed a long line of companionship–be it FSociety, E-Corp, Allsafe, or Angela. Elliot's isolation is not the cause of society, or capitalism or some philosophical bullshit; it's Elliot. So yes, he is fighting himself but for the wrong reasons. The goal is not to end one side or the other, "annihilation" as Krista calls it, but to combine both sides, to finally become the strangely charismatic, empathetic person everyone at that dinner table sees. Elliot is Mr. Robot, Mr. Robot is Elliot, and to deny either would be less an annihilation and more a careful massacre of everything Elliot is.
"I want you. Only you." 
Elsewhere, everything is all fucked.
Darlene is finding friends hard to come by in her post-hack world, and no one told her life was gonna' be this way (well, except for Elliot: "We're on the other side of something we never signed up for," he tells her, not entirely correctly). On one side is the FBI, drawing ever closer to FSociety thanks to a poorly hidden flyer in Romero's house. On the other, The Dark Army, the dangerous hacker collective headed up by a time-obsessed order-fanatic named White Rose that would be none too pleased with the sloppiness of Darlene and Co.
But there's more at play here…so much more, but Mr. Robot is keeping its cast of characters in such a perpetual state of dizziness it's hard to tell up from down, black from white(rose). The key point of stabilization may be the one component that even Dominique DiPierro can't quite peg down: Romero's list of FBI agents, all of which interviewed Gideon Goddard.
Gideon Goddard knew too much…and was murdered. Romero knew too much about Gideon Goddard…and was murdered. Mr. Robot is a show obsessed with patterns, perfectly constructed loops if you will, so follow the chain, not back to The Dark Army, or Tyrell Wellick or the FBI, but to Elliot himself. "Everyone is hurting because of us," Mr. Robot throws out casually to Elliot during their chess game. Is this an attempt at distraction, or a confession? Why, as the perfectly constructed loops gets messier, as it tightens and tightens until it's a bloody bandage around Elliot's head, do just the right people keep dying to keep it together just a little longer?
"A world I've always wanted," Elliot says, to us. "And you know what? I'd like very much to fight for it." We've seen already that in this fight, Elliot is willing to destroy a piece of himself. What's he willing to do to everyone else?
Quick Bytes: 
I can't quite figure out Ray, or what his obviously shady "online business is", but God do I love the fact his equally shady henchman is named Lone Star.
Sidenote: Lone Star is a terrible henchman, and does not notice Elliot literally hacking into the FBI under his watch.
Because of the faith I have in Mr. Robot, I know Angela's storyline inside E-Corp will have ramification eventually, but man is it currently a jumbled downer of a mess compared to everything else in season two.
One thing I will say about the chess match between Elliot and Mr. Robot is it did give me added appreciation/genuine fear for a lot of people I've seen playing against themselves across NYC parks.
Checking in: Joanna Wellick is definitely up to…SOMETHING…that includes blackmailing an employee at the car lot Elliot woke up in after his three day blackout.
B.D. Wong is a treasure. For the record, though, I preferred the earring on the left.