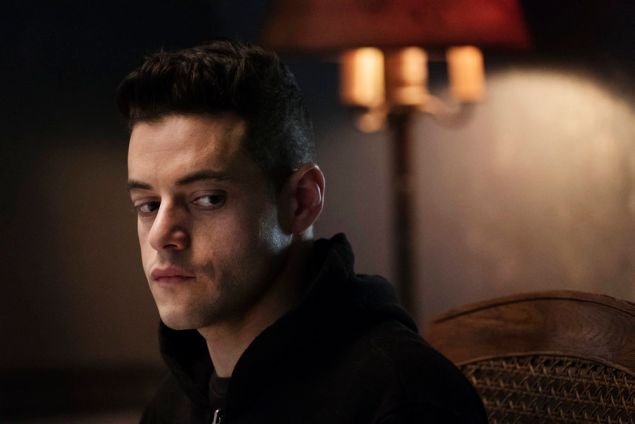 "Control is an illusion"
So scribbles Elliot Alderson–still being less played by and more shaken out of the great Rami Malek–in his journal, the backbone of his "perfectly constructed loop", in Mr. Robot's sophomore season premiere. A drop of blood falls on the page, dripping from a wound delivered by his own psyche, his sentient daddy-issue Mr. Robot (Christian Slater), who moments before placed a gun to his head and pulled the trigger. Fired a "bullet", an idea, a command, directly into Elliot's skull because he and Mr. Robot are one and the same, and Elliot still can't help pointing his weapons toward himself.
"He shot me in the head again. I didn't panic like last time. I stayed calm," Elliot writes. "Control is an illusion."
It's interesting to ask who wrote that last bit– Elliot or Mr. Robot? Because the sentiment itself may as well be the show's thesis heading into its second season. We find all our main players struggling to remain some semblance of control over their lives in the fallout of FSociety's economy-crippling hack that has even President Barack Obama rattled. They're all trying, most failing, to keep their mask from slipping and revealing to the world how delicately their shit is being held together. "Why this mask?" Tyrell Welleck asks Elliot early, brandishing the standard FSociety disguise. "It's a bit silly isn't it?"
It is. But Tyrell may as well be talking about Elliot, who pretends writing "I am in control" over and over as part of his newly adopted mundane daily ritual will make it any more true. Tyrell may as well be talking about Darlene, who breaks down alone in a bathroom before stepping in as de facto leader of an FSociety more concerned with taking selfies with the Wall Street Bull's balls than with changing the world. Or Andrea, who got a taste of what life under Evil Corp was like and found out she might like it.
The great irony here is that this grand idea–the fragile nature of control–is being orchestrated by a single man. Mr. Robot creator Sam Esmail has taken over writing and directing duties for every episode of season two, à la Steven Soderbergh and The Knick on Cinemax. This is a task reserved for people who are A) Borderline insane, and B) Hell-bent on delivering a vision. Here, Esmail seems intent on delivering a TV show that is actively fucking with you. Elliot speaks directly to us for a reason; we're complicit in all this. And being complicit, we give up just as much control over the experience.
"I wonder what mask you hide behind, friend," Elliot says, to us. "What mask do you wear?"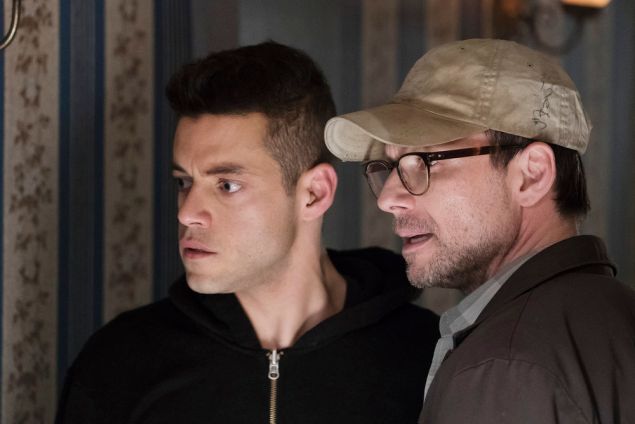 "They see me"

 
Mr. Robot, freed from the "IS HE REAL IS HE FAKE?" constraints of last season, is transformed from Elliot's guardian angel into much more of a bogeyman, a Freddie Krueger type that comes to life as Elliot sleeps. And he's a better character for it. Revealing Mr. Robot as a construct of Elliot's cracked mind has, funny enough, given Mr. Robot more life. Take the scene–my favorite of last night's episode–in which Gideon Goddard shows up jittery and at the end of his rope to Elliot's mother house because, womp womp, the entirety of society just happens to blame Gideon for the complete fall of the world's economy.
This scene works on so many levels because with the inclusion of Mr. Robot at the table, we can literally see Elliot's internal reactions at work. We know that timid, damaged Eliott is one table-length's of wood away from all his darker impulses. If Mr. Robot truly did frame Gideon for FSociety's hack, we now understand that's simply Elliot's animalistic self-preservation at work. Eliott reacts in horror at the image of Mr. Robot slitting Gideon's throat, but we can understand that this very same image is coming directly from Elliot's head. If Mr. Robot actually wanted to reach across the table and strangle Gideon, would Elliot have the power to stop him? To stop himself?
I'm not so sure. And I'm not so sure that Elliot's as victorious by episode's end as it appears. True, he demands from Mr. Robot the whereabouts of Tyrell Wellick, who until that point haunted the episode like a ghost, unseen but vital. And yes, with a single phone call and the same phrase that closed out Mr. Robot's first season premiere (Bonsoir, Elliot), Eliott apparently gets what he wants. But elsewhere, Gideon Goddard lies on a bar floor with a bullet hole in his neck, dying alone as the news paints him as a villain. Dying because of Mr. Robot. Because of Elliot. Even as Elliot seems to wrestle some control back for himself, he continues to burn the world around him.
And that's the point, isn't it? Control is an illusion. It's fleeting, if it's there at all. The lives we've built, the identities we carefully cultivated over the years, they're silly plastic masks hanging on thin strings.
Quick Bytes: 
Elliot's journal, which we mostly see obscured or in quick flashes, is filled with hints that Mr. Robot has been active while Elliot slept for a while now. Like this passage, seen briefly early in the episode:
"The Bible's kinda good. For a sci-fi book. There's some mad vengeance God takes out on people. Dude doesn't like to get betrayed and I'm down with that. The plagues and locust shit and that heathen woman Lot's wife turning to salt – pretty fucking funny. Couldn't deny he's got a sense of humor. And a real flare for the drama. Gonna go to sleep now." 

And directly under that, in darker, bolder, harsher writing: "SLEEP TIGHT WHILE YOU GET YOUR LESSON OF THE DAY FROM YOURS TRULY: HOW TO DRAW A CAT!"
Many incredible additions to the cast–Grace Gummer, a surprisingly poignant Craig Robinson–but I will actually stop watching this show entirely if it doesn't devote, minimum, five minutes a week to Joey Bada$$ as Eliott's friend Leon discussing

Seinfeld

. "That Kramer dude, if I knew him in real life, I'd knock his ass out."

The scene in which FSociety forces E-Corp attorney Susan Jacobs out of her "smart home" by turning her technology against her is my actual nightmare. I live in fear every morning that my coffee machine is going to poison me out of spite. I had a conversation with a friend about the inevitability of self-driving cars yesterday and had an anxiety attack. I distrust my iPad on a personal level.
Note the similarity to Elliot writing "I am in control" repeatedly in his journal, and Angela's Positive Affirmations Vol 3: "I am confident."
Checking in: Joanna Wellick is still both mysterious and terrifying.
Mr. Robot has always been on-point with its music cues, and this episode was no different. I always assumed society would burn to the tune of Phil Collins.
[youtube https://www.youtube.com/watch?v=sRY1NG1P_kw]