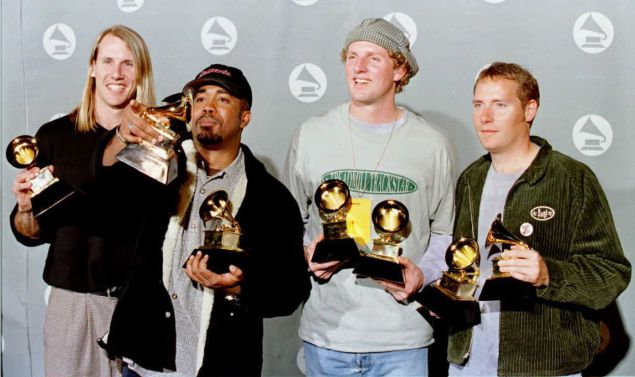 There is a long joke about a congressmen and a sheep. Maybe you've heard it. Well, Hootie & the Blowfish are my sheep. And despite the continual toll my involvement with this talented and supremely well-intended band has taken on my hard-earned artistic and journalistic credibility, I love my sheep.
Part 1. The Beginning
In 1992, after a somewhat successful life working (since age 16) as an avant-pop musician, avant-garde musician, punk rock/hardcore DJ, journalist, and MTV and VH1 News VJ, record executive and managerial legend Danny Goldberg asked me to join him in the Los Angeles office of Atlantic Records.
For many years people had told me I might make a good A&R person, and I was intrigued by the idea of living in Los Angeles, so I left a very comfy job running the news department at VH1 and moved to Laurel Canyon, Calif.
My first year at Atlantic was spent learning the ropes and A&R'ing projects that were assigned to me. I spent a lot of time considering who would be the first act I would actually bring to the label. Ultimately, in the spring of 1993, I decided that the first band I would sign to Atlantic would be the incendiary Seattle punk rock band, the Gits, who were fronted by the best female vocalist of her generation, Mia Zapata.
Four days after shaking hands with the Gits on a deal, Mia Zapata was murdered. As anyone who was an active part of the Seattle scene in the early-'90s can tell you, this tragedy may have been more of a blow to the city than Kurt Cobain's death.
(I went to a synagogue once with Kurt Cobain. He wore a suit and everything. But this is another story.)
In the spring/summer of 1993, I found myself once again searching for a band I could sign to Atlantic that I could call my own.
[youtube https://www.youtube.com/watch?v=_V_6yIvmzgw&w=420&h=315]
Part 2. The Beginning, Part B
Like all A&R people, I had a pile of CDs on my desk. One of these was a self-released EP by a South Carolina band called Hootie & the Blowfish. Danny Goldberg had placed it there; it was one of the many acts that the pioneering retail research department had indicated was selling well in a specific local market.
It had arrived on my desk with no greater fanfare than the dozens of other locally hot acts that this curious department drudged up (a surprisingly large amount of these sounded like 10,000 Maniacs; I have no idea why, other than I suspect if you organize any random group of State University students into a group, a noise not unlike 10,000 Maniacs will emerge).
I'll underline that outside of the nice fellow in retail research, no one at my label, or any other label, appeared to be remotely interested in Hootie & the Blowfish. We were in the depths of the Age of Grunge, and the LAST thing ANYONE in the record industry was looking for was a band who were to the right of Toad the Wet Sprocket and played country-inflected mid-tempo bar-band college rock.
In the 1980s, I spent a lot of time in Mid-South college towns like Athens, Ga., Chapel Hill, N.C., Charlottesville, Va., and Charlotte, N.C.; perhaps more than many of my A&R contemporaries, I had an appreciation for the phenomenon of college rock in the Mid-Atlantic States.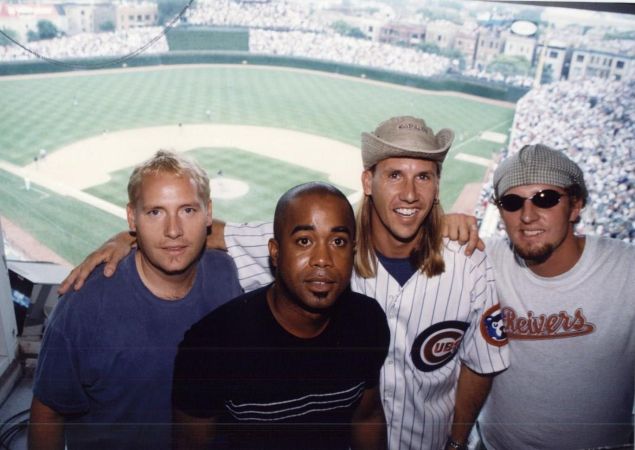 I knew, from having been close to REM in their earliest days, that they played plenty of frats churning out covers, so the fact that Hootie regularly played in front of a lot of screaming, Jäger-waving drunks didn't deter me in the slightest. I trusted these audiences on (what was sometimes called) the "SEC Circuit." Often, where and how these audiences spent their money was a good indication of what would succeed nationally.
So I chose to take a second, third and fourth listen to this EP from a band from Columbia, S.C. It was called Kootchypop. Awful name. Nonetheless, I decided, in August of 1993, to go see the band in Charleston, S.C., and in their hometown of Columbia.
Before I left, I had a very interesting omen.
Part 3. The Interesting Omen
Literally the week I was set to fly down to South Carolina to see Hootie & the Blowfish, I took a look at the Billboard Charts. In the U.S. Top 10 Albums, there was a pile of grunge records, AND Bob Seger's Greatest Hits.
This indicated to me that there was a MAJOR part of the marketplace NOT being served by the record companies, who were signing grunge and only grunge. They really were.
In 1993, you could have been in a craptastic hair-metal band called, oh, Hellavator, and if you cut your hair, threw on a flannel shirt, and stuck a Tad sticker to your guitar case, you could have gotten a fucking record deal. This is not an exaggeration.
So, I said to myself, Jesus, if Bob Seger's Greatest Hits is fucking sitting in the Top 10, man, somebody needs to sign something that could appeal to that audience: all those people going out to buy Bob Seger records.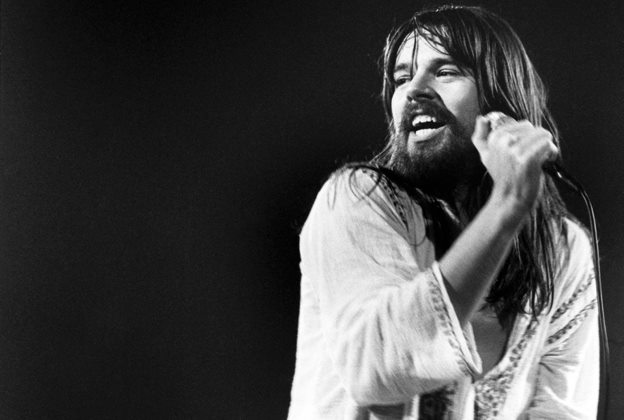 Part 4. South Carolina, August 1993
The band got on stage in Charleston. The club was packed. The manager threw three Jäger shots down my throat.
Not long afterward, he expressed surprise that my "people" didn't embrace the Messiah. He said this in a very sweet way, though. I mean, he was genuinely interested, even open-minded, the way I might be if someone told me they preferred In the City by the Jam to All Mod Cons. You prefer In the City? Really? But All Mod Cons is their masterpiece. Oh, I see. Would you like to get coffee?
I knew RIGHT away.
I mean, I did not know they were going to sell all those records—but I did know I was going to sign them. Jesus Christ, a band gets on stage and sings a freaking song like "Let Her Cry" and they're NOT signed?!? Let's get real. This was not freaking rocket science; all it took was the ability not to give a damn that there wasn't a Tad sticker on anyone's guitar case.
Outside of one person in retail research at Atlantic Records, no one at my label, or any other label, appeared to be remotely interested in Hootie & the Blowfish.
I walked backstage and told the band straightaway that I was signing them to Atlantic. That's the ONLY time I ever did that.
The next night, we hung out in their hometown of Columbia. All the band members were very goddamn smart, and reminded me of the indie-rock geeks and film students I had hung out with most of my life. And it turned out they had all seen my band Hugo Largo when we played there in '87.
They were also literally the biggest REM fans I had ever met, and they could churn out any and every REM song, on request. You could stand in front of them and say, "O.K., how about 'Carnival of Sorts'?" and they could dial it up like a freaking radio. How could you not love that?
[youtube https://www.youtube.com/watch?v=1aVHLL5egRY&w=420&h=315]
Part 5. The Deal
So I got back to Los Angeles. The thing is, no one at any other label even vaguely wanted to sign Hootie & the Blowfish.
Maybe you know this, maybe you don't, but it's quite goddamn unusual for an A&R person to want to sign a band no one else is interested in, but my label was generally supportive and trusted me, provided that we do the deal for next to nothing.
At that time (mid-'93), the standard new-band major-label deal was $250,000. Atlantic requested that the deal be done for $75,000, all in—that is, $75,000 for recording budget AND advance. NO video commitment, NO radio commitment.
The band signed. We set about making record.
Part 6. Making the Record
The good thing about doing a deal for next to nothing with a band no one particularly cares about is that no one is looking over your shoulder.
Danny and the label gave me a large amount of freedom to pick any damn record producer I wanted, instead of the usual A&R/label game of picking ONLY people who currently have hit records. Don Gehman wasn't exceptionally hot chart-wise, but he had produced both REM and John Cougar Mellencamp, so I decided he was perfect.
In March/April 1994, the band came out to Los Angeles for pre-production and recording. I was an "old school" A&R person who wanted to leave nothing to chance, so I was present for almost every day of pre-production, every day of recording and every day of mixing.
I now realize I essentially co-produced that record, but I didn't know that then, I just thought I was doing my job. It still seems weird to me that an A&R person wouldn't want to make sure everything came out right.
The record was a breeze. The band had been playing many of those songs for six, seven, eight years, so it was just a matter of shortening them, tweaking them and recording them right. Gehman did a fantastic job.
We did the whole thing in three weeks.
Part 7. THIS IS WHERE IT GETS REALLY INTERESTING
Shortly after we finished the record, I played it for the head of A&R, who was based in New York City. I played this fellow the entire album, and he immediately and firmly pronounced the record "unreleasable," and said it didn't have any singles.
Naturally, I was disappointed, but I trusted my ears, and my trust in my ears was more important to me than sucking up to the head of A&R.
I played "Cracked Rear View" for the head of Atlantic Records' A&R. He immediately and firmly pronounced the record "unreleasable," and said it didn't have any singles.
So I went to Danny Goldberg, who ran the West Coast office. I told Danny that the head of A&R said the record was unreleasable. I explained that I respectfully but adamantly disagreed, and I made my case. Danny shrugged, looked at me, and said, "Timmy, if it's so important to you, I'll make sure it gets put out."
Yay, Danny.
Part 8. Release
That's all Atlantic was going to do—"just" release it (which, by the way, is fairly standard; I'm not singling out Atlantic).
They certainly weren't going to make a video. To illustrate how low a priority Hootie & the Blowfish were to Atlantic, the NY trash/thrash band, Surgery, who were released at around the same time, got a music video. But Hootie didn't.
But there were some people at the label who seemed to think there might be something to the band, and the most important of these at this early stage was the product manager, Kim Kaiman (the product manager coordinates all the moving parts of a release, communicates with everyone else at the label and tries to get the non-moving parts to move; if you're a young artist, please note that the product manager will be more important to you than your A&R person).
Together, Kim and I made a little plan. This is how the plan went.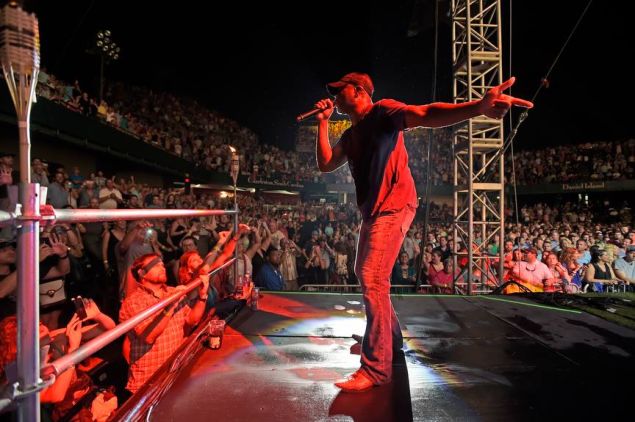 We knew the band's self-released EP had sold very, vey well in North and South Carolina. So we gave our sales people this instruction: "In North and South Carolina, stock the thing like it's Pearl Jam. But in the rest of the country, don't even bother."
In fact, I remember telling a sales person, "I really don't care if there's not one single copy of the album in all of New York or Los Angeles. I don't need to go out on the day of release and buy it."
This was just the opposite of what all the A&R people, managers and record company types usually said.
Their ego demanded that they could march down to Tower Records (in N.Y. or L.A.) on the day of release and go, "Look, there's my record!" But Kim and I said, "STOCK NORTH AND SOUTH CAROLINA LIKE IT'S PEARL JAM, that's the only thing you need to worry about." The sales people, to their credit, listened to Kim and I. (Well, mostly to Kim, because I already was generally thought of as an egotistical jackass.)
This was what Kim and I were thinking: If we could get a HIGH entry on the Billboard Heatseekers chart, the label might snap to attention. We figured 1,500 sales or so would get us a Top 10 Heatseekers entry.
[youtube https://www.youtube.com/watch?v=xoW3bqnr7tw&w=420&h=315]
Part 8 B. Expectations
At that time, the goal of any new artist was to sell enough albums to get a chance to make a second record.
Hootie & the Blowfish—and myself, and Kim—had been raised on the R.E.M. model, which is that you expanded your audience a little with every record, until, on record three or four, you finally began to sell a serious amount of albums. But the trick, always, was selling enough to convince your label to make that second, third, or fourth record.
I remember talking about a specific goal: "Let's sell 50,000. And maybe, maybe, if we were really lucky, Hootie & the Blowfish could be as big as the Jayhawks."
(We really, truly did say that.)
Thanks to the local-centric strategy, Hootie sold about 10,000 copies that first week JUST in North and South Carolina, literally JUST in North and South Carolina, and the album came in at No. 1 on the Heatseekers chart.
Suddenly, the label took notice.
There's a lot, lot more to the story. But let's just shorthand and say that Cracked Rear View by Hootie & the Blowfish sold 20 million records.
It is the highest-selling album (at time of release) in Atlantic Records history.
It is the third best-selling album of the '90s, and the 14th best-selling album of all time in the U.S.
And if it had sold 50,000, they would have been as hip as the Jayhawks.
Once, at a press conference at the height of their success, someone asked the band, "Say, this 'Tim Sommer' who is listed as A&R on your album—that couldn't possibly be the same Tim Sommer who was in that arty band Hugo Largo?"
Uh-huh.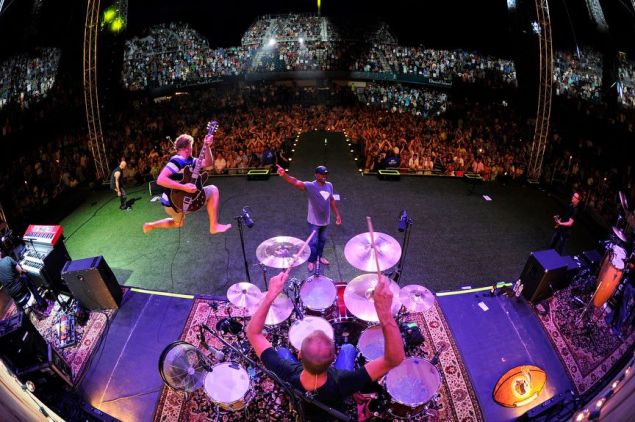 A Few Post-Scripts
After Hootie & the Blowfish became ginormous, they played some huge gig in Seattle. I flew in and announced to the band, "You are giving every dollar you make tonight to a rape crisis group set up in Mia Zapata's name. I never want you to forget that you almost certainly wouldn't be here if a brilliant and talented young woman hadn't been murdered." They did as they were told.
There are "other" versions of how Hootie got signed and/or succeeded. Mine is the accurate one (though most certainly it omits other terrific people at the label who took an interest in the band early on—I recall Andrea Ganis and Bob Clark in radio, Patti Conte in press and virtually every assistant on the floor really loved the band and did all they could). Hootie & the Blowfish, Danny Goldberg and others close to this situation will verify that my account is generally correct. The record industry is absolutely chock-full of people who take credit for other people's achievements. This doesn't even get me particularly steamed. It's just the way it is. Long ago, I realized that assholism in the music industry generally isn't personal; it's completely banal.
Advice to bands: Be nice to assistants. Always. This will pay back, in spades, and may be more important than the relationship you think you have with the label president.
I don't want to end on such a serious note! Can I say here that Hootie were waaaay ahead of everyone else on the whole Confederate Flag at the South Carolina state capitol thing? They were campaigning against that since before they were signed.