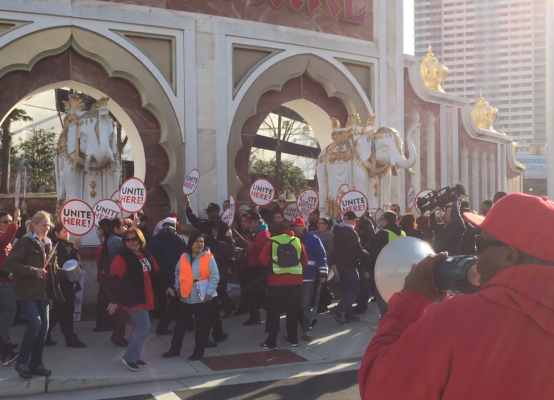 A new poll shows a majority of respondents opposing the Democratic-led push to expand casino gaming to North Jersey with a constitutional amendment. The survey from Farleigh Dickinson University's PublicMind shows only 35 percent of voters in favor of expansion, and 57 percent opposed to the amendment.
Assemblyman Vince Mazzeo (D-2), whose district encompasses Atlantic City, called the poll evidence of widespread apprehension about new casinos' effect on the state economy. Moody's has predicted that increased competition would lead to additional casino closures in the South Jersey resort town.
"Over the coming months as we continue to get our message out across the state, I know the numbers will continue to grow across the board, as this poll has showed, in staunch opposition to this disastrous ballot measure that would put thousands of Atlantic County's hard-working middle-class families on the unemployment line," Mazzeo wrote in a statement.
"PublicMind has been asking about casino expansion since 2009. Support for casino expansion is about where it was in 2015," said Krista Jenkins, professor of political science and director of PublicMind. "Getting people to a casino first seems to help drive support. But even among those who have dropped some chips on a table or coins into a machine, a majority are opposed to expansion beyond AC."
The poll found that opposition was even among Republicans and Democrats, men and women, and all other groups considered.
Despite support from northern Democrats like Loretta Weinberg (D-37) and Paul Sarlo (D-36), the casino amendment has drawn harsh criticism from Atlantic City lawmakers like Mazzeo and his Republican counterpart Chris Brown since passing the state Assembly and Senate with overwhelming majorities earlier this year.
Weinberg told PolitickerNJ that she believes expansion is the best way forward for Atlantic City and the state now that the city no longer has a monopoly on the east coast.
"Part of putting together that enabling legislation will send money back to Atlantic City, as Atlantic City has has been sending money to the rest of the state for many years through their funding of senior programs, transportation programs, et cetera," Weinberg said. "So as far as I'm concerned, we have two choices here: let them lose the casino industry to Pennsylvania and Connecticut, or let them share in a new casino in northern New Jersey."
Four Atlantic City casinos closed in 2014, taking thousands of jobs with them. Senate President Steve Sweeney (D-3) is a primary sponsor of the amendment. Sweeney's likely gubernatorial rival Jersey City Mayor Steve Fulop caught flak from other northern Democrats when he said he may reconsider supporting a new casino in his city.
Jenkins said she doubts that the amendment, which would have to pass by a ballot question in November, will pass.
"Favorable attitudes toward expansion have never been part of the landscape. This suggests the supporters of this amendment will continue to experience an uphill battle convincing voters that casinos beyond Atlantic City are a worthwhile investment in local economies."