In case New York City's employees need a refresher—and it seems like many might—the Department of Investigation would like to remind them: bribery and corruption are illegal.
As the city grapples with several ethics scandals, The Department of Investigation would like to remind city employees that bribery and corruption are illegal. corruption-fighting agency is rolling out a Just-Say-No style aimed for the world of waste, fraud and corruption: plastering the sides of city buses and the radio airwaves with advertisements reminding people not to get sucked into the seemingly ever-present temptation of graft.
"This media campaign challenges New Yorkers to act if and when they see the crimes of bribery and corruption," DOI Commissioner Mark Peters said. "This type of wrongdoing corrodes the City's ability to effectively reach its citizens; impedes progress; and diminishes the people's faith in government. This campaign underscores that when it comes to bribery and corruption, New Yorkers are part of the solution."
The campaign began this weekend with ads on the sides of city buses showing money in a mousetrap proclaiming: "Bribery & Corruption Are a Trap. Don't Get Caught Up. Report It." (The mouse trap is a bit of an interesting choice, given that people who report crimes are often referred to as "rats.")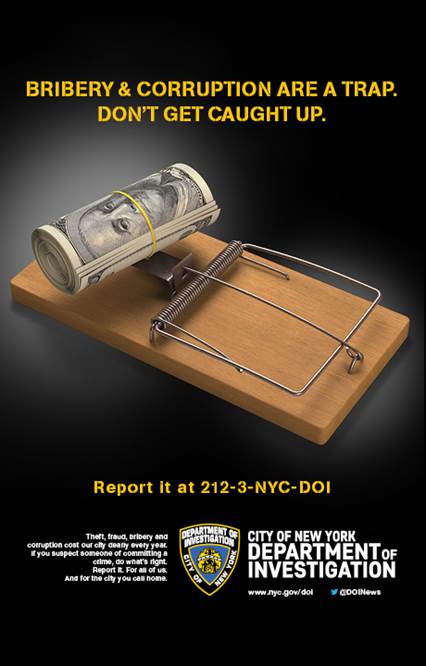 The ads were designed in partnership with Frank Ginsberg, the chairman of the advertising agency afg&. It's not the first time the DOI has launched ads: in 2013 they used the tagline "See Something Crooked in NYC?" and in the 1990s it was "Get the Worms Out of the Big Apple."
But the ads might feel more potent given the amount of attention being paid to city scandals at the moment, with the city seemingly making a grim comeback in corruption that has put it in a position to compete with its upstate cousin, Albany—which has been scandal-scarred for so long that Lin Manuel-Miranda tossed a line about it into Hamilton, which takes place in the late 1700s.
Several high-ranking NYPD officers have been indicted on charges of accepting gifts from two businessmen who also happened to later become donors to Mayor Bill de Blasio—gifts including Christmas presents hand-delivered by the men while they were dressed as elves, and a private jet ride to Las Vegas that included an in-flight prostitute who went by the name Candi. That scandal also swept up Correction Officer Benevolent Association Norman Seabrook, for allegedly accepting a bribe in a Ferragamo bag, handed off by one of the businessmen in exchange for investing union cash in a high-risk hedge fund. There are also a slew of investigations swirling around de Blasio—including into his contributions to State Senate candidates (there's Albany again) and his fundraising through non-profit groups, an issue the Campaign Finance Board will take under discussion later today.
Ginsberg, with afg&, said the ads will help New Yorkers understand what they should do when they see something that doesn't look quite right.
"More often than not, our citizens know when any wrongdoing is occurring, however don't know how to report it or whom to call," he said. "Through this campaign we are giving New Yorkers the tools to help the DOI stop or prevent these crimes."