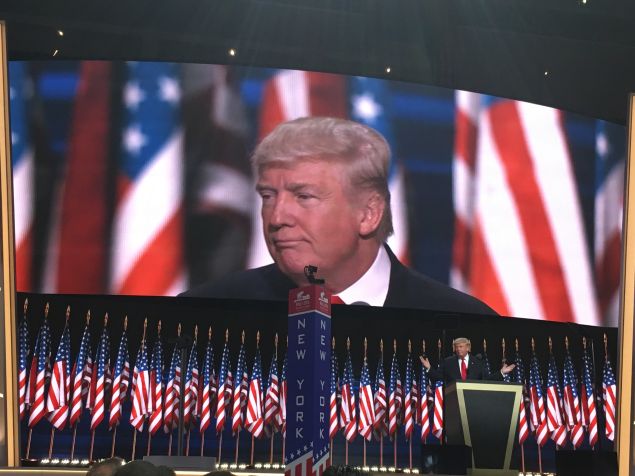 CLEVELAND—For more than an hour Donald Trump used his acceptance speech at the GOP convention to paint a grim picture of America—crime on the rise, jobs on the decline, terrorists marauding across the globe, undocumented immigrants literally getting away with murder.
And that's the way the people of New York see things too, according to the state's top Republicans, who enjoyed seats right in front of the stage at Quicken Loans Arena.
"If you're a factory worker who's lost his job, and has a job that he's not proud of and he feels his country is being disrespected, if you are someone who, who, in this sour economy has found their income decline, maybe you only have a part time job, let me tell you, that message appeals to you. And that is a good portion of our population now," New York State GOP Chairman Ed Cox told the Observer after the convention wrapped, highlighting the businessman's roots in Queens and residence in Manhattan. "His message is a special message that will play all across the country and especially in New York because he is from New York."
But in New York City, a federal study released last month found unemployment down and wages rising. Mayor Bill de Blasio's NYPD insists murders and shootings are going down, not going up as Trump claimed. (Upstate, where the population is shrinking, jobs are disappearing and drug addiction is on the rise is another matter).
But two of the five boroughs' GOP leaders insisted people in the city are feeling the same pain the Republican candidate described.
"People in Queens are highly dissastisfied with the state of affairs in New York City, and particularly with the de Blasio regime," said ex-Congressman Bob Turner, chairman of the Queens County Republican Party. "I think in almost in almost all areas, from employment to crime to opportunities, there is a dissatisfaction, and we are down.
Manhattan chairwoman Adele Malpass agreed, and pointed to de Blasio's poor poll numbers as a barometer of negative sentiment.
"Bill de Blasio is more of the same, which is of Hillary [Clinton], of the progressive agenda, that has failed, that brings more crime, that brings division," she said. "So people want change."
Queens currently has only one Republican elected official, Councilman Eric Ulrich. Manhattan has none.
Long Island Congressman Peter King, dean of the state's Republican House delegation, gave a blunt assessment of  how New Yorkers will receive Trump's dim vision of America.
"Well, we're facing facing real problems," he said. "I think he has a bright vision of where we're going."
Disclosure: Donald Trump is the father-in-law of Jared Kushner, publisher of Observer Media.