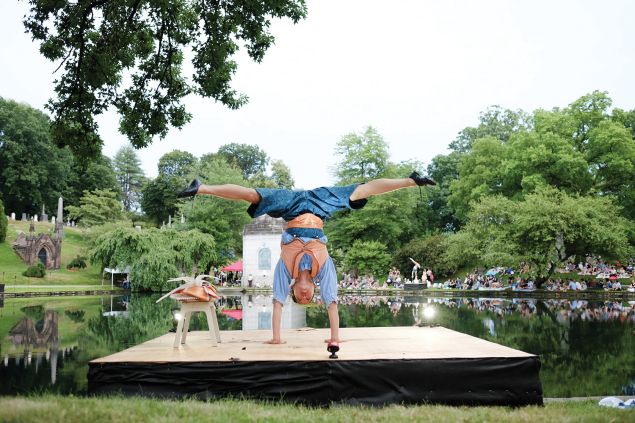 Dancing on someone's grave may be the final insult you can pay them, but nobody ever said the other arts are off limits.
So guests flocked to Brooklyn's Green-Wood Cemetery with picnic baskets in hand last Saturday for the fourth annual Night at Niblo's Garden party, entering through its Gothic Revival gates and navigating the 478-acre grounds to a glacier pond known as Crescent Waters. In-the-know revelers set up along the pond's banks, booze flowed, and stilt-walkers, clowns and unicyclists looped around the pond, while children played the Victorian-era game of Hoop and Stick.
Historian Ben Feldman and Green-Wood conceived the lavish time warp to salute the 19th-century entertainment purveyor and now-permanent Green-Wood resident William Niblo. Niblo's Pleasure Garden, which operated from 1828-1895 between Prince, Houston, Broadway and Crosby Streets, was the "Radio City of its day" with seating for 3,200; it also premiered the first-ever piece of musical theater, The Black Crook, and P.T. Barnum hosted his first-ever exhibition there.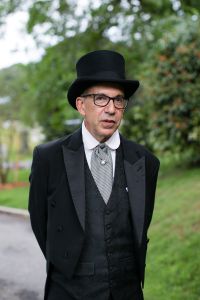 So why is the name of this storied New Yorker, interred at Green-Wood alongside the likes of Peter Cooper, Jean-Michel Basquiat and Boss Tweed, so unfamiliar?
"Niblo was a very modest man," Feldman said. "There were no photos of him, [but] his name was on the tip of everybody's tongue. If you looked at the newspapers in London or in Paris, there were notices about what was going on at Niblo's Garden."
The world's pre-eminent Niblo scholar, Feldman lifted stones and dug through archives to uncover as much as possible about him, and now Feldman dresses in period garb and speaks as Niblo at the annual event.
"We have old-time Green-Wood denizens and a lot of steam-punk," he said of the attendees. "You wanna see piercings and tats? We're full. We have history buffs, people who enjoy circus. I knew how to make partnerships with entertainers and present people with a tasteful environment."
'When the garden was founded in 1828 there were no large public parks in New York. This city was a stinking mess.'—historian Ben Feldman
Bindlestiff Family Cirkus produced the evening for a second year with vaudeville and sideshow acts, including acrobatics, sword-swallowing and fire-breathing. A tuxedoed clown pushed out into the center of the pond on a rowboat, and an excerpt from The Jolly Peddler, a play that debuted at Niblo's Garden in 1864, was read.
"When the garden was founded in 1828, there were no large public parks in New York City," said Feldman. "This city was a stinking mess."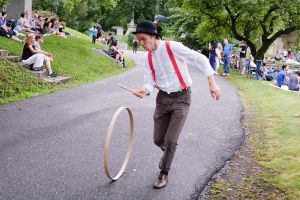 He isn't wrong. Green-Wood itself opened in 1839, long before Central Park and Prospect Park, and after interring his wife there, Niblo traveled from Madison Square out to Brooklyn nearly every day for 27 years. He often brought friends around the mausoleum to sit, meditate and picnic.
Hence, many regard Green-Wood as the city's original green space. "It's definitely a unique experience to have a picnic here," said Megan Piel, who's attended the Niblo party every year. "My sister told me about this—she's a paralegal, not gothy at all."
With the mausoleum gates open, Piel and other guests paid respects to Niblo. Several were still barefoot from lying in the grass, careful not to stain the marble with their red wine as they read its inscriptions.
"It's a magical evening sitting around the water," said long-time Green-Wood tour guide Ruth Edebohls. "I have a plot here—up on the hill is where I'm going to be buried someday. And once you go to a wonderful event like this, you come back again. We have a saying here, 'Come back and visit again, while you can still leave.' "