CAMDEN — The night before the official start of the Democratic National Convention in Philadelphia, New Jersey Democrats gathered on the deck of the Battleship New Jersey across the Delaware. The news had just come out that afternoon that Debbie Wasserman Schultz would be stepping down as chairwoman of the DNC at the end of the convention after cancelling her scheduled speech on the convention floor.
Across the river protesters had been filing down Broad Street in outrage over leaked DNC emails that showed Wasserman Schultz and other key staff deriding Hillary Clinton's progressive primary challenger Bernie Sadners, in messages that many have called evidence of undemocratic preferential treatment.
State Democrats have their own troubles ahead as they pursue an override of Governor Chris Christie to fund the nearly-bankrupt Transportation Trust Fund with a gas tax.
Senate President Steve Sweeney (D-3), who came out late last week with his Assembly counterpart Vince Prieto (D-32) with a very lightly revised bill to offset the gas tax  with a phase-out of the estate tax, said that he and his caucus are prepared to go back to Trenton if Christie calls a special session during the convention. Prieto had cut a deal with Christie to support the governor's favored plan of cutting the sales tax instead, but has rejoined with Sweeney to pursue the override.
Saying that he would support whatever Clinton decides with respect to Wasserman Schultz, Sweeney added that he isn't ruling out the possibility of a special session that would force the New Jersey delegation back home to Trenton before a scheduled vote on Friday. One of the two plans, or a compromise, is expected to go to the floor that day.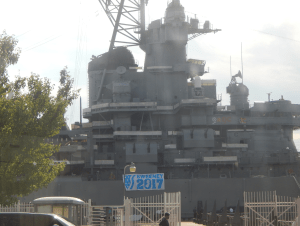 "He can do whatever he wants," Sweeney said. "He's the governor, he has the right to do that. You know, we didn't cause any havoc during his convention and we would hope that they wouldn't do it during ours. I'm coming in on Friday for a voting session and a budget committee.
"We feel confident in the Senate, and we're asking everyone to work very hard with the Republicans in the Assembly," Sweeney said of the override attempt, which stalled when Prieto took stock of his votes in the lower house and opted to make a deal instead. "And I know there's a lot of people making a lot of calls, so hopefully we're going to be in better shape pretty soon.
"But I'm really happy and appreciative that the speaker has come together with us so that we have a united front going forward."
Elsewhere, Democrats were uniformly optimistic about the next four days at the Pennsylvania Convention Center despite the news about Wasserman Schultz. Congressional hopeful Dave Cole, who is running against longtime incumbent Frank LoBiondo (R-2), said he thinks the DNC will stand in contrast to the RNC in Cleveland.
"There's a lot of people in the Republican party aren't sure that the direction the party is going in is the right direction," he said, alluding to nominee Donald Trump. "So we as Democrats have the opportunity to stand proud with our nominee, and it's really exciting."
Camden Mayor Dana Redd and U.S. Representative Donald Norcross (D-1), whose district encompasses the city, both said that the controversy over the emails will be overshadowed by Clinton's nomination. Norcross' brother George, the influential insurance executive and former Camden County Democratic chairman who has been the driving force behind the city's waterfront revival, will be hosting a concert in Camden to celebrate Clinton's nomination on Thursday.
That concert will bring Clinton and former President Bill Clinton, President Barack Obama and First Lady Michelle Obama, Vice President Joe Biden and Dr. Jill Biden, and other national Democrats to the site of the most successful urban renewal project in one of the country's poorest cities.
"I've been fortunate as the mayor of Camden to have strong partners working with me to transform Camden, partners in the private sector such as George Norcross and others," Redd said. "And I think this is a good opportunity for Camden to be on the national stage."
"I've known Debbie since I first was sworn in," Norcross said. "She is a lovely woman, very bright, and certainly has a great mind for politics. It's not an easy job she was doing. But what she did do is set up a process, and you're seeing the fruits of that. Things are coming together.
"I think we've seen firsthand the changes that have come and are coming. I don't think anybody's saying they won this. But we're certainly going in the right direction — something I haven't seen in my lifetime."