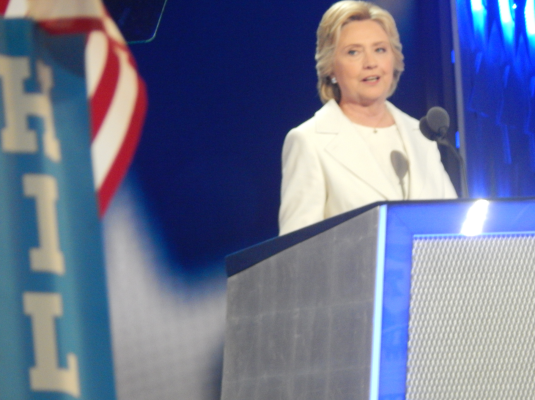 PHILADELPHIA — Hillary Clinton faced the first obstacle of her general election campaign on Thursday night as she made history by accepting the Democratic nomination for president, giving a speech that will serve as her first overture to swing voters and supporters of her popular primary rival Bernie Sanders in an unpredictable cycle.
Her candidacy makes the first time that a woman has secured the nomination of a major political party. New Jersey State Senator Loretta Winberg (D-37) called the speech a monumental achievement for American women, and a shrewd first move for Clinton's campaign against Republican nominee Donald Trump.
Weinberg said that Clinton showed in her speech that she is "aware of the nuances and the power of diplomacy and the ultimate, god forbid, power of war."
"It's the culmination of a terrific week and I thought she every important subject," she said. "I think she talked about worker's rights and how we can improve out economy, and help people help people move up the ladder. About making education cost a lot less, students being able to refinance their loans down to a lower interest rate. About keeping America safe.
"It's thrilling. I waited a long time to see this."
Assemblyman John Wisniewski (D-19), who served as the chairman of Sanders' New Jersey campaign, said that Clinton had made a significant step toward welcoming Sanders supporters by thanking him in her remarks to the crowd. He called Clinton's speech a counterpoint to the hazy promises of Trump and the disunity among the party at the Republican National Convention last week. That acknowledgement of Sanders could help unite the party after the DNC email hack, which led to protests from Sanders supporters throughout the convention.
"She talked about the vision of an America that she sees under her leadership, which is a stark contrast to the fear-mongering that took place in Cleveland. I also thought she made a very strong effort to heal the divide that has existed in the party between herself and Senator Sanders' supporters by making a public nod to him."
On Clinton's ability to court swing voters in crucial swing states like Ohio and Michigan, Wisniewski said that Clinton will have to rely on being the candidate who is able to present voters with specific, coherent ideas.
"We need to assuage their fear, we need to give them comfort that Donald Trump does not offer the answers that he's trying to package in sound bite with indecipherable slogans."