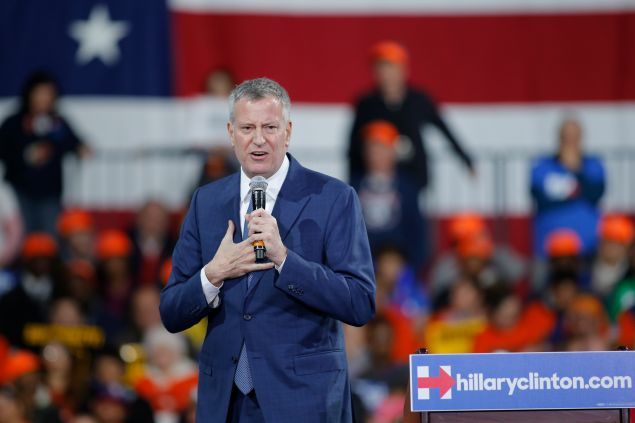 Mayor Bill de Blasio said today he would welcome a challenge from Donald Trump Jr. in 2017—after Hillary Clinton wallops his dad within the five boroughs in this November's presidential contest, he predicted.
The mayor, a fervent Donald Trump Sr. critic and lukewarm Hillary Clinton supporter, made the comment after an unrelated event in Brooklyn today. The businessman's firstborn drew positive notice from conservative media last week for his speech at what was otherwise an uneven and downright chaotic Republican convention in Cleveland, triggering speculation real estate scion might seek office himself.
"In terms of Donald Trump Jr.—I will predict something right here and now: that his father, and his values, will be rejected by the people of New York City in November," the mayor told reporters. "If after that, he thinks it's a great idea to run against me, be my guest."
Trump Jr. told the New York Post he would "love to" take over de Blasio's job someday, but was vague about when. The Queens-born GOP nominee has himself labeled de Blasio a "maniac," "the worst mayor in the United States" and "the worst mayor in the history of New York City."
But if the younger Trump truly aspires to unseat de Blasio, he may have to get on line behind fellow Republicans like Queens Councilman Eric Ulrich and football player-turned-preacher Michael Faulkner. Bronx Borough President Ruben Diaz Jr. and city Comptroller Scott Stringer, both Democrats, are also said be considering a 2017 coup against the incumbent.
De Blasio's stubbornly low approval rating, and the welter of scandals surrounding his political fundraising and alleged "pay-to-play" dealings with consultants and realtors, appears to make him vulnerable to a challenge. But he remains relatively popular among Democrats, who enjoy a massive enrollment advantage in the five boroughs, meaning any GOP candidate would face daunting odds.
The mayor said today he would welcome all comers in next year's contest.
"I'm very proud of the fact that crime has gone down in this city. I'm very proud of the fact that we've increased graduation rates, that we're producing more affordable housing. We're doing the things the people in this city demand," de Blasio said. "And I'll put that record up against anyone. Very comfortably with anyone and everyone who wants to challenge me coming forward.
The Trump team did not immediately respond to requests for comment.
Madina Toure contributed reporting to this story.
Disclosure: Donald Trump is the father-in-law of Jared Kushner, publisher of Observer Media.