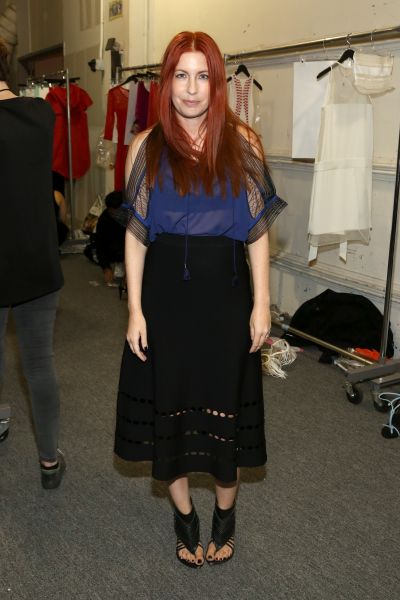 When a beloved fashion brand shutters, devoted fans have just one question: What's next?
Such was the case this April when knitwear mavens Alexa Adams and Flora Gill decided to shut down their label, Ohne Titel. The Business of Fashion broke the news of their closure, detailing the financial woes the design duo faced, including their difficulty to secure investors for the 9-year-old company.
But today, we have answers for what the next steps are: Adams is moving on from ready-to-wear to activewear, by joining the design team at Yogasmoga. While she's going from knitting sweaters in revolutionary ways to designing sweat-wicking leggings, the designer insists that there are quite a few similarities between her former and current job.
"I think it's the same mindset, because it's really all about product design and producing a smart product. I love that it's much less seasonless here, it's really about the woman wearing this product. Yogasmoga is on the cutting edge in terms of developing new fabrics, looking at something that's luxurious and fashionable, but made with new technologies," she told the Observer.
Adams cut her teeth at Helmut Lang, where she worked as women's designer. In 2005, she moved on to work on Karl Lagerfeld's eponymous range as his women's design director; Gill also worked there at the time. The two went on to found Ohne Titel in 2007, racking up accolades as the years passed: They were two time finalists in the CFDA/Vogue Fashion Fund and they took home an Ecco Domani Fashion Foundation Award in 2009.
Adams joined Yogasmoga three weeks ago at their New York headquarters, rounding out the brand's new design leadership team, which also includes Sandy Dalal, a fellow reformed fashion designer, and Judith La Branche, a former senior design director at Reebok.
"It's going to be interesting to see how much further we can push within this new technical realm, it's a step further than what I did before at Ohne Titel," said Adams. "We can do something new and also re-appropriate it. We're asking, 'How can we take something that's technical and make it more luxurious, make it more sophisticated and make it something that you can wear not only to work out but all day?'"
Yogasmoga, well-known for producing sustainable fitness apparel in the U.S., is hailed by some as the next Lululemon (well, minus the Canadian brand's rather unsavory founder). Yogasmoga has a knack for displaying their tech-advanced threads in interactive boutiques dotted across metropolitan cities and they will be opening an inaugural New York shop this fall. Expect the Soho location to attract clients with the offer of in-store workouts and various workshops, plus an array of forward thinking workout clothes.