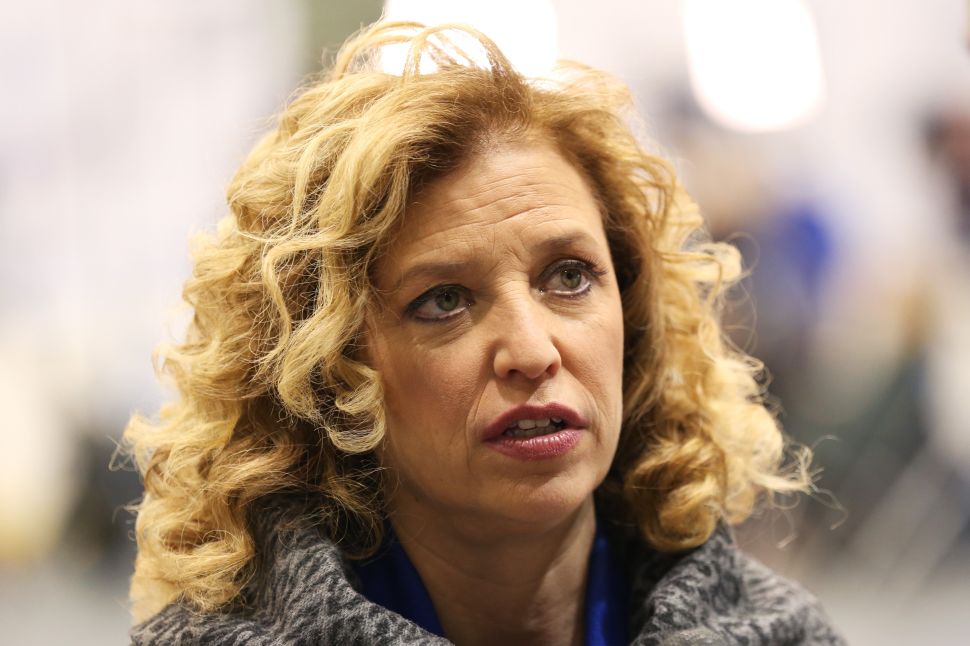 People run for Congress for all sorts of reasons and the chance to actually win is sometimes beside the point. They believe in a cause that deserves attention, they want to learn more about the political process, they're setting themselves up for future runs, they're "taking one for the team" by filling a spot on the ballot. In the case of Karen Harrington, it seemed to be a mixture of all of the above.
Harrington is the owner of Rickey's, a beloved local barbecue joint in Hollywood, Fla. She had never been much involved in politics but the Tea Party fervor of 2010 that had swept the nation got her thinking about what was happening in Washington, D.C. She threw her name in the hat and won a primary to represent the Republicans against…Debbie Wasserman Schultz.
Wasserman Schultz had already been in Congress for six years at that point. Her seat in the 20th was considered bulletproof, even in the year of the Tea Party—she had won 70-30 in her first election in 2004 (usually considered the best chance to flip a seat) and the Republicans couldn't even find an opponent in 2006.
Even so, by the time 2010 came, Wasserman Schultz—a Forest Hills native who had already proven her national mettle by raising more money for her fellow Dems than any Dem in the house except Nancy Pelosi and Rahm Emmanuel—wasn't leaving anything to chance.
Karen Harrington had very little money and even less of a shot at unseating Wasserman Schultz. When her campaign manager called me to see if I'd make some television spots for Karen Harrington—I was working at the political media firm Jamestown Associates at the time—I looked at the registration numbers of the district and knew it'd be a suicide mission, no matter what. And Harrington's campaign didn't have enough money to make it close. In the summer of even-number years, political firms don't have time to take on low-money clients.
But I liked Harrington and had been close to the campaign manager for a while so I told him that if she was willing to come to Princeton to film her spots, I'd do it, basically as a favor. She showed up a couple weeks later and bought a lot of good will by bringing everyone the hottest barbecue sauce I've ever tasted.
We expected Wasserman Schultz to completely ignore Harrington. That's what I'd have advised an incumbent who hadn't even faced an opponent in 2008—the year in which Wasserman Schultz raised her profile even further by chairing Hillary Clinton's campaign for president. Indeed, Wasserman Schultz immediately declined all invitations to debate Harrington, a tactic that annoys good government types but is the right move for an incumbent with a huge lead.
And then, all of a sudden, she started to hear footsteps. Harrington didn't have money for real polling so it must have been some national rattling about how Tea Party candidates were gaining steam in an off-year election.
According to someone on Harrington's 2010 team, who spoke to the Observer on the condition of anonymity because his current job did not clear him to speak, "I know that [Wasserman Schultz] stopped letting her husband eat at Rickey's once Karen announced…and she was seen and photographed going into polling sites with her 'Vote for DWS' shirt on. When challenged by a volunteer she said she can do what she wants. We used to have it on video. The last two weeks of the campaign, she was all over the district, walking door to door, doing sign waving, etc. Our own signs mysteriously would disappear, which isn't unusual in a campaign, as you know. But sure was funky for someone who was a shoo-in."
In 2010, the year of the Tea Party and the only chance Republicans would have to take that seat if they ever had a chance, Debbie Wasserman Schultz won by 22 points.
The next year, Wasserman Schultz became chairperson of the Democratic National Committee, succeeding Tim Kaine, who is now a candidate for vice president as Hillary Clinton's running mate. In 2012, she again faced Karen Harrington in a redrawn district that got even more Democratic as it took in swaths of Miami. Again, Wasserman Schultz ran hard, even buying television ads.
I was not working on the 2012 campaign and only followed it from a distance during what was a very busy year. Again, Wasserman Schultz publicly displayed confidence but privately threw plenty of effort into her campaign. According to Anthony Bustamante, the former operative for Senator Marco Rubio who became campaign manager for Karen Harrington in 2012, "I don't remember exactly what [Wasserman Schultz] spent but in that cycle she raised like 2 million. She had paid walkers on the ground, paid poll workers handing out materials as voters walked in; she ran tv ads and ran an aggressive mail campaign. She definitely had a full operation out there." Bustamante told the Observer that his campaign would get calls from tv stations saying "she [Wasserman Schultz] just bought another 150k; do you want to match it?"
During the summer of 2012, I happened to run into Wasserman Schultz outside the National Democratic Club—their offices are right behind Jamestown's D.C. office on Ivy Street. She was drinking a glass of rosé on their little back patio under the maroon umbrellas with some people I presumed to be donors and I mentioned that I was surprised that she'd be spending money on TV in a district that Cook rates as a D+11.
"I never take anything for granted," she told me, smiling, but she meant it.
As Wasserman Schultz spends her last few days atop a party she's spent her life building, her own races reveal a lot about her style. This is someone whose grit and determination have never been questioned—a woman who endured seven major breast cancer surgeries while conducting her congressional duties. But perhaps there was also early evidence of how her win-at-all-costs mentality—seen in the Wikileaks memos as the DNC made it its business to take down a rival of Wasserman Schultz's preferred candidate—led to bad decisions.
Chairing a party is a tough gig, especially during primary season. Party partisans want someone who will do what it takes to win. But they also want someone who is disciplined with the two things the party values most—its money and reputation. And now, a candidate who spends her own campaign's money on television when the outcome is already assured and was spotted campaigning in polling places seems to have worn out her welcome by a party that once prized her willingness to do whatever it takes.