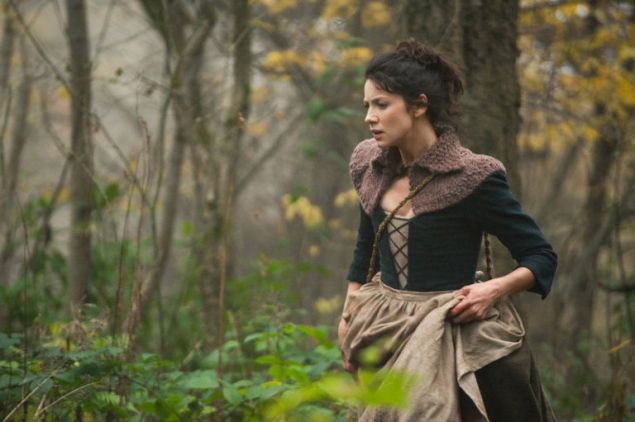 Welcome to our TV Fashion column, where TV Ate My Wardrobe's Emma Fraser discusses the trends in television apparel. This week: a reflection upon some major life events, and how it can all be brought back to Scottish style.
"Vive les Frasers" proclaimed the Outlander season 2 key art in a setting far from the highland home Claire Fraser had become accustomed to. Gone were the knits and tartan for an attention grabbing red gown with ties to a French past from long ago and a more recent fashion era. Time is a barrier that can be broken in a narrative sense through the mystical stones which transport Claire to eighteenth century Scotland and in the portrayal of the Jacobite customs and traditions. Television is itself a time machine of sorts letting us experience decades we can only read about in history books with no living souls to tell the tales of that time.
As you can see from my byline I am a Fraser and when I first heard about Outlander – as the TV series and not Diana Gabaldon's book series – my intrigue was further heightened upon discovering that one of the lead characters shared my last name. Like my very own Who do you Think You Are? with a dollop of time travel and a huge amount of romance on the side. Of course I know there is dramatic license at play and this is not a direct historical reenactment, but the attention to detail particularly when it comes to the costume design feels like I'm peeking into an important part of my heritage.
There is an innate desire to find out where we come from and television can help form a connection to the past. I wanted to explore these aspects of Outlander and how it led to discoveries and renewed interest in my own family history; unfortunately whatever this post was originally going to be changed a week and a half ago when my father passed away following an illness we hoped he might recover from.
A proud Scot with the memory of Culloden seared into his brain despite occurring two centuries before he was born would be an accurate description of my dad. The Culloden battlefield is where he wants his ashes scattered and having never been to this location before it was a comfort seeing Claire sitting in front of the Clan Fraser stone. Linking past with present both off screen and on; the dead fathers motif with Jamie, Frank and the Reverend all having passed by 1968 in the season finale could have tipped me into sobbing oblivion, but catharsis comes in many forms and Outlander has made me feel linked to both recent history and long ago.
Outlander came up in conversation the last time I saw my dad. He was already in hospital by then and he wasn't speaking much on the day we visited, but something stirred when I started talking about the show with the Jacobite rebellion and Claire and Jamie Fraser.
Outlander came up in conversation the last time I saw my dad. He was already in hospital by then and he wasn't speaking much on the day we visited, but something stirred when I started talking about the show with the Jacobite rebellion and Claire and Jamie Fraser. My dad never saw an episode of Outlander, but I had spoken to him about it on a number of occasions due to the strong link to our family heritage.
I felt a sense of pride telling him about the depiction of the Jacobites and how central the Frasers were to the story. In fact I'm pretty sure it would've been a favorite of his as long as I could do a supercut of the rebellion side of things (he was not one for love stories). Seriously, he would've loved the Prestonpans battle sequence from a few weeks ago especially as this was a conflict the Jacobites won and from a technical onscreen point-of-view it was just as impressive as the another much discussed recent horses and swords showdown.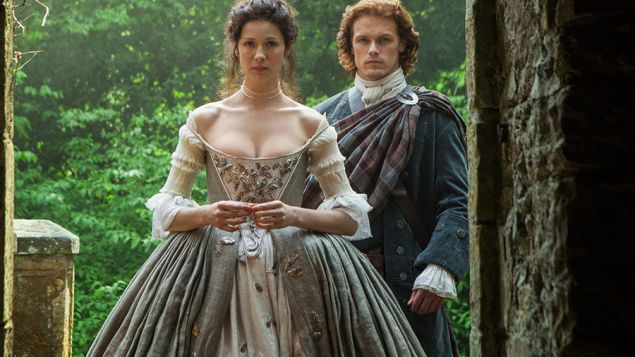 One of the things I noticed when I came back to my parents' house after that visit was the number of Fraser crests dotted around the house bearing the "Je Suis Prest" motto that also made up the title of episode 9 this season. The meaning of this phrase had been lost to me until I saw this episode as memories of the family vacation to Scotland two decades previous needed refreshing. I really should have remembered the power in its simplicity and in a way it links to Jamie and Claire's heart wrenching goodbye and the one I don't want to say this week, but have to; "I am ready"
Another big life event is taking place this year; I'm getting married in September and originally my dad was going to wear the tartan he had worn for his own wedding. Circumstances have changed this, but our shared heritage is still playing a vital part. Buttonholes are thistles and the Fraser tartan will be taking pride of place just like my dad would have wanted. It's hard to think of the wedding when his funeral is at the end of this week and I'm sure both ceremonies will include many tears (I need to invest in some heavy duty waterproof mascara if anyone has any recommendations).
The tartan worn by father on his wedding day is not the same as Jamie's muted (and just as striking) tones and Outlander costume designer Terry Dresbach's recent discussion with The A.V. Club explains why the red and greens we might associate with traditional tartan are mostly absent "those colors were really invented by the Victorians. People were pretty sure the colors of fabrics were determined by the dyes of those areas. The very, very wealthy could afford to buy red dye, because it was not cheap." It is notable that the most significant red tartan wearer on Outlander is Bonnie Prince Charlie complete with gold detailing to emphasize his royal and rich status.
Color this season has played an important role with bold tones painting a strong visual in the French portion reveling in decadence and the lofty position Jamie and Claire found themselves in. Back in the highlands the colors of the landscape provide the costuming palette and this helps enhance the familiarity to their real home. Paris was an otherworldly location featuring King Louis XV's stunning Star Chamber within the palace wall. Lavish properties played host to the parties Claire and Jamie attended as part of their plan to change history and stop the slaughter of the clans at Culloden. Some things can't be changed and Culloden takes place as it already had.
"Dragonfly in Amber" opens with a scene from The Avengers (the TV series), but don't expect to see Claire Randall taking style notes from Emma Peel with her penchant for black leather. Instead think more Jackie O and Claire is poised in her appearance; stylish, but not too fashion forward with her hair and makeup being the most of this period. Flower power is not on the menu either with Claire, Roger and Brianna sticking to a series of beige, brown and grey. Only knitwear provides a clothing link to the past, but Jamie Fraser was not one for turtlenecks (although Sam Heughan would look very fetching in one).
Claire's ghosts catch up with her when she returns to Scotland; instead of investigating Frank's ancestors she is coming face to face with the real father of her daughter. Or rather face to memorial. He has long since died – centuries or decades depending which timeline you are on – and Claire hasn't had a chance to really grieve or say goodbye. Closure can be hard to come by and time travel doesn't make this any easier and luckily no one gets Marty McFlyed out of existence. Claire's past and present are so inextricably linked; she can't properly live in the twentieth century because she left her heart with Jamie. Discovering Jamie's escape from death on the battlefield of Culloden awakens something and darkness on the highlands becomes light.