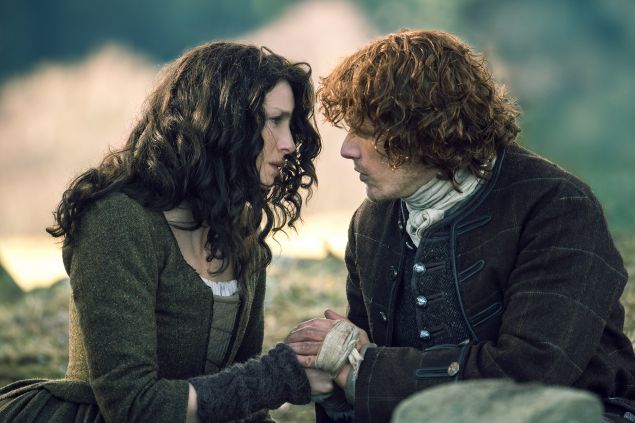 Exactly how do you categorize a television series that has elements of romance, war, and time-travel amid the story of a "modern" woman torn between two worlds and two men? It's not exactly an easy thing to do.
In the end, it really doesn't matter. Outlander, however you classify it, is a hit.
Adapted from the best-selling books by Diana Gabaldon, The series follows the story of Claire Randall, a married combat nurse from 1945 who is mysteriously swept back in time to 1743, where her freedom and life are threatened. To survive, she marries Jamie Fraser, a strapping Scots warrior. A passionate relationship ensues, and Claire is caught between two vastly different men in two inharmonious lives.
At a recent panel discussion, put together by the Writers Guild Foundation (part of the Writers Guild of America), the creative team behind the show talked about crafting the narrative that drives the series. Creator and Executive Producer Ronald D. Moore was joined by Outlander writers Toni Graphia, Matthew B. Roberts, and Anne Kenney.
Moore said that he was immediately smitten with the source material, admitting, "I remember reading the first book and feeling like Claire was just so fascinating. I loved her voice. I also loved Diana's attention to the authenticity of the time period. And, it was a page-turner as well. In my mind I kept imagining episodes and it seemed like a unique property that I hadn't seen on TV before."
"[The writers] fight because we're so passionate about the material. We love each other and respect each other. We fight and then we go to lunch and have whiskey."
To build his creative team, Moore sought out both writers who knew the books and those who weren't familiar with the original material for good reason. "The biggest questions every day is, 'what do you keep and what do you lose?'" explains Moore. "[We're] serving two audiences – those who know and love the books, and then the audience that doesn't know anything. The best way to do that is to have a room that's balanced in that same way. So, we need to have active arguments in the room. We need the balance of those opinions."
Breaking down just how the team goes about making those decisions, Moore says, "We take the big moments in the book and put those on a white board, then we break that into hours. Then we get more details about each of those moments and we move things around a bit, delving more into, 'What's this episode really about?' That's when we start arguing about what you keep and what you leave out. What makes the story work? Are the viewers invested in this hour?"
Graphia clarifies that the in-room disagreements are all an important part of the process. "We fight because we're so passionate about the material. We love each other and respect each other. We fight and then we go to lunch and have whiskey." Moore adds, "We're just trying to just get the best story out."
The relationship between Gabaldon and the writing staff is an amicable one, says Moore. "Diana has been really supportive and has never really fought any change that we've made. She's been incredibly generous with the material. [Early on in the process] she said to me, 'I don't do what you do. I have to trust what you do. I might give my opinion, but it's ultimately you're call.' Initially I said to her, "I want to do the best adaption that I can, be as faithful to it as I can, changes are inevitable because of the translation going from one medium to another, but I'll always tell you why we're doing it [that way]. If she doesn't like something she isn't shy but she's never second guessed us."
The series is populated with villains and lovers, which means plenty of fight scenes as well as a lot of steamy sex scenes.
"Our villains can't be cartoon characters. You need to ask what made them this way."
Moore explains that making the villains, most notably Black Jack Randall, believable is key to keeping the stakes high. "You have to start from the premise that he has to be a human being. Otherwise it's easy to dismiss him. If he has certain frailties and certain vulnerabilities and emotions, then the horrific things that happen carry more weight."
Kenney adds, "With villains, no one gets up and says, 'I think I'll be evil today.' Everyone has rational for the things they do. They think, 'I have a real reason for doing this. This makes sense to me'.
To that end, Roberts says that, "Our villains can't be cartoon characters. You need to ask what made them this way."
The conflict in the series leads to some epic physical scenes. Writing those fight scenes can be complicated admits Moore. "It's difficult because they're so technical. [You write them] and then the stunt coordinator and director throw out [what you've written] anyway. They come up with what they need for the location. But, there does need to be an emotional core to the fight with a beginning, middle and end. Why are they fighting, what's the twist and how does it end? So, [the writers] concentrate on the emotional points [of the fight]. It has to mean something."
The task of writing those steamy sex scenes cannot be underestimated given that fans of the books and the series expect them to be of high caliber. To create them, Kenny says, "Overall in the series, the sex needs to mean something other than just sex. The first time [Claire and Jamie] have sex it's awkward. Then the second time was something else and then the third time was 'love sex.'"
Kenney adds that in shooting those scenes she asks, "'what do I want to look at?' So, when she walks behind him, [I think], 'she should drag her hand across his ass,' [and things like that]. It was pretty organic that way. What's hard is [when you write it] you're saying, 'this is what I find erotic,' and you're hoping that other people don't go, 'eeww' when they see it."
"The sexuality is a key part of this story, but we didn't want to do 'TV sex' – with candles and flowing curtains, etc. That's sex that no one has ever had."
Writing one of the series most talked about sex scenes, Graphia explains, "I wrote the sex scene in the daybed because we'd walk through the set and see this gorgeous daybed and say, 'someone's going to have sex there.'" She quickly adds, "Our sex is never gratuitous – we make it mean something and that scene meant a lot. We call it the 'Find Me in the Dark' scene because [Claire and Jamie] were trying to get past a trauma [at that point in the story.] That was the woman saying, 'it's just me and you here.'"
Moore sums up the sexual element of the series with, "The sexuality is a key part of this story, but we didn't want to do 'TV sex' – with candles and flowing curtains, etc. That's sex that no one has ever had. We talk about making it real, with real interactions."
Hinting about the season two finale, Moore laughs and says, "It's all a dream."
Roberts gives a little more realistic insight, saying, "This toughest part was to fit the 1968 story and the 1746 story [together] and there are a couple of characters that will pop up that you might know."
Graphia added, "I think you'll be happy to see some things that you're not expecting, and then they're be some stuff that you're expecting to see, but it'll be delivered in a different way, because we like to keep you guys on your toes."
No doubt, the narrative in the finale will include heaps of passion – whether in bed or on the battlefield – which along with some time-travel thrown in may make Outlander a series that's hard to define, but that hardly seems to matter because even though it may not fall neatly into a pre-defined television genre, it's ultimately something everyone can identify with – a hit.
The Outlander season two finale airs Saturday, July 9 at 9e/p on Starz. The series has been renewed for two more seasons.