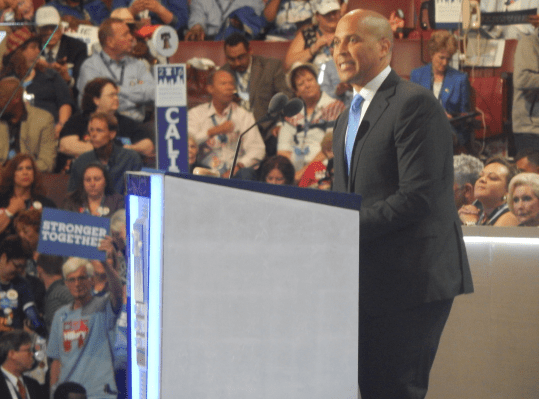 PHILADELPHIA — U.S. Senator Cory Booker spoke Monday night at the Democratic National Convention, the first outsize crowd-pleaser to deliver remarks before first lady Michelle Obama took the stage. In a convention marked by controversy over leaked DNC emails and unrest among supporters of progressive primary contender Bernie Sanders, the former mayor of Newark managed to unite the crowd.
Though Booker was passed over in favor of Virginia Governor Tim Kaine for Hillary Clinton's running mate, the reception his speech received and his seat next to former president Bill Clinton afterwards suggested that Booker is still on the rise in the national party.
The boos and heckles from Sanders supporters in the crowd fell to a dull roar for Booker and disappeared for Obama. Emphasizing racial, cultural and political unity in the culture at large, the senator echoed Clinton's recent line of attack against Republican nominee Donald Trump by targeting his business record and history of bankruptcies in New Jersey.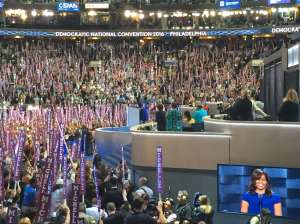 "Now, I take particular interest in the fact that Trump says he would run our country like he has run his businesses" Booker said. "Well, I'm from Jersey. I'm from the great Garden State, and we've seen the way he leads in Atlantic City. He got rich while his companies declared multiple bankruptcies.
"We've watched him, with a broad and divisive brush, say that Mexican immigrants who came to America to build a better life are "bringing crime, they're bringing drugs." He says many of them are "rapists." He said that an Indiana-born federal judge can't be trusted to do his job because of his Mexican ancestry – a statement that even fellow Republicans have described as racist."
In an allusion to Trump, Booker declared at one point that "the only thing necessary for evil to be triumphant is for good people to do nothing."
Booker and Obama's back-to-back speeches may have quelled most of the outbursts from Sanders supporters, but chants of "war hawk" and "Black Lives Matter" could be heard as he called for the country to "band together to face down and defeat our common enemy" under Clinton.
In a bid for the progressive wing's ear, Booker listed Clinton's accomplishments as a student and as an attorney in the South.
"Long before she ever ran for office, in Massachusetts, she went door-to-door collecting stories of children with disabilities," Booker said. "In South Carolina, she fought to reform juvenile justice so children wouldn't be thrown into adult prisons. In Alabama, she helped expose remnants of segregation in schools. In Arkansas, she started a legal aid clinic to make sure poor folks could get their day in court. She's always fought for people, and she's always delivered."
"This election — every election — is about who will have the power to shape our children for the next four or eight years of our lives," Obama said in her own remarks. "And I am here tonight because in this election, there is only one person who I trust with that responsibility — only one person who I believe is truly qualified to be President of the United States. And that is our friend, Hillary Clinton."