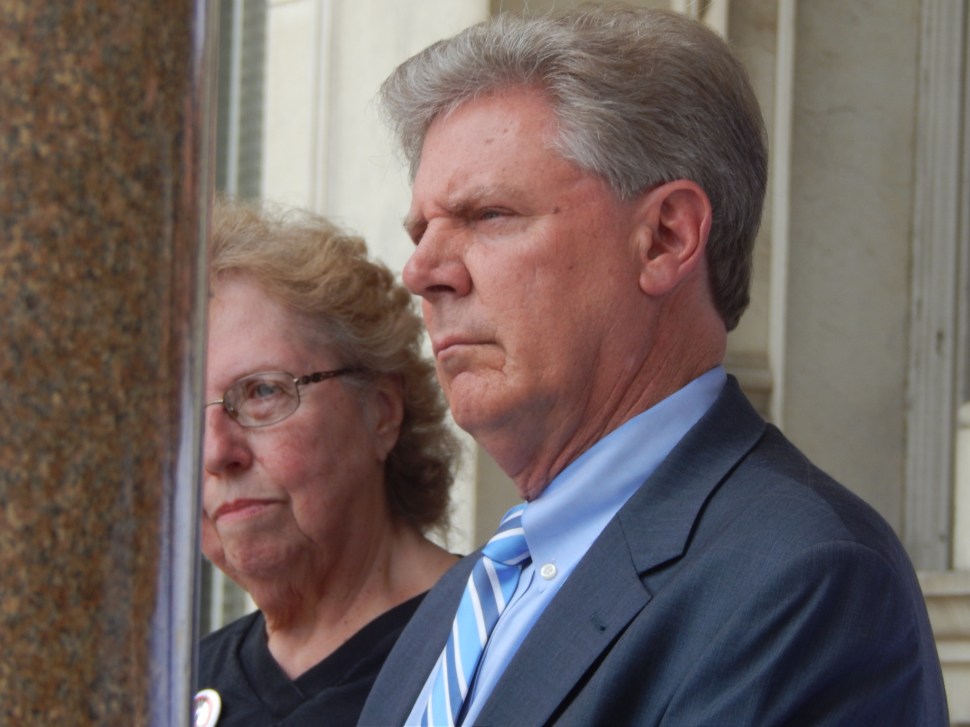 U.S. Rep. Frank Pallone (D-6) won his congressional seat in 1988, four years prior to when Arkansas Governor Bill Clinton ran for the presidency and defeated incumbent George Herbert Walker Bush. In his first election, Pallone won his then Monmouth and Ocean-based district by about 14,000 votes, despite Bush beating Mike Dukakis by around 30,000 votes and winning New Jersey.
When Pallone ran for reelection in 1992, he ran on the ticket with Clinton, when Democrats defeated Bush nationally and ended a Republican presidential winning streak in the Garden State that stretched back to 1968.
Twenty-four years later, the Long Branch lawmaker looks ahead to the Democratic National Convention later this month (July 25-28) and to his party's nomination of Hillary Rodham Clinton, the former first lady, and celebrates the arc of history and his own shared political experience with the Clintons.
Pallone first became alert to presidential politics in 1960, when John F. Kennedy ran against Richard Nixon. Kennedy was an inspiration to Pallone, who as a nine-year old found JFK what the congressman describes as "very future-oriented." He consistently finds that same quality in the Clintons, he said.
"What I remember most dramatically about that 1992 Democratic Convention was Clinton's acceptance speech, the man from hope speech," Pallone said. "I remember being on the floor. They played a video of Bil Clinton's life, which was the epitome of the American Dream for me. I found the symbolism of Hope to be very optimistic. I cried. I thought that was just an incredible speech. It's frankly one of the things that continues to motivate me.
"The Clintons have hope for the future," the congressman added. "I introduced Bill Clinton at a primary rally earlier this year, and I started talking to him a little bit before the rally and he mentioned Thomas Edison and the spirit of innovation. That's the way he has always thought about the country, as an opportunity for innovation."
Pallone sees Hillary Clinton defeating presumptive Republican nominee Donald Trump in November, in part because he believes Democrats have better framed a discussion about the future. "The main thing we want this to be is a convention where Democrats unite," he said. "Unity based on the issues is important. If we can come together on the platform, and if we are united as a party, we will win the election.
"Beyond the Trump issue, it's so important to make this a campaign about issues," Pallone added. "I've been in Congress a long time. I fight Republicans every day. I work with Republicans too, just as much as anybody. But when it comes to the issues, I find myself fighting Republicans trying to tear down environmental protections and repeal the Affordable Care Act. They never want to spend any money to invest in the future.
"I just feel Republicans are very oriented toward the past," the congressman added. "I think it's important that Democrats talk about the issues. Beyond all that, of course, I also think Donald Trump is a terrible candidate because he is so divisive. We pride ourselves on diversity. Trump says the opposite. We need to have a pathway forward so undocumented workers have a pathway to citizenship, and he wants to build a wall. Every time he talks about building a wall all I can think is the wall is trying to divide people."
Pallone lost to Cory Booker in the 2013 Democratic Primary for U.S. Senate. Dems are now kicking the tires on a potential Booker VP candidacy. "I think Cory would be a great vice president," Pallone, "but I have no inside knowledge about who Hillary will pick."
A progressive legislator, the congressman said the convention will be critical in bringing Democrats together. If his party can unify and heal following a divisive primary season, Pallone said Democrats will win.
"The fact of the matter is if you talk to [losing Democratic presidential contender] Bernie Sanders, a majority, around 70%, of what he wanted is already in the Democratic Party platform," said the congressman. "He's still pushing for provision against transpacific trade agreement, and I agree with him. He's in favor of a $15 minimum wage, and I'm in favor of that, too. I supported Hillary over Bernie in part because I think Hillary is a progressive.
"I was very much involved with Hillary and Bill Clinton when we formed the [State Children Health Insurance Program] S-CHIP, and when we reauthorized S-CHIP, I was the prime sponsor. The bottom line is the Clintons, and Hillary in particular, are very pragmatic politically. Personally I've long been an advocate for single payer healthcare, but I knew we weren't going to be able to pass that. We ended up getting a mostly private system under the Affordable Care Act, one still involving the government in a practical and pragmatic way. I have no problem with what Bernie was proposing. I assume Bernie supported the Affordable Healthcare Act, but in many cases his stances have been aspirational versus what we can accomplish. Bill and Hillary have always been trying to work with Republicans. She's been in the trenches for years trying to have government play a role in solving problems."
PolitickerNJ asked Pallone what he believes will be the legacy of President Barack Obama, whom he did not support in the 2008 Democratic Primary when Obama defeated Clinton.
"I think his legacy will be the Affordable Care Act," he said. "Both Obama and Hillary see war as a last resort. Neither would like to get involved. This president inherited crises and he has been trying to get us out of Iraq and Iran. We have had disagreements over how we do that. I am an advocate for getting out quicker, but both Obama and Hillary are oriented toward trying to extricate us, whereas Republicans, certainly Trump – Trump sounds like he cant wait for the next war to begin."
Pallone attended his first Democratic convention in 1988, when Dukakis was the Democratic presidential nominee. The future congressman today recalls meting then-powerful U.S. Rep. Claude Pepper and talking to him about trying to get on the aging committee. Pallone's first congressional campaign prioritizing restoration of New Jersey beaches that had closed due to ocean dumping.
"The convention was the first time I had ever been to Atlanta, and I remember that there was a lot of excitement within the Greek American community for Dukakis," Pallone said. "They were like so excited."
Pallone also remembered, with some irritation, the 2004 campaign season. "The thing that upset me was that thought [then Senator John] Kerry was such a good candidate, who had served in Vietnam," the congressman recalled. "He was criticized because he was a Vietnam vet. It was terrible. One of the reasons I really dislike Donald Trump is that I can't forgive him for the comments he made about [Senator John] McCain. I cannot. Just outrageous."