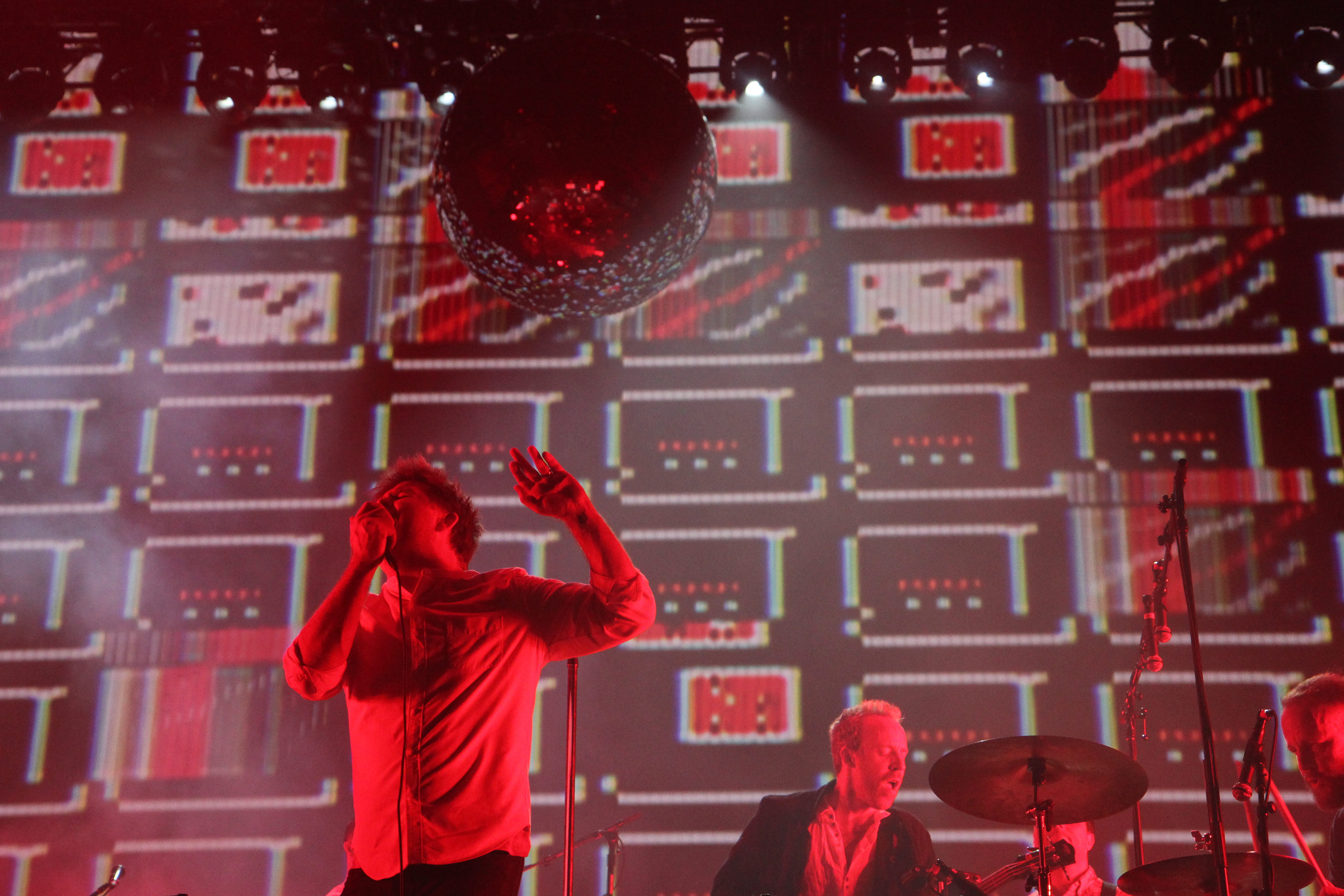 Large New York music festivals have long been littered with problems—overdoses aplenty at EDM STD factories like Electric Daisy Carnival and Electric Zoo, poor crowd control, sound bleed and set overlaps at Gov Ball, Afropunk's disastrous lines and layout, the list goes on.
When Coachella promoters Goldenvoice first brought a festival to Jersey City in 2008 with All Points West, transportation proved an issue, while bad ticket sales for a weak line-up made 2009 APW's second and final year.
Goldenvoice brought the party back to New York again this year with its inaugural Panorama festival on Randall's Island, though, showing Governors Ball how to make use of the large space with local vendors and artists, and a focus on innovation that offered guests new technological ways to stimulate their senses.
The independently-run Gov Ball are the little guys compared to Goldenvoice (which is owned by live event megalith AEG), but this was an instance where Goldenvoices's breadth of professional, large-scale event production experience paid off—like Coachella, the line-up was thoughtful, the advertising was never invasive, and the grounds were manageable. The smartest thing you could do on Day 1 was get there early and start off at The Lab.
This collection of interactive art installations featuring all New York-based artists, curated and produced by the team at META.is (and sponsored by HP) made me wonder if I should have been tripping instead of working—Future Wife's "Visceral Recess" was made up of a giant inflatable psychedelic bounce house that changed colors, while Gabriel Pulecio's "Infinite Wall" used the same light and mirrors trick that the producer Flume fashioned into the infinity prism light show while touring his first album.
Here the lights and mirrors were on both sides of you as you stood in a small enclosure. Tre trippy. The Lab also featured some of the alumni from the New Museum's tech incubator, NEW INC, including Emilie Baltz and Philip Sierzega's Cotton Candy Theremin (which let guests make a confection while the motion of swirling candy floss onto your stick triggers sounds) and Dave and Gabe's "Hyperthread", a tent-like enclosure in which guests sit in silk cocoons that trigger lights and sounds.
The real selling point of The Lab, though, was its dome—a 70-foot enclosure that held 400 guests, lying down on the floor, staring up at the 360-degree video projected above them.
Dirt Empire and Invisible Light Network's visuals combined with sounds by Ant Food to take you back to that planetarium you would always visit in high school, spacing out to that Pink Floyd laser-light show after getting stoned in the parking lot. The Dome also had the first secret find of the day—an air duct, pumping frigid AC into the space. Goldenvoice originally wanted to host Panorama at Corona's Flushing Meadows Park, where the famed World's Fair was held, but couldn't get the approval. Nonetheless, The Lab was a reminder that New York creatives have a strong hunger for innovation, and any opportunity to share that with the community outside of private Red Bull parties is a good thing.
Producer/MC Madlib got Day 1 lit early at the indoor Parlor stage, sticking to his decks for a set of hip-hop and funk. Between his work with Dilla and flawless Madvillan record with MF Doom, Madlib's got cred for days. Shame he was hiding behind that tall DJ booth the whole time.
Soon after, Atlanta's Algiers began their pummeling, powerful set on the main Panorama stage with a mixture of proto-electro post-punk recalling Suicide with a heavy streak of civil rights-infused gospel and soul. After coming onstage to a long, sampled speech about black oppression, frontman Franklin James Fisher wasted no time whipping the crowd into a frenzy. It was hard to picture a band this subversive and topically current playing Governors Ball, let alone the main stage. Watching acts this singularly unique and focused in vision just isn't something you would see at a regular, run-of-the mill festival.
Algiers proved that Goldenvoice continues to bring  a variety of fresh sounds to its events, and they're just the kind of band to soundtrack that moment when your flower crown withers and dies.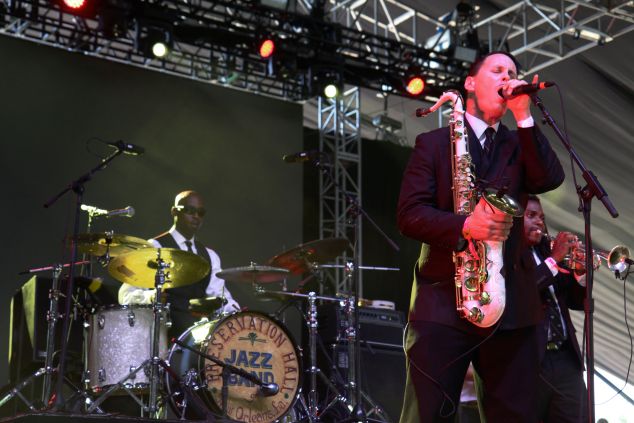 Heading back over to the opposite end of the grounds wasn't a hassle, because everything was adequately spaced apart, no bottlenecking of crowds here (suck it, Gov Ball) and Panorama's vendors mostly stayed to the sides. I made it to the Pavilion just in time for New Orleans' famed ambassadors, Preservation Hall Jazz Band, playing their New Orleans-style jazz and keeping the get-down alive.
PHJB has existed in some form since the early '60s, operating out of the eponymous French Quarter venue, and it's no secret why they've become an international act over the last several years. They're just a whole lot of fun. That night they closed out the festivities with one of the weekend's few cross-act collaborations, but more on that later.
The next big win for Day 1 came when re-ignited Toronto indie-rock collective Broken Social Scene played their fuzzy warbles off on the Pavilion stage later that afternoon. Do you remember when "indie-rock" evoked a certain, specific guitar squall? I sure do. BSS have always been one of those groups that just gets together and plays when they feel like it, so the fact that frontman Kevin Shields told me they're working on a new record and would definitely be spending a lot of time back in New York got me excited.
Opening with "KC Accidental" off their classic and seminal You Forgot It in People, the 10-song set covered their entire discography and featured vocals from Amy Millan of fellow Canadian indie-rock collective Stars. Millan's vocals on "Texaco Bitches" were particularly amazing.
Shields prefaced the song "Fire Eye'd Boy" as the first of many political moments during their set, but BSS didn't preach or rant about the RNC so much as let the music do the talking. Closing with "Ibi Dreams of Pavement (A Better Day)" off their 2005 self-titled album, BSS made us wonder why they ever went away. "And if God is what they made, cut their hands off believers," sang Shields. "Don't get high on what you create." BSS may not be getting high off their own fumes, but we sure were.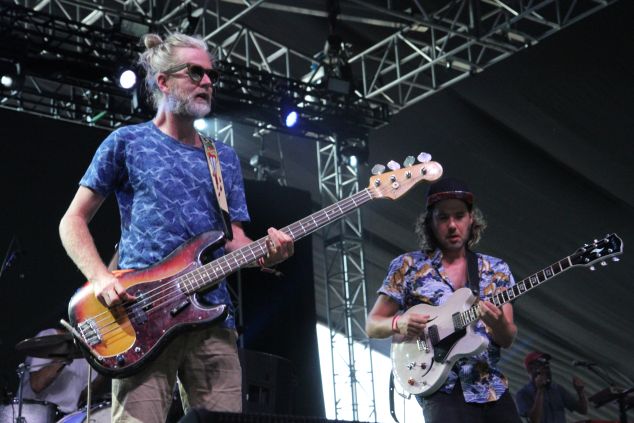 I navigated through the crowds for Diplo's shit-tastic Major Lazer (pyrotechnics, dancers, day-glo) and retreated to the VIP area where I could charge my phone and drink some free coconut water. Panorama put together a lovely soft-cover coffee table book about the festival, complete with long-form essays about New York's musical history and some profiles on the artists. Reading the piece about Major Lazer's embrace of spectacle was infinitely more satisfying than actually watching it and grinding with teens as they liberally applied MDA crystals to their gums.
Alabama Shakes sounded too big even for the giant Panorama stage, seriously. Brittany Howard completely owns the mic and sings like she knows it, bringing to life the music from the criminally under-appreciated second Shakes LP, Sound and Color. Opening with "Future People" and leading the Shakes through groove after groove, no one even minded when they didn't play their hit "Hold On". The Shakes are true performers, large-scale and in control. They're also one of the busiest touring bands around, which makes the amount of energy and passion they put into their live show all the more righteous.
I caught the last song from FKA Twigs, whom my literature informed me was at "the nexus of fashion, dance and music," at the Pavilion next. I don't really get her vibe, but she's fascinating to watch, a borderline contortionist. Her new look of white dreads was a hit, too. I stayed to post up at the Pavilion for ScHoolboy Q, a rising MC and member of Kendrick's Black Hippy Crew who released his fantastically bangin' Blank Face LP a couple of weeks back.
He's off the lean now, apparently, and it shows—as he darted back and forth, waving his middle finger in the air, the Pavilion nearly collapsed due to ratch overload. SZA, Anderson  .Paak and Kendrick were all at Panorama on other days, but no one came out for guest vocals despite having tracks with Q, the first of many missed opportunities for collaboration.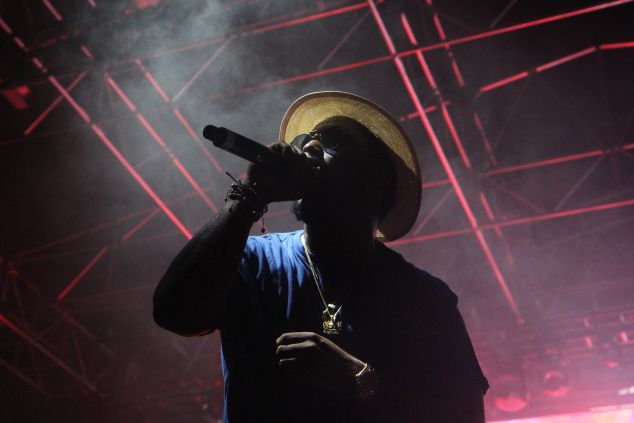 Next it was back over to the Panorama stage for Arcade Fire, a wonderfully talented and epic fucking band at a crossroads. After 2013's Reflektor saw the band's stately grandeur meet James Murphy's cool, dancey  production, they slowly got back to putting the strings and the brass high in the mix live again. But those awesome mirrors from the Reflektor tour, part of that arena spectacular's ornately kitschy spectacle, were just sort of hanging around with nothing to do for most of the set.
Minor quibbles though from a band that earns its grandeur the old-fashioned way. But a James Murphy guest appearance would have been perfect, especially since LCD Soundsystem would close out Sunday. Reflektor's second disc is heavier on Murphy's influence but was not that explored live, and Panorama would have been the perfect time to dust off songs like "Porno" with Murphy's help.
Alas, LCD was in Canada while Arcade Fire were here, and they would switch. None of this compromised any of their spirit, though. Arcade Fire songs are rich with stories of modern displacement, bemoaning gentrification and the death of pastoral living, but the current political climate really sparked the fire. "Donald Drumpf will never be president of the United States," decried frontman Win Butler. "There's no fuckin' chance."
Later, he said that no one had a right to tell his family what being patriotic meant, sharing the story of his wife and front-woman Régine Chassagne's father and how he served our country. "He fought for the U.S. in Vietnam with a Haitian passport," said Butler, pointing out how this country will send our immigrants out to die, but not give them basic rights back home.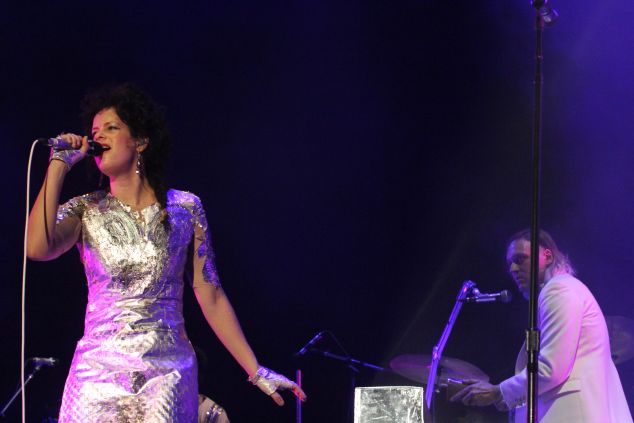 Preservation Hall Jazz Band joined Arcade Fire onstage for a wonderfully brass-heavy "Wake Up" to close before they took a funeral procession into the crowd, second line parade style, for a series of Bowie covers. Arcade Fire have pulled the exact trick with PHJB before, and hosted a second line parade with the same Bowie covers in New Orleans after his passing.
Taking their time marching over to a giant video cube lit on all sides with an image of Heroes-era Bowie, though, was a beautiful sight to see. Appropriately enough, they closed with "Heroes" upon reaching the cube. (Forget that the cube was sponsored by Google Play, it was poignant!)
On Saturday, festivities were best resumed back in the Parlor stage area, where a light crowd meant the room was still cool. Pat Mahoney from LCD Soundsystem's band with Dennis McNany, Museum of Love, started early with a criminally under-attended set. Sonically, a lot of throwback electro, some light disco, and all grooves. The smaller ensemble and more lush sounds let Mahoney's sweet voice shine through, and it's awesome to see him as frontman—he's a supremely talented and capable bandleader in his own right.
Ex Hex was next on the Panorama stage, and Mary Timony's power-pop couldn't have sounded better outside, sun beating down on me in the mid-90s. She was a far cry from the infantile pop of Melanie Martinez, over at the Pavillion. Martinez is touring her record Cry Baby by performing in front of  a giant nursery backdrop. The whole thing was really creepy, vacuous and fetishistic. Hasn't she seen those Jackie Q videos in Get Him to the Greek? Yeesh.
The bigger contrast still, happened when The Julie Ruin took to the Pavilion stage next. O.G. Riot grrrl Kathleen Hanna and her band absolutely brought it, effortlessly channeling the pointed, witty ferocity of Bikini Kill with the dancier, disco vibes of Le Tigre. Hopefully some Melanie Martinez fans stuck around and had their minds blown.
"The first time I saw an awesome dad I was 36," Hanna told the crowd. "I walked by in shorts and he didn't stare at my ass."
The rest of Day 2 saw some tough decisions. I skipped the psych-folk of Daughter to catch some of Oh Wonder, who sounded beautiful but didn't really do anything for me with their brand of chill pop music, recalling a less heady and dark version of The xx. UK band Foals took the stage next, delivering a fast, sweaty set of dance tunes that saw their fans turning out in droves. I don't get why this band gets lumped in with all of the other shitty brit-pop—they're not reinventing the wheel or anything, but the music is catchy, the songs are thoughtfully composed, and they're perfect for this sort of festival.
Alas, after about a half hour of their set it was back to the Pavilion for the inimitable hip-hop/R&B hybrid music of Anderson .Paak. Simply put, this guy's got skills. His performance provided some of the most fun of the entire fest; there's a reason that this dude works with everyone from Disclosure to BadBadNotGood. He's in demand because of his savage delivery, feeding into the groove of his band, The Free Nationals, and contributing at his drum kit when the song calls for it.
One of Paak's collaborators, rising Chicago Downtown producer Kaytranada, would play an overpacked set later that night in the Parlor that featured no guests or special surprises. Anticipating this, Paak made sure to stick "GLOWED UP", the fire Kaytranada track that features his vocals, into his afternoon set. One of the highlights of the weekend, for sure.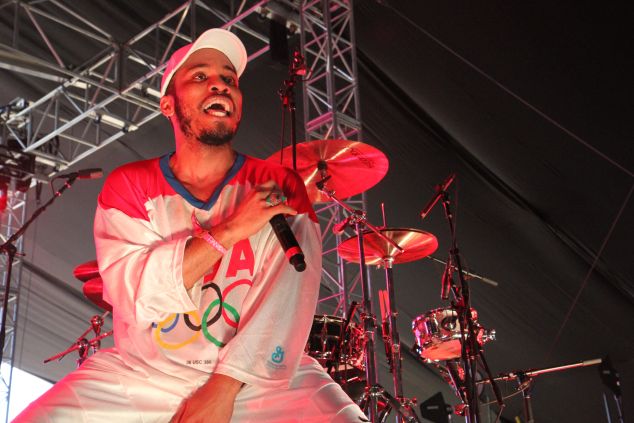 Blood Orange and The National took the Panorama stage next in that order, two NYC bands returning home with new material. There's not much new to say about these acts just yet, other than that both have come a long way to now be playing large areas and sound pristine. Blood Orange sets pre-Cupid Deluxe were sometimes too busy for their own good, synths and vocals washing over each other without clarity or focus. But Dev Hynes has had an insanely fruitful these past three years, and he's risen to the occasion. New Blood Orange record Freetown Sound will likely be remembered as something special, and playing on the same day as Kendrick Lamar paints a similarly seething portrait of what it's like to be young, gifted and black.
The National are always great live, although I didn't catch those undersold Barclay's Center shows that everyone said were a little too ambitious. Here on the Panorama stage though, Matt Berninger and the brothers Dessner absolutely reverberated throughout the field, past the Roberta's pizza tent and into the sky. The younger millennials in attendance might not sonically connect The National to fellow morose purveyors of Americana, the late, great, Silver Jews. But with bands like them and Broken Social Scene on the bill, Goldenvoice is slyly exposing new generations to some of the richness of independent music that started to fade by the late '90s.
Soon it was back over to Sufjan Stevens at the Pavilion because I was told his show is something to see, although I'm still not over his decision to abandon his plans for making a record about each state. Coming off of last year's heartbreaking, personal Carrie and Lowell, Sufjan seemed eager to get back to a place of good vibes for the festival crowd. Only playing "Should Have Known Better" off of that album, he instead stuck to a set heavy on the day-glo clusterfuck noises of The Age of Adz, performing that album's epic, 25-minute climax, "Impossible Soul" in full.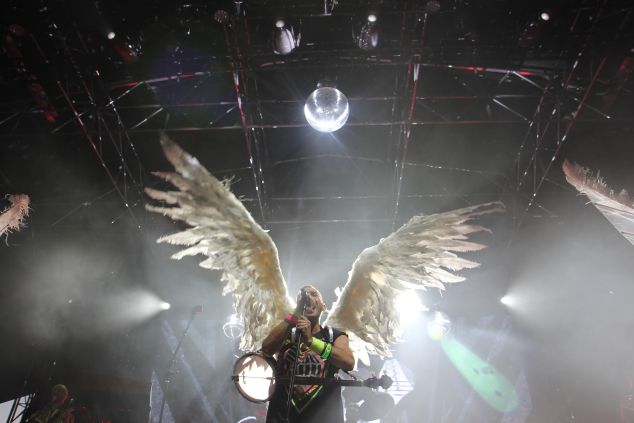 And shit, I barely made it back in time for Kendrick Lamar, although I'm glad I did. Lamar continues his ascension into hip-hop's stratosphere with a live band that's actually playing their instruments and a no-frills, no guest-featuring set that reminds us why he's King Kendrick. Aside from weaving the untitled unmastered. tracks into the set, he also covered ScHoolboy Q's awesome "Collard Greens" and "That Part".
After a short speech about how bad he felt that he couldn't take the stage with Q, Panorama's paradox became evident. Goldenvoice does a fantastic job at curating their line-ups with fluidity—AluunaGeorge, Anderson .Paak and Kaytranada all have collaborated together, just as Arcade Fire and James Murphy have, too. There was a tangible flow, a connective tissue between sets that sounded as if it thoughtfully arranged. But in a music business where artists constantly set their itineraries around festival season instead of booking festivals around their itineraries, something is lost.
We saw it the first night when there was no collaboration between James Murphy and Arcade Fire, and we saw it the second night at Kaytranada and Kendrick. Nonetheless, watching Kendrick work the stage as a giant video of Nancy Reagan's head talked demonically was exhilarating. He knows who loves him, and he knows who doesn't. A later clip of a young Bill O'Reilly barking on the middle screen, flanked by a sweaty Kendrick flanking him on both sides, was righteous in its pointed political minimalism. No more needed to be said.
We even got the live debut of "Untitled 02 | 06.23.2014." "Pimp pimp, hoorays" were heard throughout the evening.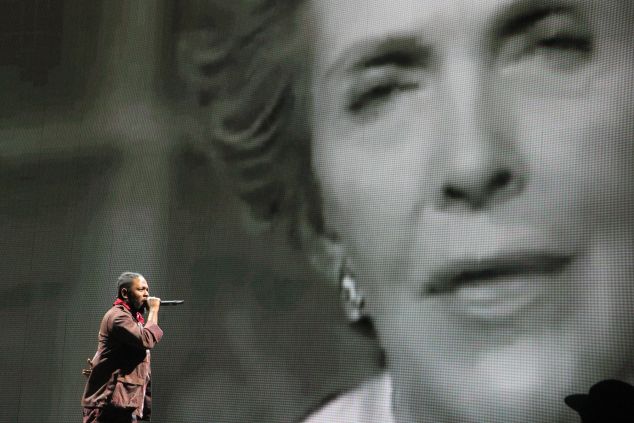 That second night the enormity of sweating and walking caught up with me. So I missed Delicate Steve's 12:30 set on Sunday, making it just for the end of Canadian punk band White Lung on the Panorama stage. "Drink lots of water and don't do cocaine," said singer Mish Way.
Brooklyn's own Flatbush Zombies brought their acid-spangled hip-hop to the stage next, simultaneously sounding like the future while channeling classic beats, and old friend Joey Bada$$ came out for his single "Devastated". There's a reason these young dudes are part of the movement known as "Beast Coast" hip-hop. Like the Black Hippy crew, Flatbush and the Pro-Era folks are merging the worlds of psychedelia and hip-hop to groovy if dizzying effect.
Run The Jewels took that stage later, and when Killer Mike said that they felt good to be back home, Brooklyn's El-P joked that Mike was stealing his line. This is how you do it, folks, no pre-recorded verse tracks or bullshit fashion posturing. And that's why they're successful. Mike's values permeate even the crassest of verses, so it was no surprise when this son of a police officer emerged as one of the most vocal Bernie Sanders supporters. Insane to consider how they were just at the smallest Gov Ball stage two summers ago, but not surprising. We didn't get any new songs yet, but RTJ3 can't come soon enough.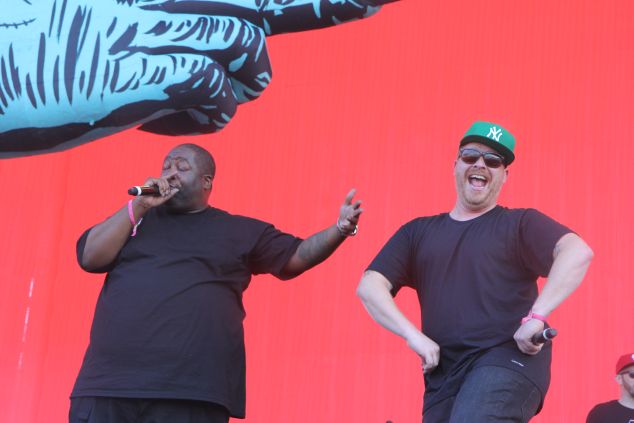 Back across the grounds for Grace Potter, who's touring last year's solo release Midnight instead of playing with her main squeeze, The Nocturnals. Midnight's songs are synthier and dancier funk on one track, and Southern rock at another, but they all work because of Potter's insane energy. Onstage that presence was as strong as ever, as she kicked her legs into the air, getting down on her knees and hanging her tongue out at the crowd. She snuck a few Nocturnals songs in there, too.
Ultimately, though, the festival belonged to James Murphy and LCD Soundsystem. Murphy's 50,000-watt Despacio sound tent was another welcome reprieve from the heat, blasting pristine electro, funk and soul cuts all afternoon under the black light (although I never did find that tent's air duct). But after some super-last-minute warm-up dates on Easter Weekend, LCD Soundsystem's inevitable, post-reunion homecoming turned Panorama's final day into something of a pilgrimage for New Yorkers who grew up here after New York had already been bringing Murphy down for years.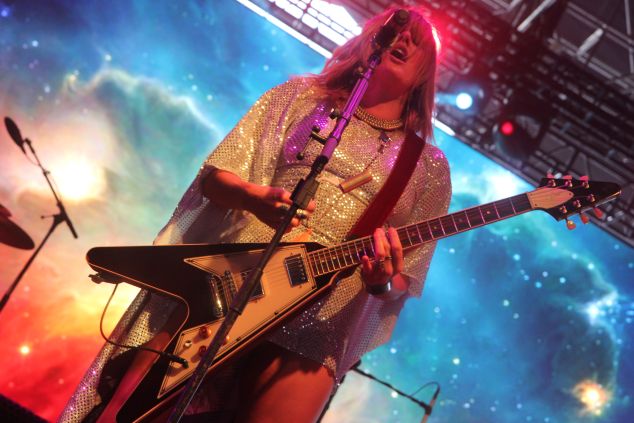 Seeing that warm-up set was something special, but LCD's headlining show was something else.
The Panorama screens were in full force, complementing the band's signature disco ball with hypnotic visuals as minimally sparse and strong as the band's music. "Someone Great" got a spectacular new jammy outro that fed into a section from LCD's long-ass track designed for runners, "45:33".
"Losing My Edge" had several new lyrics, some Murphy had written by the warm-up show and some that were newer still. He kept the line about discovering Suicide though, a nod to his love for the pioneering punk-electronica of Alan Vega and Martin Rev. Vega passed away earlier in the month, so the most poignant moment of LCD's set came as they projected his picture onto the screen and played their cover of Vega's solo tune "Bye Bye Bayou" that had been released as a Record Store Day exclusive in 2009.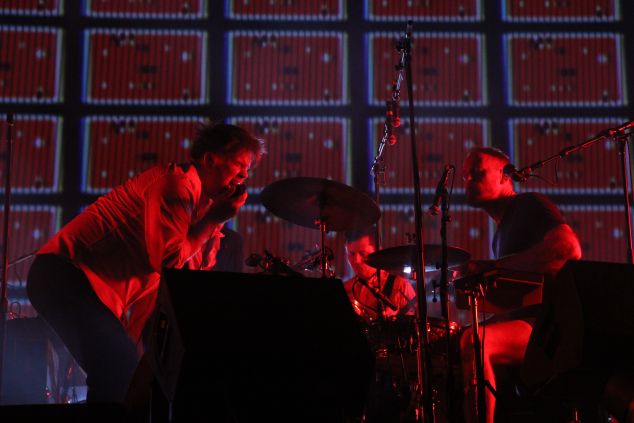 When Murphy first dedicated the song to Vega, thousands cheered in recognition. Maybe we're underestimating the ability of our fellow millennials to discover good music and realize where the sounds they like came from.
A few light inaugural blues aside, Panorama was very successful. It didn't shove its "sponsored experiences" up in your face at every opportunity,  the set times saw very little overlap allowing fans to mix things up, and Goldenvoice picked a substantive assortment of artists among the dreck (I skipped Sia and Flosstradamus, just sayin').
May they continue to invite local artists and local food vendors to Randall's Island next year, incorporating them even further to make the festival's unique offerings like Despacio and The Lab headier still. It may be no World's Fair, but Panorama offered guests a glimpse of what the future could be nonetheless.