It appears that in the end, Jude Law's onetime presence doesn't have quite the impact on real estate values as some had hoped.
The British actor rented out the penthouse at 135 West 4th Street back in 2009, while starring in a production of Hamlet on Broadway.
An entity known as FYNT Property LLC put the 3,500-square-foot abode on the market in September, listing the duplex for $12.5 million, having purchased the space for about half that ($6.3 million) in 2010.
And now, we can see that James Brophy doled out $10.75 million to take up residence in Law's former abode—it's no bargain, but still not quite the haul the sellers were hoping for.
The three-bedroom, 2.5-bath penthouse is located in the gorgeous Novare building, which was built in 1860 as a Methodist church before being converted to a condo in 2006—the duplex still retains heavenly aspects such as stained glass windows and beamed ceilings. Aside from being graced by Law's presence, the unit also features Brazilian walnut floors, a floating chrome staircase, and 20-foot ceilings on the upper level, as well as white Venetian plaster walls and an open Boffi kitchen.
The apartment is "a perfect blend of drama, function and elegance," declares the listing held by CORE broker Jim St. Andre. Perhaps Law felt a bit more an emphasis on the drama aspect of that while playing house in the condo—it is, after all, where the orange-throwing incident occurred.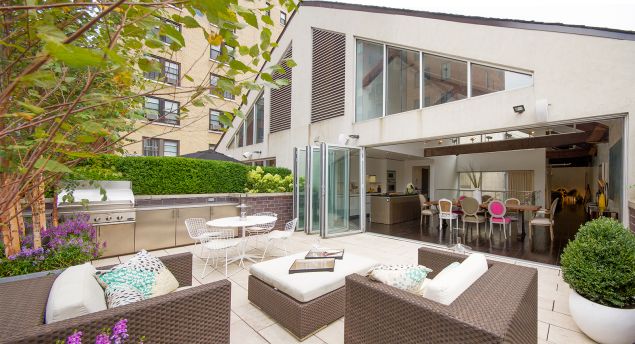 If you're unfamiliar with the legendary kerfuffle, the gist of it is that Law grew a bit irritated with the excited students, who would yell his name and try to take photos whenever Law stepped out onto the 500-square-foot terrace with his trainer. He responded by throwing oranges at the perpetrators, who hopefully didn't have any acid-reflux issues. In defense of the students, seeing Law work out on his terrace does seem preferable to putting in the hours at the library. Maybe.
For the sake of collegians and citrus fruits, our fingers are crossed that Brophy won't mind his new home's proximity to dorms quite as much as Law did—or that the students have calmed down with their cell phone cameras.