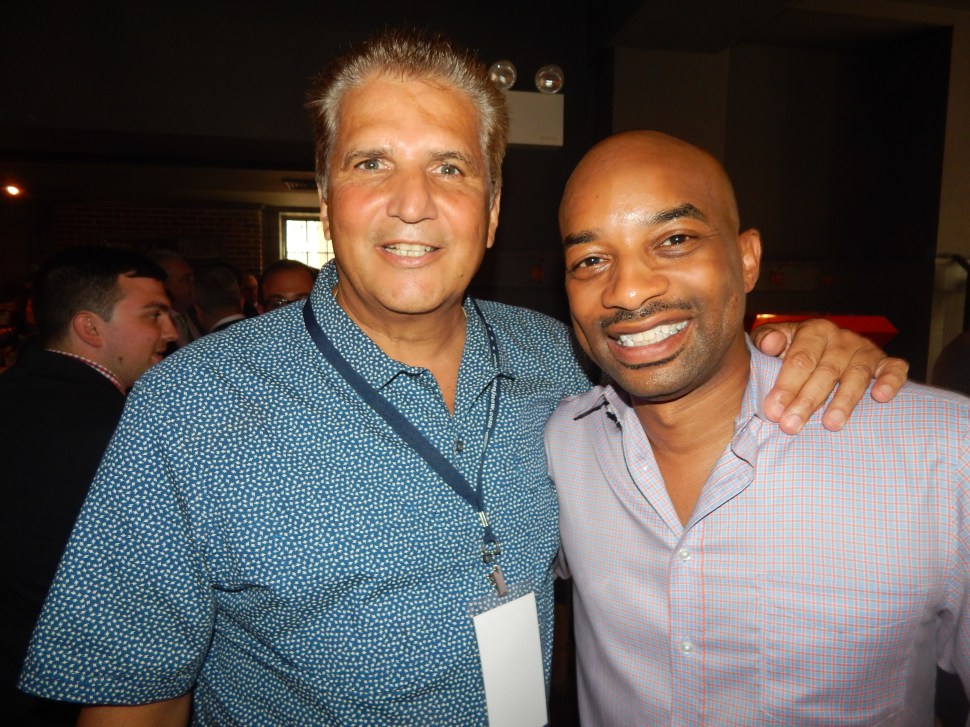 PHILADELPHIA –
The 2017 Governor's Race continues to dominate the event. Often scrutinized as the candidate who right now has the least organizational support, former Goldman Sachs CEO (and former U.S. Ambassador to Germany) Phil Murphy continued to be a doggedly animated presence here at the Renaissance Hotel and the environs of the City of Brotherly Love. Jersey City Mayor Steve Fulop and Senate President Steve Sweeney (D-3) kept a vigorous work rate, too, and Assemblywoman Shavonda Sumter (D-35) created buzz in her wake. Most insiders believe Sumter is best positioned to be someone's lieutenant governor.
The Hillary Clinton v. Bernie Sanders story line hounds the convention, and as people prepare to hear from President Barack Obama, many expressed hope for his healing presence. On the bus between downtown Philly and the Renaissance Hotel, a New Jerseyean saw a woman with a Sanders sign on the sidewalk and extended his middle finger. There is deep frustration in the delegation over what most NJ Democratic Party insiders see as spoiled political neophytes in the Sanders camp.
The Jersey City Mayor's Race has begun. Both Bill Matsikoudis and Assemblyman Raj Mukherji (D-33) avidly worked the room at a packed downtown mixer sponsored by congressmen Albio Sires, Bill Pascrell and Donald Payne, Jr.
This entry relates to one, but merits its own designation, South Jersey Democratic Party boss George Norcross III has stepped up efforts to keep establishment players in line for Sweeney. The boss has combined psychological warfare (at least one source told PolitickerNJ that he made a well placed crack in the direction of a Fulop ally), and buttonhole proximity to party leaders in other counties ("You're with us, right?" the South Jerseyan reportedly told at least one party player).
More seasoned operatives have a genuine concern about the general election and feel that Democrats are not sufficiently pragmatically engaged at this point in the service of defeating Donald Trump. "We all laughed at his convention last week, but I think we're in danger of getting too complacent," one insider told PolitickerNJ at the Renaissance Hotel bar. "Much of the rest of the country is out there, angry."
There is some internal doubt about vice presidential candidate Tim Kaine. One veteran operative a few hours ago confessed that Hillary Clinton would have done better to select Sanders in an attempt to mollify that wing of the party.
Former U.S. Senator Bob Torricelli worked the rooms in  expectation of making another senate run at some point.
While not everyone loved U.S. Sen. Cory Booker's speech, (some members of the delegation acknowledging that they've heard it all before), almost all expressed pride in the knowledge of a New Jerseyan from their sphere elevating to the national level of politics.
If Norcross is seen as the South Jersey power player to be reckoned with in 2017, Bergen County Democratic Chairman Lou Stellato is generally viewed as the northern boss most likely to continue to set himself up as the Norcross counterweight. Most insiders accept the likelihood of his standing with Fulop come endorsement time. But it's still fluid, and Murphy continues to make an enormous play for party affection.
The mood is flat compared to the Barack Obama conventions of 2008 and 20112, but reporters who covered the Republicans' Cleveland conventions and this say the New Jersey Democratic delegation is far more upbeat than was the Christie led GOP. As a state where the establishment has long stood in the corner of the Clintons, in addition to the prominent positive role Booker commands, the New Jersey delegation led by Chairman John Currie can lay claim to a strong center of support for the Democratic nominee.