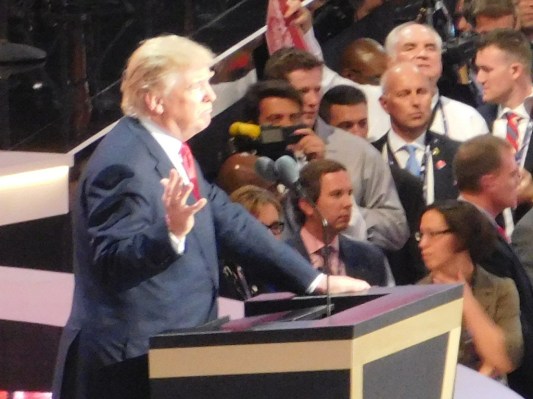 With the Republican National Convention in Cleveland over and Donald Trump officially his party's choice for the presidential nomination, state lawmakers and party leaders are adjusting to the reality of a nominee who many wrote off when he announced his campaign a year ago. Trump's supporters in the state are calling his victory lap in Cleveland a sign that Republican voters want to see meaningful change to their party.
State Senator Mike Doherty (R-23), one of Trump's most vocal supporters from the beginning, said he will remember the overwhelmingly negative reaction to Texas Senator Ted Cruz's decision not to endorse at the eleventh hour.
Calling the choice between Trump and presumptive Democratic nominee Hillary Clinton one between the hegemony of moneyed interests and a new, more protectionist U.S. policy agenda, he compared the Trump-Cruz feud to the conflict between Barry Goldwater and establishment Rcritics at the 1964 convention.
"He took a pledge to support the nominee of the Republican party, and he did not keep his pledged it sort of reveals the gentleman's character," Doherty said. "He was booed off the stage, including by delegates from the state of Texas. So I think he made a grave political miscalculation, and he showed that he thinks he's bigger than the party and what the American people want.
"We saw Nelson Rockefeller and George Romney, the governor of Michigan, they refused to support the party's nominee. It was the end of their political careers for all intents and purposes."
Assembly Anthony Bucco (R-25), who said he would support Trump if he secured the nomination following Governor Chris Christie's full-throated endorsement in February, said that Trump's success at the convention points to the need for the national GOP to pay attention to its grass roots.
"I think that he presented to the nation his vision for the future," Bucco said. "People are angry, they're frustrated, they're upset, and he has committed to changing the dimension of Washington."
Of Trump's choice of running mate, Bucco said that Indiana governor Mike Pence could prove a good counterweight to Trump's unconventional background as a candidate for public office. Pence, a traditional movement conservative whose voting record during his time in congress aligns with the party's hardline 2016 platform, beat out Christie for the VP spot.
"I think it's a great balance. I hope that there won't be any conflict between them and I don't think there will," Bucco said. "He paid attention and listened to not only those at the top of the organization, but those that were actually working on the project. He listened, and he reacted to what he heard. And to me I think that's one of the biggest things that politicians today lack."
State Democrats were quick to criticize Trump for what John Currie, chairman of the New Jersey Democratic State Committee, called an unorganized campaign trading in divisive rhetoric.
"Donald Trump continues to sound egotistical and downright dangerous. He is deliberately deceiving, and, frankly, unhinged from reality. Our country deserves better than someone who offers no workable policy solutions, and who inspires hate," Currie said. "The fact is, America is a great place. But, by working together under President Hillary Clinton, Democrats will find ways to make it better."