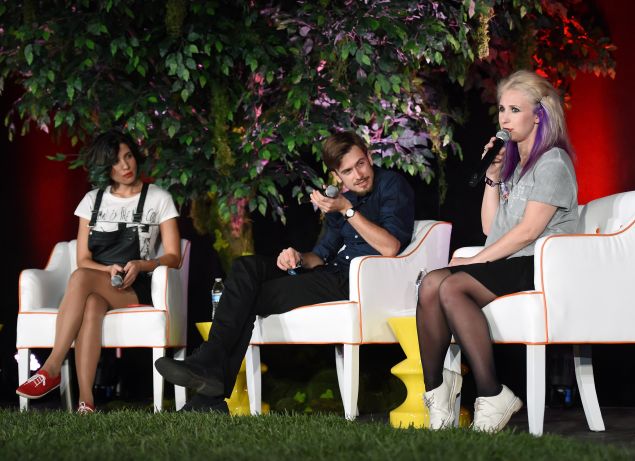 The Russian dissident punk rockers of Pussy Riot have never shied away from vocalizing their dissatisfaction with politics. In 2012, they performed a song criticizing Russian president Vladimir Putin inside a Christian Orthodox church in Moscow, were arrested and charged with hooliganism, and imprisoned for two years. After being released, the women clashed again with police at the 2014 Sochi Olympics. They've made songs and music videos about government corruption and police brutality, spoken on behalf of Amnesty International and recently appeared on the popular Netflix television show House of Cards.
Now, Pussy Riot member Nadya Tolokonnikova and husband Pyotr Verzilov (often affiliated with the group), who were also members of the Russian street art collective Voina, are taking on the 2016 U.S. presidential election and divisive Republican nominee Donald Trump with a daring art installation at Robert Wilson's Watermill Center Benefit and Gala in the Hamptons. Nestled in the woods behind the Watermill gala, attendees will find a vintage electric chair over which hangs Trump's declarative campaign slogan "Make America Great Again."
The Observer spoke with Tolokonnikova ahead of the event about the project, supporting Bernie Sanders and why Trump's rhetoric should be a warning to Americans.
Observer: How did you come to be involved with the Watermill Center?
Tolokonnikova: I've been in Watermill center one year ago…I had a friend who is theater director—she's Russian from Moscow—and she's been really influenced by Bob Wilson, which is why it was so interesting to collaborate with him. Maybe establish some ideas for future projects in which I could involve my friend. She was actually fired from her job just because she took part in my music video, which is called Chaika, and it was about Russian prosecutor general who is really corrupted official…and he killed several people but he's still [free] and he's still a prosecutor. So we made a music video about him…She was fired from the theater that had government money. She was really influenced by Bob Wilson's aesthetics and I took part in one of her plays…It's really interesting for me to come to the actual place…And I'm thinking about doing something in the world of theater and performance, so I'm collecting some experience.
"[Voting for Trump] looks more like suicide for me—collective suicide."—Nadya Tolokonnikova
What is the significance of the electric chair in your installation?
I think it's a pretty good symbol for…how people are about to vote for a crazy person who is Donald Trump, and it's a pretty suicidal move. It comes from despair. I mean, I could see that there are some problems—economic problems, income inequality—but I don't think that voting for Donald Trump could be a solution. It looks more like suicide for me—collective suicide.
What is the perspective outside the U.S. on the presidential election?
Well, it looks pretty scary. I remember in December of last year, when a lot of people didn't believe that he would be the nominee. I even didn't want to go to U.S. because I hadn't been in the U.S. in a while. I read in the news all bad things about Donald Trump and I thought for a minute everybody just went crazy in that country and "I was like I don't want to go there." Then I came to work on my music and…I found out maybe not everybody went crazy. There's some who know clearly what it means to be under the rule of someone who isn't respectful, who is trying to…cause some hatred in people. I've been under the rule of this person for the past 16 years and the name of that person is Vladimir Putin and he thinks that he has to win by any means and it seems to me that Donald Trump has similar approach to politics and giving power to such people is a little bit scary.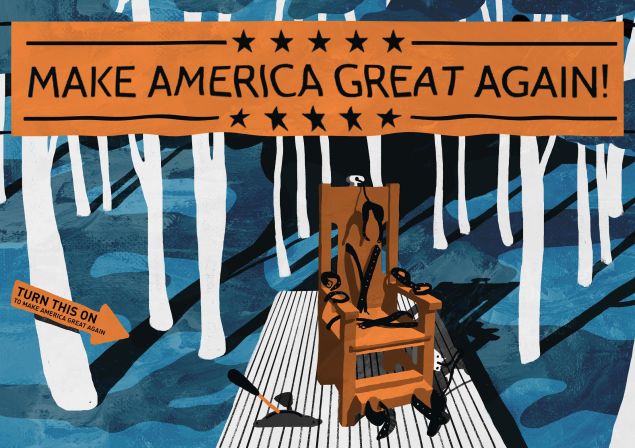 You've come out and spoken in support of Bernie Sanders, why?
I was super excited when I heard about Bernie. I was even more excited when I saw how far he went. I decided to support not in the early stages, so I had some hesitations like if I have a voice in this conversation because I'm not an American citizen. But then later I decided that actually my political problem for America [sic] would be "Does America really want to be a world leader and want to define how political processes in other countries would go?" being that the world has to have a vote. Because it will influence not just American people but people all around the world so I decided for myself that actually I have a right to vote even though I don't have an American passport, so that's why I supported Bernie. Since Occupy Wall Street I was looking for someone who could express this rage about just enormous economic inequality, who could express it in the world of big politics and I know about Elizabeth Warren, who is amazing, and Zephyr Teachout who is trying to be governor of New York State, but Bernie went much more far and I think it will bring some consequences and even though he's not in the media right now. It should bring some consequences and I think the fact that they defined their campaign not as campaign but as movement it is really special and I believe it is a movement and may still not end right now, even when Hillary is a candidate.
Do American politics inspire you?
I've spent some time here…I'm a person who doesn't really care about borders…and I have a bunch of American friends and know about their problems…like with pharmaceutical industry…I just had to buy one medication which cost $1 in Russia and here I had to pay for it $900, which made no sense to me…So that's why, it just comes natural.