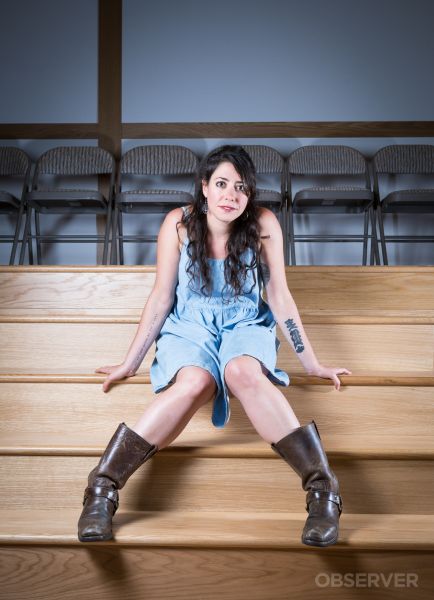 Director Rachel Chavkin is riding a comet to Broadway—surely the slowest-moving comet ever to streak across the stratosphere. On November 14—four years, one month and two days after it world-premiered at Off Broadway's tiny-but-mighty Ars Nova—her Natasha, Pierre & The Great Comet of 1812 will reach the Imperial Theater, former home of Les Miserables and now reconfigured into Imperial Russia for the occasion.
In the interim, she's been about as idle as your average whirling dervish—restaging Dave Malloy's sung-through, 70-page sliver of War and Peace in a spacious Big Top venue in the Meatpacking District and, again, at Cambridge, Mass.' American Repertory Company. At Classic Stage Company, she mounted a modernized (i.e., Anne Washburn) Iphigenia in Aulis. And for Lincoln Center Theater, she did some double-dip directing, helping Sergei Rachmaninoff conquer his writer's block through hypnotherapy (Malloy's Preludes at the Claire Tow Theater) and steering another Jack Johnson-facsimile to prize-fighting glory (Marco Ramirez's The Royale at the Mitzi Newhouse Theater).
Things haven't eased up any for her, either. She started this particular day sending scheduling emails to the cast she rallied to resurrect her Ars Nova hit, Bess Wohl's Small Mouth Sounds, at The Pershing Square Signature Center July 3 to September 25.
After that was a pep-talk session with her Pierre-to-be, Josh Groban, who (like her and like her Natasha, Denee Benton) makes his Broadway debut in Comet. By day's end, she was at New York Theater Workshop, checking out how her Orpheus and Eurydice were faring in Anaïs Mitchell's N'Orleans-netherworld musical, Hadestown.
Oh!—and did I not mention the TEAM, the ensemble she co-founded more than 10 years ago and for which she is still artistic director? Mid-afternoon, there was a TEAM huddle in Brooklyn over Primer for a Failed Superpower. ("It's primarily a music piece. We commissioned a bunch of composers to re-orchestrate seminal protest music for the 19th, the 20th and the 21st centuries. It'll be played by a multi-generational cover band of TEAM members ranging in age from teens to 50 and up.")
Chavkin formed the TEAM to take a couple of shows she concocted to the Edinburgh Fringe Festival. One of them—Give Up! Start Over! (in the darkest of times I look to Richard Nixon for hope)—won the Fringe First in 2005, and she and the TEAM have been festival fixtures ever since. Next month, they're Edinburgh-bound again—to do their second collaboration with The National Theater of Scotland. ("Anything That Gives Off Light is about how Scotland shaped America and how now, in turn, America is shaping Scotland—for better and for worse.") Then, it'll be "Bring on Broadway!"
"I think it's typical of a director to work on many shows at the same time, but I am probably working on too much right now," Chavkin says grudgingly, "and I love it."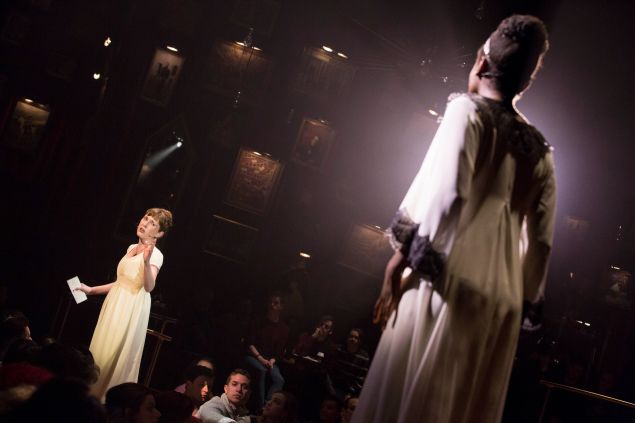 To anyone else, she might seem like a pinball skittering around in the dark theatrical wilderness, lighting up whatever she happens to touch. "That's a funny image," she cheerfully agrees. "My husband is in a pinball league in New York and plays in tournaments. He's on the team for The High Dive, our favorite bar in Park Slope."
Bringing light to the masses, she might argue, is what an immersive director does. Her goal is to put the audience in the thick of things and make them feel what the characters feel. More often than not, she does this by rearranging the playing field.
Literally. She's one of the few new movers-and-shakers who are also movers and shapers. No proscenium arch is safe with Chavkin on the case. She thinks outside—and well beyond—the box, fitting the story she has to tell to the space she tells it in.
Comet has given her a kind of license to kill all floor plans. Malloy's electro-pop opera she set in an old Moscow cabaret (or "Kazino," as one reincarnation called it), replete with opulent drapes, ornate decor and an orchestra of eight. All of that has grown exponentially with every staging, forcing Broadway—notoriously reluctant to reconfigure itself—to bite the bullet and disguise the Imperial as an upholstered wrap-around bar with armchairs, banquettes and table-seating. The story is played out in the swirl of aisles inches away from the paying customers. "There will not be a seat in the Imperial that doesn't have actors constantly near it," promises Chavkin.
She knows what she's talking about, too, having struck at Ars Nova and New York Theater Workshop, the Off-Broadway houses most receptive to massive makeovers.
The first of the Chavkin-Malloy collaborations was for NYTW: some free-wheeling whimsy called Three Pianos, in which Malloy and two other pianists tipsily attacked Schubert's Winterreise song cycle, giving off the boozy airs of a frat-house beer-bust.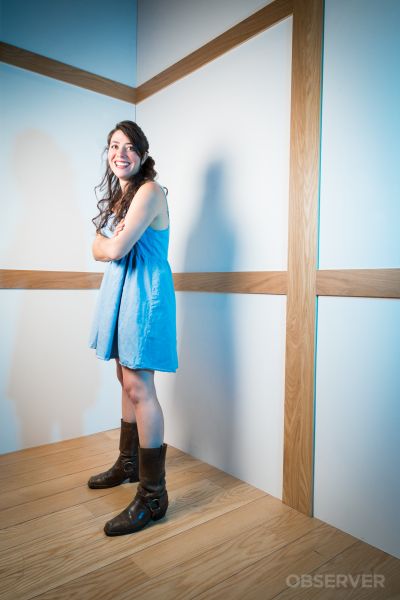 Having worked the clubs, Malloy knows the joy of a well-lubricated audience and backs it up with a quote from Bertolt Brecht: "Theater, without beer, is a museum."
Consequently, red wine was generously dispensed at that NYTW gig, and vodka will be the Imperial's official house-pour for Natasha, Pierre et al. "Absolutely!" Chavkin insists, intending no pun. (Hopefully, the booze will be ungraded to Broadway standards and not the hooch from an Austin distillery that was served at Ars Nova.)
Rock 'n' roll, Rachmaninoff concertos, Dixieland jazz, Schubert song cycles, protest ditties through the years, operas both folk and electro-pop—in a decade of directing theater, Chavkin has pretty much covered the waterfront musically. "I try not to repeat myself at all," she likes to understate, with a measure of pride and accuracy.
In her boxing drama (The Royale), Chavkin didn't even make it out of the percussion section. For that, Chavkin—who received her MFA from Columbia University's School of the Arts in 2008 after getting her BFA at Tisch—credits the playwright. "The whole thing was meant to be abstract. That was absolutely Marco's idea. He wrote a whole series of claps and stomps and hops—percussive elements that the cast provided. It's the idea of capturing the kinetic energy of the text in movement while making sure we weren't suddenly just staging fight scenes. Marco explicitly said not to stage the fights realistically. It was always an abstraction, and that was the challenge of this show."
Her current production manages to venture into another frontier—the noises-off one. In the almost dialogue-free zone of Wohl's Small Mouth Sounds, she and her cast—the silent six—create distinct characters out of mute interplay and body lingo.
The play was written for a proscenium presentation, but, given Ars Nova's railway-car stage, Chavkin opted to play the hand she was dealt and dumped the action in the aisle right in front of the audience, who are seated on facing bleachers. Through osmosis or proximity, they suddenly became part of this silent-retreat experience.
After her Broadway beachhead, Chavkin can already see projects forming. She and composer Heather Christian have already begun work on an adaptation of Mac Wellman's novel, Annie Salem. "Mac, of course, is the granddaddy of the avant-garde who runs the Brooklyn College Playwriting Program and is an astonishing thinker, playwright and writer. Very few people know this, but he has also written a couple of novels. Annie Salem is a novel that I found online when I was 22 and obsessing about Mac. I just fell in love with this novel—it's set half in Ohio and half on Mars."
And, of course, she and Malloy will continue to tinker with the classics, starting with Moby Dick. "We're also adapting Shakespeare's King Henry IV: Parts One and Two and Henry V into a single evening's event focusing just on Prince Hal's trajectory."
Unconventional material comes to Chavkin like a magnet, and, with her increasing profile, it's coming more and more frequently. She can't say why. "The Royale was a play I got called for by Barry Edelstein at The Old Globe—I read it without basically breathing in a single night and said, 'I have to do this play'—but Annie Salem is work that's coming purely from me and my love of the book. So I'd say it's a mixture of me being definitive about what I care about. I care about a vividness of life and culture on stage—whether that's with music or without music. Often, politics is a part of that but not always overtly. Sometimes, it's just because I love the story. The result, I think, is a diverse slate of work as wide as the number of ways I come to projects."