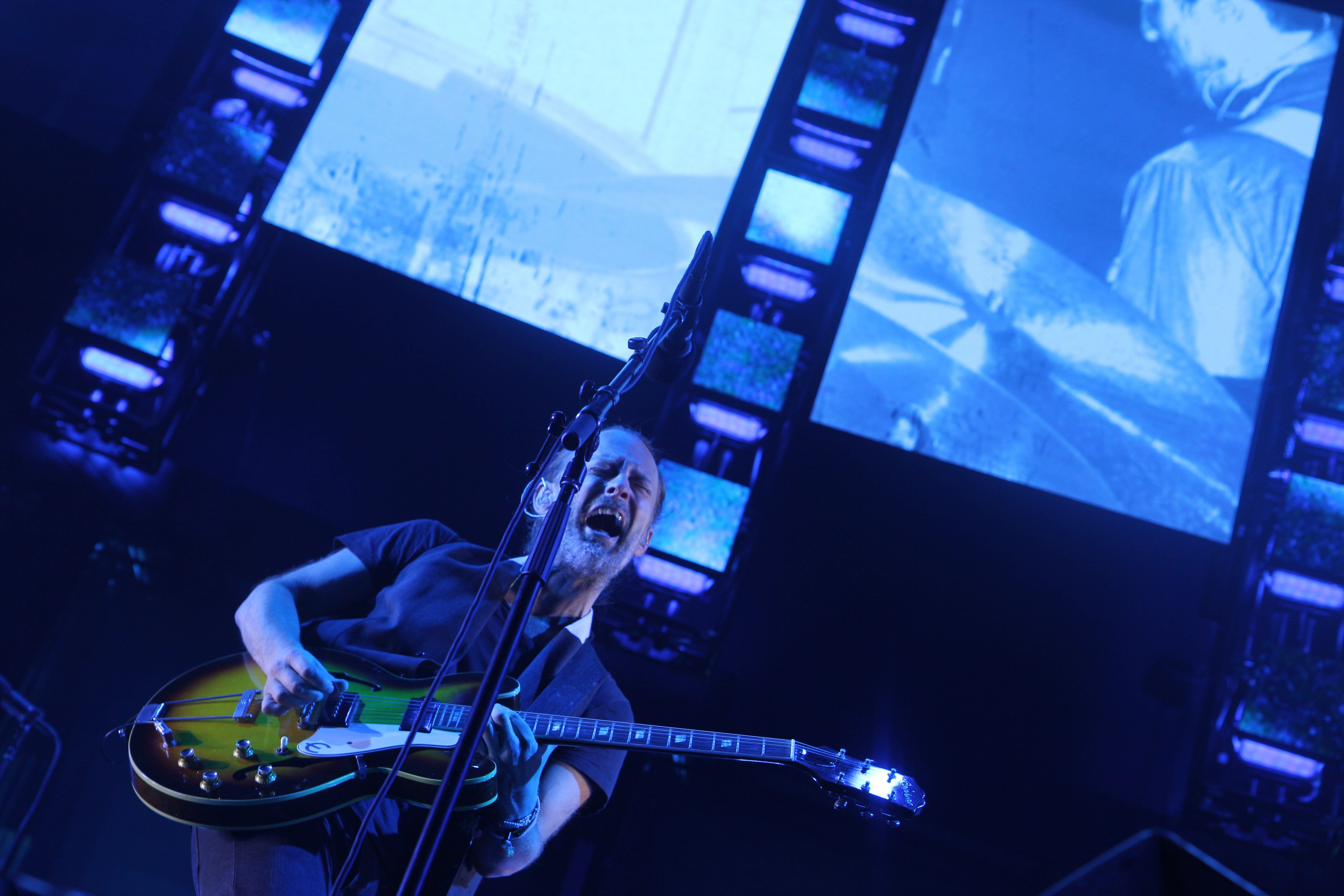 Thom Yorke's manbun grows differently than those belonging to the other celebrities, wilder and more unwieldy, like a third-eye that's hiding in the last place you'd expect to find one. And if there's one element of Radiohead's future waiting to be prophesied or foretold, it's simply a matter of what they'll do next.
A Moon Shaped Pool proved that Yorke's songs are at their strangest when he's opening up about himself, showing us that he's just a man, going through a post-heartbreak onset of directionless wandering. There's an arc to his process of healing on that record, nonetheless, and trajectory that cuts it into their back catalog when they're playing live. Tuesday night's show at Madison Square Garden, their first American show in four years, was more than just a chance to bring the communal catharsis to fans—it was a reminder of how effortlessly Radiohead tell their own story.
The themes of loss explored in Pool's live arc extended far beyond the new songs, all the way back to 1995's The Bends, and even saw them bring out the O.K. Computer tearjerker "Let Down" for the first time in 10 years. That's what you call a mindful setlist, and Radiohead are masters of the mindful.
If the medium is the message, the arc is the journey, and the setlist is the story.
As with their other recent live dates, the evening began with Moon in sequence. The symphonic swell of effigy that opens the album, "Burn the Witch", saw Jonny Greenwood's heavily rosined bow running over the strings of his guitar as he held it vertically like a cello. They slowed down into the celestial spheres of "Daydreaming", the screens onstage feeding a large portal on the center screen as Yorke sang, "This goes beyond me, beyond you, the white room by a window where the sun comes through."
They then worked through three more songs on Moon, concluding with "Ful Stop", its thick, low-end Krautrock loop and rising frantic intensity putting drummer Phil Selway to work. "Truth will mess you up," declared Yorke over and over as the song built to climax. Then, ending the songs from Moon, Radiohead dove into a set of deep cuts from their varied back-catalog.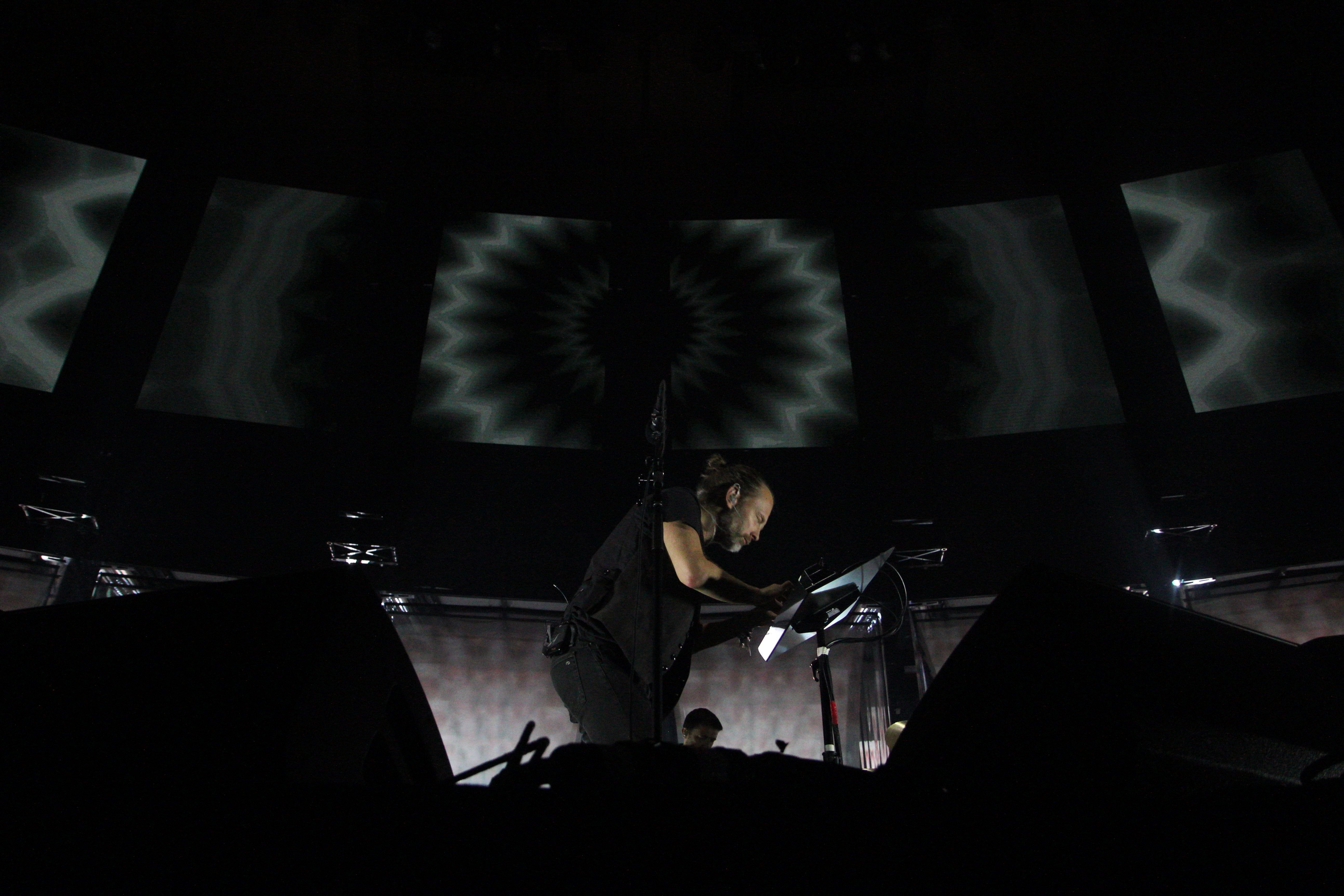 But here's the thing, here's why that manbun might hold powers still—the older songs that they played fit the healing narrative of Moon, taking on new meaning and suggesting the mates aren't just pulling from their back-catalog without intention.
Transitioning immediately into "Lotus Flower",  the empty space inside Yorke's heart where the weeds take root suddenly has a name, heartbreak, as he wishes he had the moon on a stick and telling someone, "I can't kick your habit." The rousing electronic drum line opening of "15 Step" soon followed, giving further context to Yorke's  feelings on his current life as he asks, "How come I end up where I started?"
The rising crescendo of energy as the set continued showed a band baring itself raw and green over the new Moon songs, despite how tight and full they sounded.
The latter half of the album sounded even fuller and more immediate live—"The Numbers" with its call to arms urging us to own our environmental reality and self-actualize emerged from its recorded cocoon of ambient noise to find a groovier, swankier pulse. "Present Tense", meanwhile, found its way into the encore, clipping along like a Spanish dance.
The dystopian themes of technology and electronic sounds that bolster the much older "Planet Telex", meanwhile, define a singular moment in Radiohead's discography—when those first notes to The Bends began, we were already seeing the beginnings of a band in the throws of self-transformation. They brought it back on Tuesday night as a comment on failed communication in the modern age and how it can damage us, with looped backround audio referencing a certain pantsuit-wearing candidate.
"Everything is broken, everyone is broken," declared Yorke. "Why can't we forget?"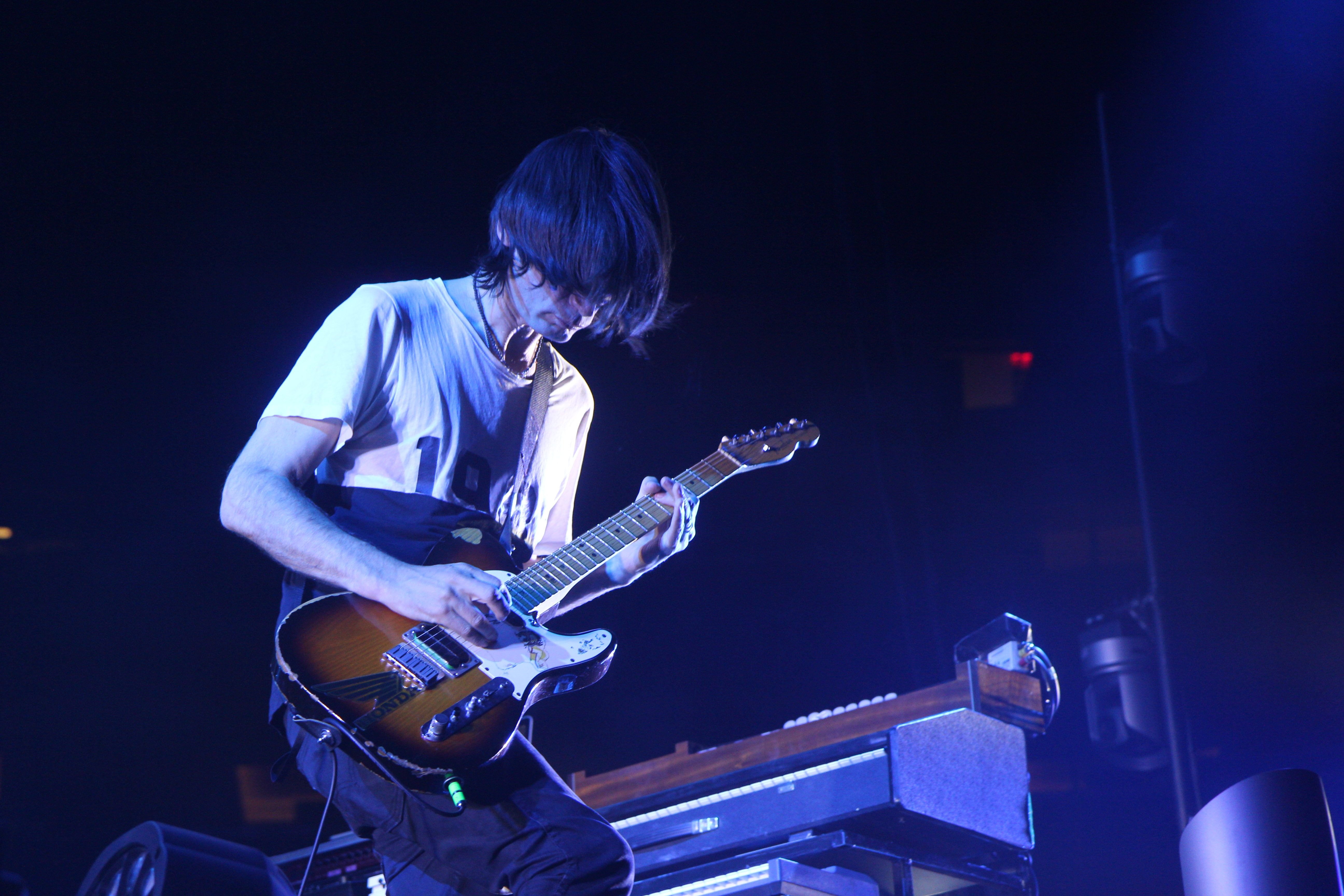 As with "Ful Stop", you get the sense that other songs also serve a utilitarian function. The King of Limbs closer, "Separator", for example, was the last Radiohead tune before Pool, and its lyrics prophesied Yorke's eventual separation with his partner. Back in another daydream, Yorke sings, "And as that woman blows her cover, in the eye of the beholder, I'm a fish now out of water."
Placed halfway through the set and prefacing the rock of "Planet Telex" it's lyrics take on a new meaning still. "And if you think this is over then you're wrong."
The deeper sense of wonder here comes not just from watching a band in flux, unsure of where they'll go next, but one that's confident they'll get there eventually. Yorke's at the point in his career where his vast back-catalog chronicling technological malaise and modern alienation illuminates his current place in the universe, and it shows through his earnest as a shield to protect the more vulnerable side he displays on Moon.
That's why fans will continue seeing Radiohead live. They continue to inspire as a band in control of their own destiny, their own path, and every time that Yorke brings his hands together in a gesture of Namaste, the meaning of a ritual bow goes far beyond that of a grateful performer.
Radiohead's general album arc has been inching toward sounding like pure hallucinogenic consciousness up through The King of Limbs. With its polyrhythms and electronic flourishes, that record was a trip because it saw a band still going to new sonic places nearly 20 years into their career.
On Moon they show more restraint, as Yorke takes inventory of his life's work and accomplishments just as anyone does who's going through recovery. The shared joy at MSG, then, came through in seeing how much richness and love the band still has for playing together, especially considering the exceedingly personal nature of this new material.
As their short tour continues through the U.S. this summer, that catharsis will spread. Communal moments of sadness will turn into joy, and wandering, heartbreak and grief will become pools unto themselves until the time comes for Radiohead to climb out and dry off.