Even for the most hardcore exercise addicts, barre classes are surprisingly difficult. After all, the entire point of it is to target the muscles you never knew you had–you know, those trouble spots that yoga, spinning and hip-hop cardio can't seem to get. (See also: back fat, arm flaps and love handles.) I've never been a huge fan of barre–I expected to feel like a ballerina after a trial Pure Barre membership, but instead I mostly wondered how to squeeze my thighs into a tiny strap, without wanting to cry. Still, I want so badly to like these classes, which are held in large, air conditioned rooms, all over the city. After all, the fact that barre allows you to tone without sweating heavily, makes it the perfect workout hour to squeeze into a busy schedule.
Most barre classes bend together, especially once you familiarize yourself with the necessary accessories. There are $14 colorful "grippy" socks that work perfectly with slippery boots if you choose to leave barre behind, a colorful bouncy ball, light weights that feel like one hundred pounds once you're holding them for an extended period of time, that aforementioned elastic strap that barely fits around your thighs and sometimes a squishy Pilates circle for arm exercises. (Those are all their technical terms, of course.) Some classes more intense and cardio based, while others let you channel your inner ballerina, tutu not required.
Gone are the days where Pure Barre was the only torturous barre class on the block. Now, it seems like every neighborhood has its own special socks and tiny movements that are almost impossible to emulate, since it looks like every participant is barely moving. So, which New York barre studio provides the toughest workout? The verdict is in: five barbells mean that after one class, you'll be feeling it the next day. And the day after. And the day after that. One barbell means you will barely move a muscle.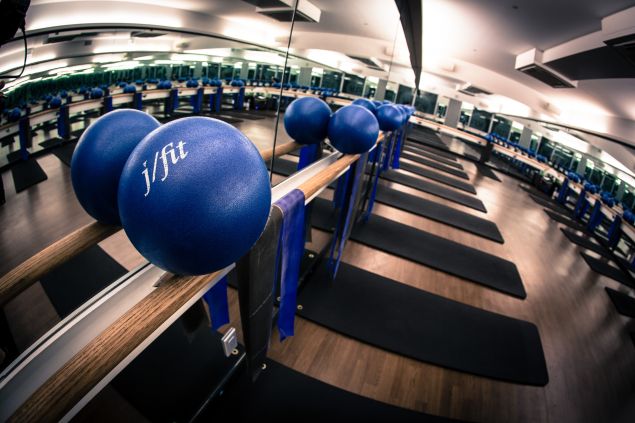 FlyWheel might be known for its spinning stadiums, but it also houses one of the toughest barre classes in the city, in the form of "FlyBarre SPORT 60," a combination of cardio and barre. It sounds like something Sandy Cohen would make fun of on The O.C., but the class itself is no joke, even for workout aficionados. Unlike yoga or pilates focused barres, this one involves loud music (expect Beyoncé), five pound weights and enough jumping jacks to exhaust you before the tiny barre movements even begins. Unlike other barre classes, you will sweat excessively, unless you are somehow superhuman.
"In this amped up class you can expect a combination of ballet-derived shapes and more traditional body weight exercises, like squats and lunges, in addition to upper body and core strengthening exercises," FlyBarre's Creative Director and Master Instructor, Kara Liotta, told the Observer. If you're not exhausted after the cardio portion of the class, you're certainly superhuman.
5bells
BarMethod Soho has two separate studios in one and hosts events with local spas and pop-up shops. 
Bar Method Soho is brightly lit, air conditioned and has spacious, elegant locker rooms that make getting ready for an evening out seamless. There's are magazines in the lobby and a complimentary coffee station. It's right in the middle of Soho, which gives you a good excuse to shop beforehand and grab cocktails after. And even better, while it's an intensive work out, you won't be covered in sweat at the end, so you can grab said drinks and not look like a disaster. This is the most traditional barre, and after going to a few classes you'll begin to remember the repetitive motions, even if you hate doing them. If you do continue, the super slim instructors, who all make a point to remember your name which makes corrections easier, will tell you how "pretty" your motions look, which is perfect encouragement for aspiring ballerinas.
After my first class, I was shocked that even though I worked out consistently, there were certain movements I was sure I'd never be able to do. It did get easier, but you would need to truly devote yourself to be able to do tiny, repetitive pelvic thrusts without wanting to die inside. Still, the sleek, chic location, and the instructor's lithe bodies will make you want to return until you're a regular.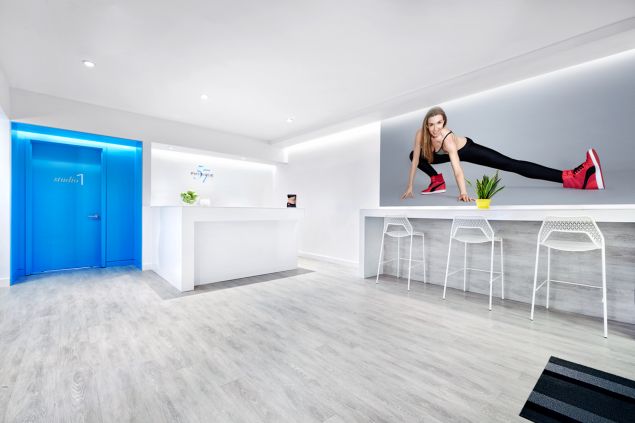 Physique 57 is one of the most popular and notorious classes in the city, famous for its legions of devoted fan girls. The new Financial District studio is sparkling clean with large changing areas, carpeted floors and completely full classes. Yes, you'll hurt afterwards, but not nearly as much as you dreaded. There's intense air conditioning, props and an instructor speaking into a mini microphone, suggesting you make your motions tinier and tinier, until you can barely see them (but you can certainly feel them). Physique promises results in only eight classes. "Our high caliber of instructors and rigorous training process makes each class feel like a personal training session in a group setting," Tanya Becker, Physique 57 co-founder and Chief Creative Officer told us.

Exhale. 
Exhale has six New York City locations. The Soho studio is tucked away and on the smaller side, but their instructors supervise an intense workout. You won't sweat, so you can shop in the area afterwards–or, you can head to their spa. "Exhale's Core Fusion classes are a full suite of core centric workouts dedicated to physical transformation and mindfulness through barre, yoga, interval training, sports conditioning and cardio," said Annbeth Eschbach, president, founder and CEO of exhale.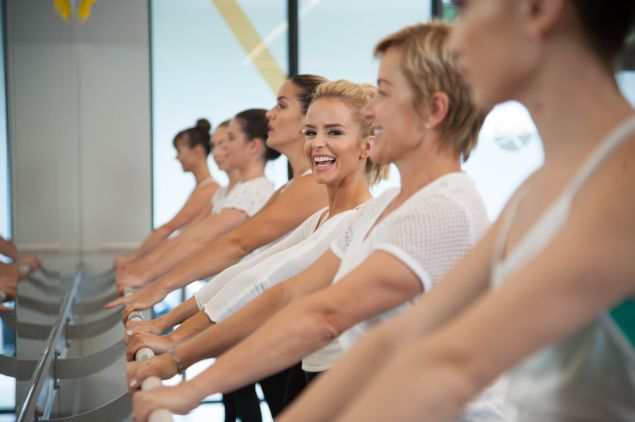 At the Brooklyn outpost of boutique fitness chain Xtend, I was the only woman in the room without a wedding ring… and the only one who seemed to be having difficulty staying in a side plank. The spacious, comfortable Brooklyn Heights studio seems to be frequented by moms with strollers and engaged 30-somethings looking for a low-key but hardcore fitness plan. Their Xtend Pilates Fusion class is literally hardcore–an intensive core workout that still uses pretty ballerina arms and first and second position. You'll feel like a true ballerina as you extend your hands and pretend you're in Swan Lake, as opposed to other classes, where the Nutcracker vibe comes solely from a barre. "You're going to come to a class and sweat and leave feeling strong, long and lean," Andrea Rogers, founder and creator of Xtend Barre, promised. The motions are best for anyone with a dance background, but don't expect exclusively plies.
The location is unbeatable for Brooklynites who don't want to venture out of the borough for a toning workout. Their enthusiastic instructors also make a point to introduce themselves, learn your name and make corrections throughout the class, so you don't injure yourself while attempting a variation of a sit up that is somehow much, much harder.