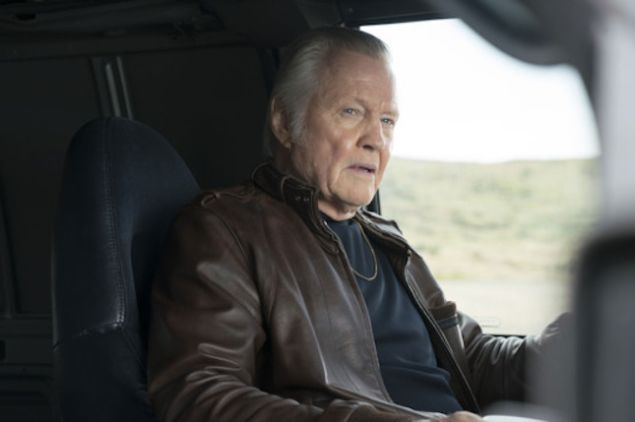 Hello and welcome to your weekly recap of Ray Donovan. We're doing things a little differently here: Season 4 is already halfway done, and I'd never even seen an episode of the show until today! I'm excited to go on this journey, and–more importantly–eventually learn the names of everyone who hangs out at that boxing gym.
We start with an opening that undoubtedly marks this as a shit-goes-down episode, with shots of Jon Voight's Mickey preparing for his and Ray's road trip, intercut with a really excellent, haunting Sylvie rendition of "Time Of The Season". Meanwhile, Ray is in the casino trying to get the inside scoop on his father's successful-ish heist. Unsurprisingly, they're already on to Mickey. Thankfully for this first-time reviewer, we have a pretty insular episode with Ray eyeing a singular goal: Get the money back and get outta dodge. Things are complicated (or helped?) by a shady man in a car telling him to get back to L.A. and deal with "the Russians." I guess that's a story for next week.
We then launch into what I can only assume is the greatest scene in Ray Donovan history: in which Ray discovers Mickey's piss jar. (Editor's note: Better than the dolphin dreams?!) I could have watched an entire hour-long episode of Ray and Mickey discussing the merits and demerits of the piss jar, including why one was ever needed, since Mickey ignored Ray's instructions to stay in the van anyway. There's some wonderful comedy work here as Ray and Mickey solemnly discuss their plans with the piss jar firmly in the center of the frame. "I'm a professional" insists Mickey at one point, "hold on to your piss jar" Ray replies as he turns on the engine.
Side note: the word "piss" appears five times in this episode. I counted.
We then throw to Donovan Family HQ, where Conor's anxious for Avi to train him how to shoot a gun. Invoking the flawless "good guy with a gun" logic, he eventually breaks Avi down, and Avi agrees to teach the Conor on the condition the kid beats him at a video game. That's some A+ bodyguard work there, Avi. Can't see anything going wrong here.
While Avi's getting his ass handed to him, we have a chance to check in with the Fightin' Donovans, which is what I'm calling all those guys at the boxing gym. It's a chance for Dash Mihok' Bunchy to show off some pretty solid fake-baby-acting, and a chance for me to go "Oh shit! Eddie Marsan!" Marsan alone is enough to convince me to go back and do my homework on this show. Even in the few minutes we get at the gym with Bunchy and Terry, there's some really nice use of classic tropes of masculinity being broken down. Bunchy's torn up about Theresa's departure, and Terry's consoling Bridget over her break-up. While Ray and Mickey enjoy their road trip, the B-Donovans are sticking together quite nicely.
In an episode with so many neatly communicative relationships, it falls on two largely isolated characters to dish out the "heavy" stuff. First up is Theresa, showing all the classic signs of postnatal depression, withdrawing into herself and largely abandoning Bunchy and baby Maria. Bunchy's soft, foolish optimism shines through here as he repeatedly insists Theresa is just exhausted and needs to spend time with the baby. His ignorance here isn't out of anything malicious, but even as he's talking, Theresa's pretty obviously checked out. He leaves the baby with her and hopes that will be that. That will not be that.
Also in a pickle is Abby, who's looking down the barrel of a double mastectomy to ward off any chances of cancer. "I'm not chopping my tits off" she eloquently insists. Her doctor gently emphasizes that her options get a lot more limited down the road, and Abby's strong-minded approach to life isn't going to work on tumors.
I can't speak for the entire series, or season for that matter, but it's disappointing to see the women in this show burdened with such obviously labored and, hell, gendered storylines. I can only hope future episodes prove me wrong, but in a show that manages to weave in some gloriously unexpected nuance and awareness into its proceedings, there's still work to be done on its female leads. Outside of the road trip scenes I found myself occasionally frustrated with such sub-Sopranos "family matters" storytelling, desperate for some more organic challenges for the women.
Then Jon Voight blows a dude up and this outrageous buddy comedy is back on track.
It's pretty apparent Mickey's a fuck-up, and when twitchy, drugged-up Pinky douses the money in gasoline and takes out a lighter, there's really only one way for things to go. "Don't move" Ray growls as he goes to deal with Pinky. That didn't work at the casino and it's not gonna work here, even if it means Mickey leaving his beloved piss jar unattended. Later, a frustrated Ray tosses the jar. "That was my piss jar!" Mickey cries. "Fuck you." says Ray. Sons, eh?
Ray Donovan is not a show that bothers to foreshadow events subtly. Throughout the episode, heavy-hitting moments are undercut by their overwhelming obviousness: Pinky goes up in flames, Conor's going to do something dumb as hell with a gun, Theresa's going to abandon Maria with Bunchy again. We've seen this coming a mile away. Never is this more apparent than when Voight does his "one last job" monologue, insisting that once he gets his hands on the money, he'll be taking Sylvie to Boston and living out the rest of his days happily ever after. He even calls her up and tells her to "pack her bags", which in TV Drama-speak is roughly approximate to "oops you're gonna have a gun to your head in, like, three minutes."
That's all not to say these payoffs aren't enjoyable, and certainly when Bill Primm shows up (Ted Levine in GLORIOUSLY garish, Scooby Doo-level costuming) and takes back his money, there's a true tension to just how easily he's going to let Mickey off.
The honest-to-God gut punch comes right at the end of the episode. Mickey, defeated, tells Ray he's going to take the wrap for some previously heinous murders that were hanging over the family, clearing the way for the rest of the Donovans. He tells Ray, "I did my best." and leaves to hand himself in to the cops. Moments later, Mickey's phone lights up, showing an incoming call from Sylvie. Ray ignores it, starts his engine, and drives off towards a better future. For him, at least.
Tom Philip is a Scottish writer based in New York. He has previously written for GQ, New Yorker, Conde Nast Entertainment, Fusion, CollegeHumor, and many others. He watches Bridget Jones' Diary approximately once a year. Find him on Twitter: @tommphilip.