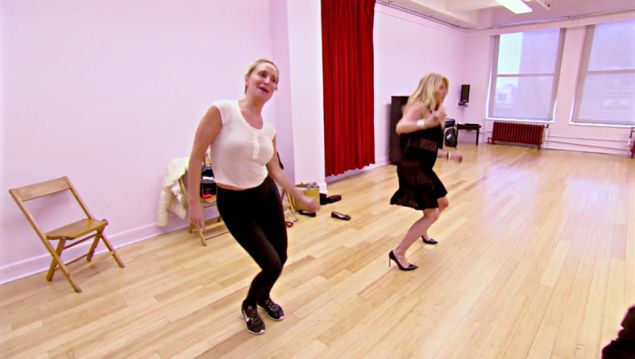 After weeks of episodes featuring her as fragile and broken-down, Bethenny waltzed right into the first scene with a swagger in her hips and color in her cheeks. For her party at Dylan's Candy Bar to launch her line of SkinnyGirl™ chocolates, Bethenny decided to go all out: she hired Tokyo Stylez – Kylie Jenner's go-to wig-master – to make her an asymmetrical, chroma-brite red wig.
And damn did she look good. She arrived in her chauffeured black car, wearing a sexy, slinky black-and-white colorblock jumpsuit that hugged her body in all the right places. She was glowing as she posed for the waiting cameras.
But not all was well. Under the surface lurked a nagging fear over her upcoming surgery. Because she was nervous about cutting open her body, she decided to get a second opinion. So she and Carole ended up in the office of a doctor, an internist, who strongly advised against jumping into surgery. She instead prescribed some sort of progesterone regimen and sent Bethenny on her way.
As Bethenny rejoiced in avoiding the knife, Jules actively pursued it. She cared about aesthetics; namely, she wanted to get her cooch back to a, "perfect little pistachio." So to get it fixed, she visited her plastic surgeon, whose nasal monotone voice was barely comprehensible (Bravo had to provide subtitles FFS).
Anyway, once Bethenny got the green light to avoid surgery, she decided to celebrate. She had a small get-together at her house with the people who had been there for her through it all: Carole, Dorinda, and, surprisingly, Ramona. Out of all of them, Ramona had been the most helpful; offering to keep Bethenny company while she read in the next room so Bethenny wouldn't be alone. It was a touching gesture, and is either a testament to the depth and length of their friendship (Ramona was a bridesmaid at Bethenny's wedding), or is Ramona's way of kissing up to the show's Queen Bee.
After the perfunctory talk about Bethenny's decision to forego the surgery, they did what they do best: they gossiped about Luann and her overwhelming self-absorption. How she's on her high horse, full of herself, and narcissistic. How she is regressing back to the days of the delusional Class with the Countess.
Armed with this information, Dorinda met Luann for coffee, and then told Luann everything the other girls had said. Because Dorinda wanted Luann to come to the dinner she was hosting, she felt that the best way to do so would be to get Luann mad. So she became this episode's pot-stirrer. It's disappointing; after a couple of Slimy Johnny-free episodes, Dorinda was starting to look good again.
But Dorinda isn't stupid, she knows how to manipulate her friends to get what she wants. After all, she learned from the best. Ramona is the queen of pot-stirring. It's one of her favorite things to do. Ramona's giddy glee over making drama happen is often entertaining because she's so crazy and shrill. But because Dorinda seems much more reasonable, and her tone (minus copious amounts of alcohol) can be measured and firm, I expected more from her.
So Dorinda got her wish, and the entire cast gathered together for Dorinda's dinner. Carole, who finally decided to take the high road and be an adult, sat down next to Luann. Surprisingly, there was no confrontation there. Since all Luann could talk about was "Tom-this" and "Tom-that," Carole politely asked about Luann's relationship, which delighted Luann – who no doubt now believes that she and Carole are back to being BFF's.
By the time Ramona walked in, the Housewives were in the midst of a loud, chaotic sex conversation; the kind of conversation Ramona would normally be involved in. But instead of joining in seamlessly, she complained about the noise and sternly rebuked them. Of course, this is due to her need to make an entrance, to have all eyes on her as she twirls into the room. But, deep down, Ramona truly is an old lady. Well, maybe not old; more like old fashioned. Like how she still uses a diaphragm, and calls her bra a "brassiere." Or how she tries to be "discrete" about the stream of men in her life.
Anyway, Luann wasted no time and reprimanded Ramona for talking negatively behind her back. But that conversation soon died out when Sonja revealed to the entire table the extent of her relationship with "Lu's Tom."
We, the viewers, have known for weeks that Sonja considered Lu's Tom to be a longtime FWB (friends with benefits). But this is the first time Sonja has really hung out with the entire group of Housewives (specifically, Bethenny). Ramona laughed, while the rest of the table's mouths were agape in shock. But Luann's reaction was strangely dismissive.
If she truly didn't care, her reaction wouldn't be so defensive. If she truly believed herself when she said, "Anything that happened before Lu, I don't give a flying leap" then she would follow through. She wouldn't talk about it, she wouldn't protest Sonja's words, she would do as Ramona did: laugh. Her insistence that she doesn't care reveals just how much she does care. The proof is this: Luann said, "Sonja's supposed to be my friend, why would she say that? She didn't have a long relationship with Tom. She had no relationship with Tom."
The repetition that Sonja had no real relationship with Tom was a matter of self-assurance. She wanted to believe it wasn't true so, for Luann, it became no longer true. Luann is a master in the art of delusion, which helps protect her from her vulnerabilities. If you delude yourself into thinking the truth does not exist, you've created your own bubble of reality, where happiness and rainbows and butterflies reign supreme.
And that's why she overreacts when the other Housewives question her relationship. Anything less than undying, noncritical praise is unacceptable because it forces her to break her delusion, to come back down to a tainted, roach-infested earth. So you cannot question the speed at which her relationship is developing. You cannot bring up Tom's playboy past or accuse him acting that way in the present. And you cannot, most definitely not, tell people that Sonja or Ramona had a real relationship that extended beyond one or two dates.
You can see that this is a façade. Her happiness is a façade, her repetition, over and over again, "I'm getting married" before she even has a ring is a façade. She knows she's getting old and that her ability to attract wealthy men is subsiding. And so this triumph is an uneasy one. One where she feels threatened by how many women he's been with before. One where she feels so insecure about Sonja's previous relationship with Tom, that she feels that Sonja is a bad friend for saying she's been friends with benefits for 10 years.
Because she has spent much of her adult life relishing in her role as a predator of desirable men, any indication that Tom liked someone else is a threat to her. She's convinced every woman (even her friends) is just like her. She knows Tom is a catch and is the most eligible middle-aged man in Manhattan. And while that excites her, it also makes her nervous about her ability to keep him around.
Luann knows she's lucky – her boyfriend has given a new boost to her life, has given her a platform to stand on. He's rich and he's handsome. Luann feels like she's won the lottery. In a way, she's looking down on them all, disappointed that they have chosen to be "jealous" of her life, when they could be celebrating her good fortune, telling her how happy they are and that Luann deserves all this.
So even though what Sonja said was benign, the culmination of everyone not being ecstatic over her happiness made her upset. So upset, that she stalked out of the room. In doing so, she proved that her claims of indifference were, in fact, false. Despite all her protestations that she doesn't care about Tom's previous relationships, despite her claims that her total and all-encompassing bliss was enough to shield her from her critics; in the end, she really, truly, deeply cares.