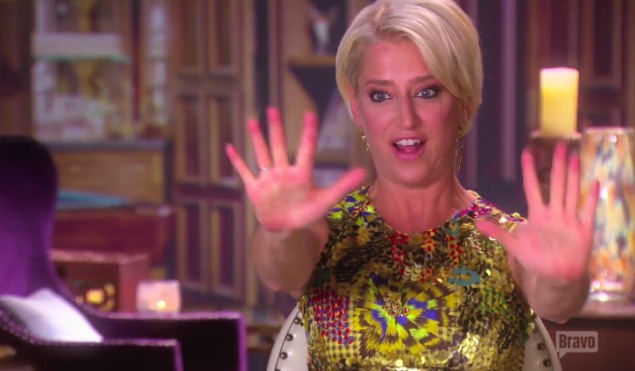 Dorinda, Dorinda, Dorinda – how far you've fallen. Last season, you were consistently great: a voice of reason, a listening ear, a calming balm to the raging storm that is the Ramonacoaster. And sure, you had your crazy moments, especially when copious amounts of booze were involved. All in all, though, you were a great new addition.
But this year, you've become a snake. You've slithered around, stirring the pot, doing underhanded crap, all so you could claw your way to the top of the Bravo social ladder. And as you've gained more and more power and reality show clout, your head size began to swell, thinking you were untouchable.
But see, you forgot that it's your second season – the season of the infamous "bitch edit." Where first season housewives that come out the other side smelling of roses, fall into the insta-famous trap of thinking your likeability was a forever sort of thing. You forgot that viewers are a notoriously fickle bunch: one minute we hate a housewife – I mean, truly and completely loathe that person – and the next, we wonder why we hated them so much before. Some are truly irredeemable, like Jill Zarin. But for most housewives, the viewers can, and do change their opinion of them.
And Dorinda, you're no different. I really liked you – really, truly. And even though you choose to be with Slimy Johnny, and even though your voice could reach excruciating decibels while screaming incomprehensible words in a heavily-accented New Yorker accent – I thought you were probably a halfway decent person to hang with. Especially when you proved your worth as the perfect little helper. You took Bethenny to the doctor, abandoning a cart full of HomeGoods goodies because she nearly passed out. You even helped poor, lonely Sonja deal with her upper crust version of Hoarding: Buried Alive.
But even as you did those good deeds, there was this nagging feeling that you weren't perhaps all that great. Your actions were subtle – there were small things you did that seemed, at first glance, innocuous, but were kind of obnoxious upon closer examination. Like the time you told Sonja she was the only one not invited to your home in the Berkshires. Like when you were dismissive of Sonja's feelings when she argued that she should have been there. And, like when you inexplicably stirred the pot and threw your "dear friend" Ramona and crew under the bus by telling Luann what they said about her.
That last thing seemed so out-of-character, came so out of left-field, that a true fan of yours could chalk it up to the nature of the show, that it occasionally shows people at their worst since the camera is always on. But this episode showed your true face, the ugly face inherent to every person willing to put themselves on this show. It revealed you to be a narcissistic, power-hungry bitch willing to step over loved ones to reach the top.
And now it's all come together. When Ramona tells Dorinda that she wanted to make Luann an engagement party, Dorinda couldn't hide her sneer. How dare Ramona try to weasel her way into making Luann an engagement party?! That should be Dorinda's domain. Dorinda set Luann up, Dorinda got close to Luann. Dorinda even proved her loyalty by throwing Ramona under the bus.
In fact, it's obvious that Ramona making up with Luann bothered her. Because it was Dorinda who lit that match, who made sure that the conflict would exist in the first place. What Dorinda didn't realize was that Ramona and Luann have an understanding that defies petty rivalries. They are both OGs of this show and understand the reality game, so they don't take anything personally. So it's easy for them to move on from fights as is necessary, or when it is convenient (or deemed strategic) to do so.
Ramona wanted to make this party for Luann despite their issues and Ramona's iffy background with Tom. This is earnest Ramona, who tries to do the "right" thing, or, rather, the "right" thing according to her own interpretation of it. Since she knows it's nice to celebrate her friends, she thinks this party is a natural extension of that. But she doesn't have the ability to see that there is a conflict of interest here, that perhaps Luann wouldn't want Ramona to throw her a party. All she heard from Luann was the go-ahead, and didn't sense the underlying social signals that it probably wasn't the best idea.
And Dorinda was pissed off. She had tried so hard to split them up. As soon as Dorinda realized that her plan backfired, she did all she could to convince Ramona to relinquish her role as "event planner." So she tried again; this time talking shit about Luann, saying how she never actually forgave Ramona. This had the desired effect. Ramona became so angry that Luann was still mad at her despite having made up, that she gave up trying to plan the engagement party. So Dorinda swooped in and took the reins – as she planned.
She also swooped in to "save" the contractually-obligated housewife trip to an exotic locale. It was supposed to be in Mexico and planned by Bethenny, but then Bethenny got sick and Bravo had to find an alternate location. So Dorinda made sure to be the one to host it, and she selected Hawaii. She announced the upcoming trip at Luann's engagement party and handed out tacky leis. It was at that moment that I realized that Dorinda had just pulled a fast one. It suddenly all became clear to me: Dorinda's plan is to be the Top Dog of RHONYC, and this trip was a way for her to slip her way to the top.
Other stuff happened in this episode too. The women managed to have a great time in Atlantic City. Dorinda led a step fitness class on the party bus down to New Jersey. Bethenny did a headstand at dinner, making everyone wonder where Lu the "snatch guard" was when you needed her. They all gambled while Jules called Michael to make sure he put money in her account. Ramonja got back together when they broke away from the other gamblers to go dancing, waving glowsticks as their bodies gyrated in unison. Jules made a Jewish blessing with the card dealer, which, coincidentally, made the cash keep coming in.
Because the trip went so well, it didn't last further than the first commercial break. Which is just as well, because Jules had the "potty whisperer" – a woman named Samantha who charges $2,000 for a guaranteed 48-hour miracle of a diaper-free future – to come over to help toilet-train Rio. I don't fault Jules for dropping some dough on that, as she has proven, on multiple occasions, her hopelessness as a competent parent. For God's sakes, she didn't know that you have to wipe front-to-back after using the toilet – I mean, that's sanitary skills 101. Forget needing a nanny for her kids – she needs a nanny for herself.
Then, Bethenny was with her assistant Julia to pack for a skiing trip to Aspen. Julia expressed concern for Bethenny going, because her whole team thought she was in denial about how ill she was. But Bethenny doesn't want to disappoint Brynn. Bethenny had such a bad childhood that the very idea of disappointing her only child is unthinkable, even if it would harm her own health.
She's also in a terrible divorce battle, where every move is judged against the other parent, and she needed to prove her worth to her daughter by not letting her down. So Bethenny justified the trip to her assistant, insisting that she would spend her time resting: Brynn would be in ski school all day, and she'd be in bed by 8:30.
As for Carole, she continued to prove that she's a grown up by going to the engagement dinner to congratulate Luann. Of course, Luann was fashionably late. But as soon as she sat down, she asked in glee – "do you guys want to see the ring?"
As everyone ooh-ed and ahh-ed over Lu's new bling, Sonja was a bit more tentative in her praise. Throughout this episode, she seemed reticent about Luann's engagement. The remarks she did make in her talking heads – the ring was too big and imperfect, that this dinner was the first she had seen Luann in a while – could be called passive aggressive.
Sonja is so conflicted. She's jealous, obviously, yet she's also genuinely happy for Luann. But underneath the subtly caustic remarks lie something deeper – Sonja feels left behind.
The past few episodes have shown Sonja picking up the pieces from her old life. After years of denial, years of partying and drinking, the combined loss of her mentor (Bethenny) and her daughter going to boarding school has finally allowed her to move on from the past. Her past as a socialite married to old-money had kept her hostage for years, prompting her to hoard every last vestige of prestige. But even though she is finally free of that and is infinitely happier as a result, she is still alone.
Sonja, in her talking head kept protesting that she wasn't jealous, but it's obvious that she was. Her tentative smiles, her trying extra hard to be excited – her jealousy was as plain and as obvious as the sun shining in the sky. She is lonely. As Luann's happiness radiated across the room at the engagement dinner, Sonja looked fragile and sad. And as they toasted to Luann's new status, Sonja fought desperately to hide the tiny frown creeping onto the corners of her mouth.