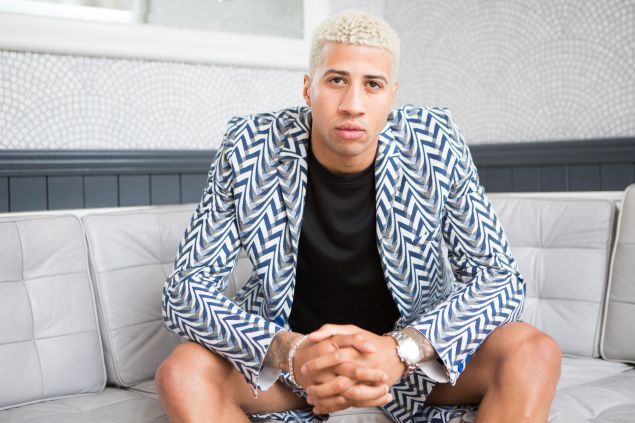 Even though he's off to Rio for the Olympics Monday, for his final stateside appearance, the six-foot-four-inch fencer Miles Chamley-Watson made it a point to pop by the International Woolmark Prize USA Regionals to show support for Rochambeau. "I'm a part of the family," Watson said of the label.  The part-time model and aspiring David Beckham was wearing a short suit from the brand's Spring 2017 collection. "I really like the edginess, you know they take risks. It also fits me really well because I'm tall and that's what I really like about the company. Nowadays everyone likes to wear oversize and long and stuff, and they do that, but they also have some tight knit clothing as well. They are very versatile."
https://www.instagram.com/p/BIEONuIDwXI/?taken-by=rochambeaunyc
That versatility and their ability to think out of the box is no doubt what helped the brand cinch the top men's prize at the event Tuesday night. After a reported seven to eight hour deliberation between a panel of judges that included André Leon Talley, Stefano Tonchi, Dao-Yi Chow and Maxwell Osborne among others, the nine-year-old company beat out contemporaries like Abasi Rosborough, Matiere, Pyer Moss and Second/Layer with a look that included a motorcycle vest made of 100 percent hand-waxed Merino wool that gave the appearance of leather, a sleeveless long cardigan and logo-printed boxer.
https://www.instagram.com/p/BIDkP4vDysY/?taken-by=rochambeaunyc
"You know there's purposefully no hardware here to give it [an] androgynous feel and we left Glen [our model] shirtless to give it an outlaw vibe," co-founder Laurence Chandler said explaining the look. The idea dovetailed with the "creatives in exile" theme from their New York Fashion Week: Men's show. "We just wanted him to be really badass." Fellow co-founder Joshua Cooper added that the look was the simplest of the options they'll present at the international competition in London come January.
"This feels great that the panel of judges felt we deserved this, but we honestly have to go back to the office after this to start prepping for tomorrow," Cooper said referring to the CFDA/Vogue Fashion Fund competition, of which the brand is also currently a nominee. "We have a seven a.m. Vogue presentation and I'm not sure the judges are going to be as kind as these were today," Chandler added. But at least that trip to the office comes with an additional 50,000 Australian dollars, courtesy of their regional award.
Relaunched four years ago, the International Woolmark Prize made a name for itself back in 1954 when it crowned Karl Lagerfeld and Yves Saint Laurent as winners. While the structure is totally different today, aligning top fashion talent with innovative uses of wool is still top priority. "Every year, each of the competitors brings such a unique perspective to the prize and to their perspective of wool," Michelle Lee, the night's host and Woolmark's Head of Americas, said. "With Rochambeau when you see that jacket, you would never think that was wool so it was about unexpectedness."
https://www.instagram.com/p/BID4IH3jwQX/?taken-by=thewoolmarkcompany
"Gabriela [Hearst] is from a Merino sheep farm, so she embodies wool naturally," Lee said of the womenswear winner, also named Tuesday night at La Sirena.  Hearst was selected by a panel that included Glenda Bailey, Steven Kolb, Julie Gilbert and Jason Wu amongst others. "Her lightweight fabrics and her take on the reversible trench was really unexpected." Hearst's designs which included a tissue thin turtleneck, reversible trench coat and high-waisted trouser beat out options from Hellessy, Monse, Nellie Partow and Sally LaPointe. Surprisingly, the list included mostly female helmed brands which are the minority in the market.
"It was very important for me to show how thin and luxurious that Merino can be," Hearst explained. "Wool has fed my family for six generations. It's great because I'm representing America, it's wool which is a yarn that I love, it's design which I love; it's all amazing!"
Rochambeau and Hearst will both compete on the international level in January. The winner of that competition for the men's and women's categories will be awarded with 100,000 Australian dollars and the opportunity to be placed in retailers like Harvey Nichols, David Jones and more.