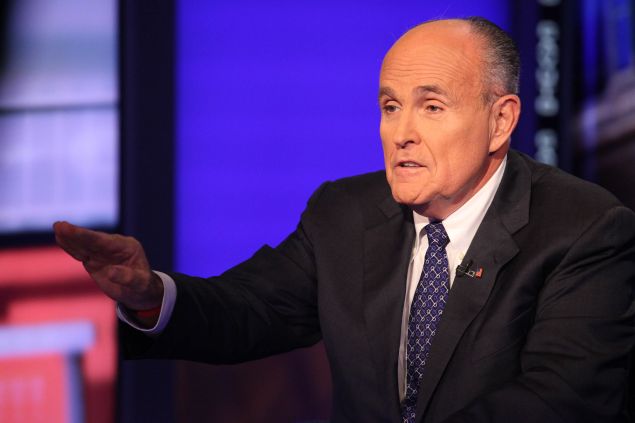 CLEVELAND—Ex-Mayor Rudolph Giuliani continued his scorched-earth campaign of controversy at the New York State Republican Party breakfast this morning, this time firing on Texas Sen. Ted Cruz, former President Bill Clinton and Democratic nominee Hillary Clinton.
Days after delivering a histrionic pro-cop speech at the first night of the GOP convention, and a week after he toured cable television blasting the Black Lives Matter movement, Giuliani turned to Cruz and the Clintons. He mocked Democratic claims that anti-abortion Republicans are waging a "war on women," pointing to the numerous—and in some cases, admitted—claims of sexual misconduct against the ex-president.
"In the last 20 years, the biggest war on women has been conducted by Bill Clinton. Bill Clinton was a predator president," the Donald Trump surrogate alleged.
The former mayor also recalled the coordinated effort to have women close to the Clintons to vouch for the Democratic leader and discredit his accusers—and accused the current Democratic candidate of leading the so-called "bimbo squad."
"They had to go scare them to keep their mouths shut. Hillary knew all about that," he said. "If Monica Lewinsky hadn't come up with the dress, they would have destroyed her. This is a woman who cares about women?"
"You think I believe that you care about the rights of women when you cover up the sexually predatory actions of your husband that would get any executive in America fired in two seconds and we put some of them in jail," he continued.
(The former mayor himself has a fraught history with women: his then-wife Donna Hanover learned Giuliani was seeking a divorce only when he announced it during a press conference; he also reportedly charged trips related to his extramarital affairs, on which his NYPD came along, to the taxpayers.)
Giuliani, a Reagan-era federal prosecutor, also returned to one of the convention's recurring themes: the prosecution of Hillary Clinton for alleged crimes related to her use of a private email server as secretary of state.
"She's going to be running to prevent getting an orange jumpsuit," he said. "I would've put people in jail for one-tenth of what Hillary did."
Several people in the room shouted "lock her up"—a central motif of the frenzied evening convention ceremonies. Federal investigators determined earlier this month Clinton had been "reckless" with her account, had mislabeled and mishandled classified information and had made numerous dishonest statements to the media about her use of the server as a candidate.
Still, FBI Director James Comey asserted that "no reasonable prosecutor" would press charges. A State Department probe is ongoing.
Giuliani, who briefly led the 2008 GOP presidential pack, also slammed Cruz for failing to endorse Trump in his speech to the conclave last night. Echoing comments made earlier today by another New York GOP leader, Congressman Dan Donovan, he labeled the Texan a "disloyal Republican" and claimed the senator's White House dreams would now never come true.
"[He] can never be a candidate for the Republican Party ever again," he said.
A number of Twitter users noted that Giuliani himself backed late Democratic Gov. Mario Cuomo in his unsuccessful bid for a fourth term in 1994—prompting future State Senate Majority Leader Joseph Bruno to label him "Judas." Republican George Pataki defeated Cuomo that fall, served three terms, and ran an abortive campaign for the presidency this cycle.
Disclosure: Donald Trump is the father-in-law of Jared Kushner, publisher of Observer Media.