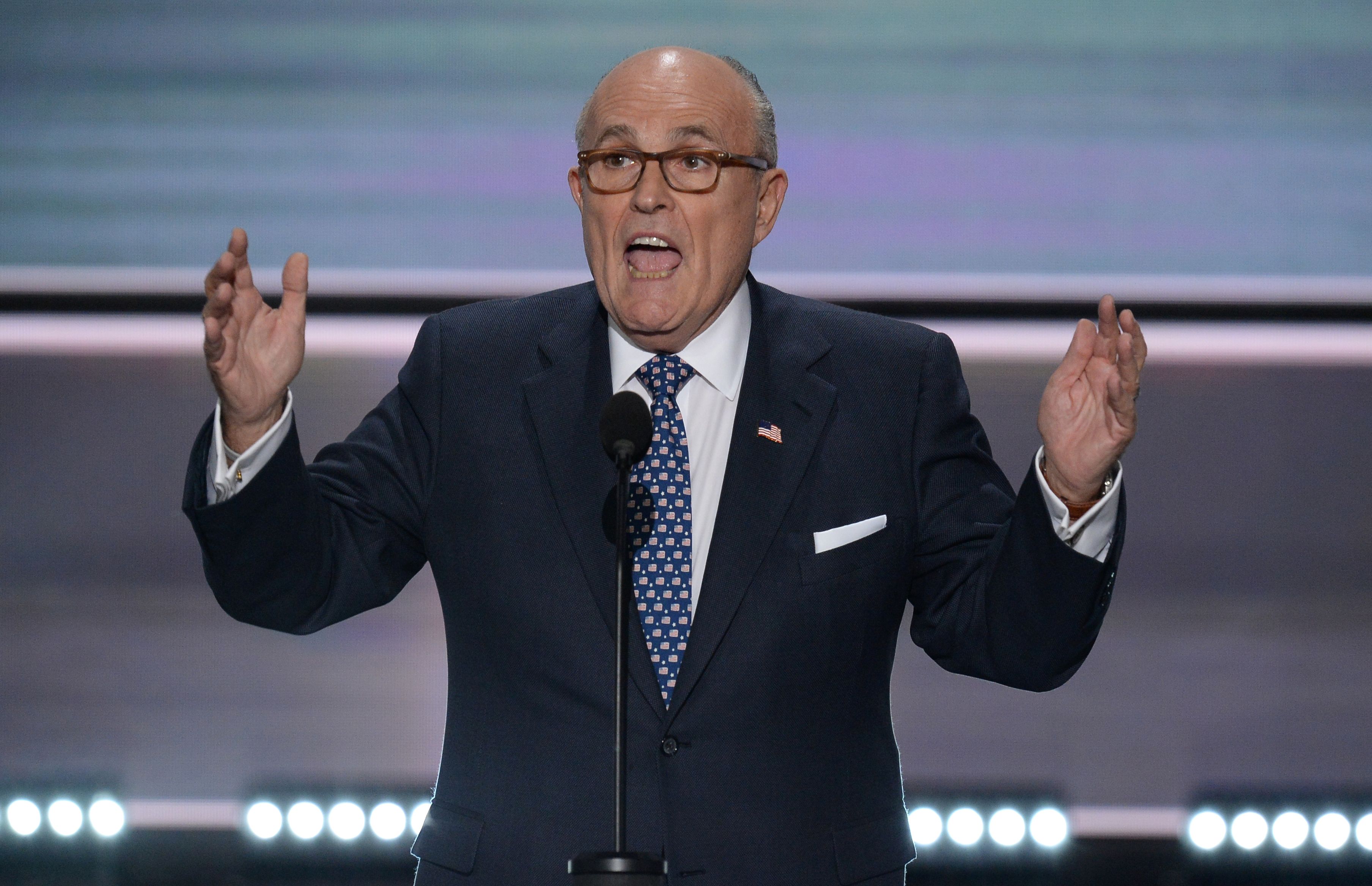 CLEVELAND—Former Mayor Rudolph Giuliani claimed to the GOP convention in Cleveland Donald Trump's administration would transform America the same way his own 1990s tenure saw a renaissance in New York City—and made a tribute to fallen police officers that drew perhaps the most raucous applause of the night.
Giuliani started his speech with a salute to his and Trump's home city, before invoking the theme of the evening: "make America safe again." The former mayor has attracted increasing acrimony from liberal critics in recent weeks, since he denounced the Black Lives Matter movement as "racist" after an African-American assassin fatally shot five cops in Dallas earlier this month.
"The vast majority of Americans do not feel safe," Giuliani said. "They fear for our police officers who are being targeted, with a target on their back."
The shooter in Texas, Micah Johnson, apparently sought to avenge the police killings of Alton Sterling in Baton Rouge and Philando Castile in suburban Minnesota—both of them black men. In the 48 hours prior to Giuliani's remarks, another black gunman—Gavin Long—killed three police officers in Baton Rouge, and a Baltimore judge cleared a fourth police officer of complicity in last year's death of Freddie Gray, an African-American.
"We pray for our police officers in Dallas and Baton Rouge, and their families," he said. "We say thank you to every police officer and law enforcement agent who's out tonight protecting us—black, white, Latino, every race, every color, every creed, every sexual orientation."
"When they come to save your life, it doesn't matter if your black or white, they just come to save you," he shouted, his voice straining, as the audience's enthusiasm reached a crescendo.
Giuliani also acknowledged the victims of police shootings and their families, but called for racial unity.
"Some justified, some unjustified. Those that are unjustified must be punished, those that are justified must be apologized to," he said. "What happened to, what happened to, what happened to there is no black America, there is no white America there, is just America?"
The former mayor, briefly his party's presidential frontrunner in 2008, claimed Trump had repeatedly anonymously offered assistance to injured and killed police and firefighters and praised the businessman's "big heart." This was apparently intended as a rebuttal of press investigations finding the Queens-born developer's lifetime donations to charity count only in the thousands.
Giuliani also rued President Barack Obama's arrangement to lift sanctions on Iran in exchange for a pause in its nuclear program, and what he claimed was the commander-in-chief's hesitance to confront the threat of "Islamic extremist terrorism."
"Our enemies see us as weak and vulnerable," he said, insisting the U.S. must demand "unconditional victory."
The remedy to these problems? President Trump, Giuliani said.
"I know we can change it, because I did it by changing New York City, from the crime capital of America to the safest large city in the U.S.A.," he said. "What I did for New York, Donald Trump will do for America!"
Disclosure: Donald Trump is the father-in-law of Jared Kushner, the publisher of Observer Media.