It hasn't exactly been an easiest of weeks for media magnate Rupert Murdoch.
After Fox News founder and CEO Robert Ailes resigned from his position amid sexual harassment allegations, Murdoch (who is now the acting CEO of Fox News), sent out a memo to the channel's employees, writing that "There's no doubt this has been a challenging time—amid the conventions and multitude of domestic and international breaking news stories, we had to face being the news last week as well."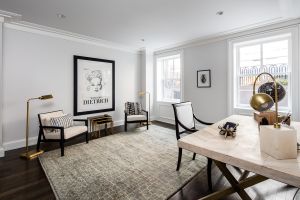 Well, at least now Murdoch has something else to celebrate this week! The 85-year-old News Corp chairman just sold his 6,500-square-foot West Village manse for $27.5 million.
The media bigwig, who married his 60-year-old fourth wife, model and Mick Jagger ex Jerry Hall, in March, paid $25 million for 278 West 11th Street last year. He must have grown bored with it rather quickly, as he put it back on the market with a $28.9 million listing price with brokers Dolly Lenz and Jennifer Lenz, of, you guessed it, Dolly Lenz Real Estate.
An entity known as West 11th Street LLC snagged the 25-foot-wide, red-brick abode, where Murdoch apparently never actually took up residence.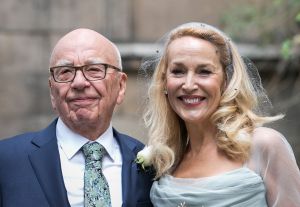 The "newly renovated and restored" pad has herringbone floors and a four-passenger elevator, because obviously, a three-person elevator is simply not large enough. For when one doesn't wish to ride the elevator, or perhaps when there's a fifth human the lift sadly cannot accommodate, there is also an elliptical staircase.
Oversized windows have been installed throughout the four-bedroom, seven-bathroom home, and there's outdoor space on almost every level. Almost.
There's a terraced south garden, of course, and the roof deck is complete with limestone pavers and a Spanish cedar pergola, and we're sure the new owner will be pleased with very impressive views of the Empire State Building to the north and One World Trade Center to the south. We do, however, recommend that before settling in, perhaps doing a quick sweep-through of the phone lines. Better safe than sorry…
Other features, aside from the townhouse's proximity to the mouthwatering cupcakes at Magnolia Bakery's Bleecker Street shop, include a breakfast room which overlooks the aforementioned three-level south terraced garden, with French doors opening up to the space. There's also a Poggenpohl kitchen that includes Miele appliances, white macuba quartzite countertops and backsplash and a Siberian white marble fireplace.
The master suite takes up the entire third floor, and the finished lower level includes wine storage and home gym, as well as a "recreation/screening room" with custom millwork.
For those who missed out on the opportunity to snag the Australian-born mogul's West Village pad, there's always Murdoch's $72 million triplex at One Madison, which is still sitting on the market. Sure, it's a bit pricier, but potential buyers of the penthouse get to call Tom Brady and Gisele Bundchen neighbors. Then again, we think we'd prefer Magnolia Bakery.