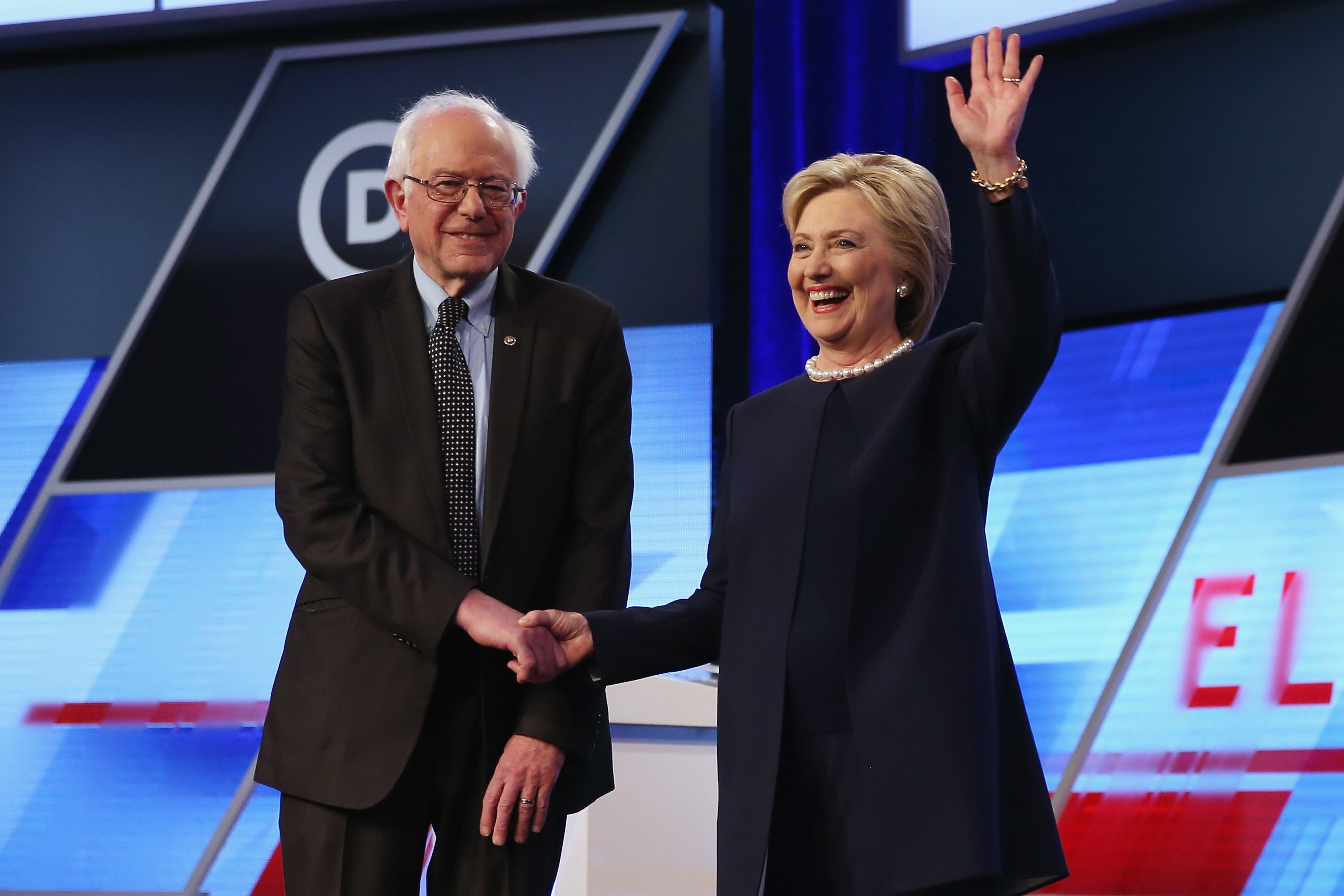 In the end, Bernie got on board.
Vermont Sen. Bernie Sanders gave his official endorsement to Hillary Clinton as the Democratic nominee for president today—putting an effective end to his own campaign for that nomination.
"Secretary Clinton has won the Democratic nominating process," Sanders said today at an event in Portsmouth, N.H.—a state where he beat Clinton in the Democratic primary. "And I congratulate her for that. She will be the democratic nominee for president and I intend to do everything I can to make certain she will be the next president of the United States."
Despite plenty of clashes on the campaign trail—a cadre of supporters who have vowed this election will be "Bernie or bust" for them—Sanders, a democratic socialist, offered a full-throated endorsement of Clinton. He contrasted her with Republican contender Donald Trump on a slew of issues—praising her on issues where they have previously differed like raising the minimum wage, climate change and criminal justice reform.
"I have come here today not to talk about the past but to focus on the future. That future will be shaped more by what happens on November 8 in voting booths across our nation than by any other event in the world," Sanders said. "I have come here to make it as clear as possible as to why I am endorsing Hillary Clinton and why she must become our next president."
Some in Democratic the party have faulted him for not dropping out sooner, as it became clear that Clinton had locked in the requisite number of delegates to clinch the nomination. But his staying in the race allowed him to translate the shift in the national conversation to the left to a concrete shift in the Democratic Party platform.
"It is no secret that Hillary Clinton and I disagree on a number of issues. That is what this campaign is about. That is what democracy is about. But I am happy to tell you that at the democratic platform committee," which wrapped up this weekend, Sanders noted, "there was a significant coming together between the two campaigns and we produced by far the most progressive platform in the history of the Democratic Party."
Even as today's announcement all but ends the possibility of a contested convention, the specter of the "Bernie or Bust" movement still lingered in pockets of boos from the crowd and signs like one reading "Still Sanders." But Sanders sought to argue that the only way forward was for that platform on which he'd worked to be enacted under a Democratic president.
"Together we have begun a political revolution to transform America," Sanders said, "and that revolution continues."
Clinton, meanwhile, thanked Sanders for his endorsement, before turning her attention to weighty issues that have dominated the last week in the news—vowing to tackle "systemic racism" that has led to deadly encounters between black men and police, and to tighten gun regulations and ban "weapons of war," like the assault-style guns used in the killing of five Dallas police officers.
She also made an appeal to Sanders voters by focusing on wages, reducing the college debt load, and protecting American jobs from outsourcing.
"You will always have a seat at the table when I am in the White House," Clinton said. "As Bernie will tell you, talk is cheap. We need to keep fighting to make sure everything we've stood for is real in the lives of people across America."
To that end, Clinton asked Sanders supporters to chip in a little cash to her campaign—requesting the amount that Sanders has repeatedly touted as his average donations.
"We accept $27 donations too, you know," she said.