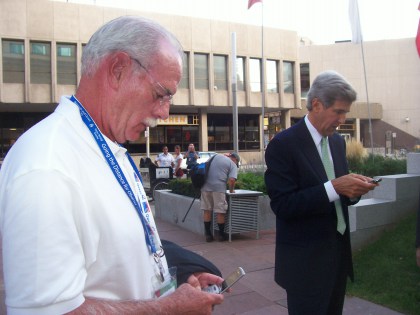 Hanging upside down from the red, white and blue festooned balustrade I tried to get a stronger leg up for a better camera position on the main stage when I lost my hand hold and went down into the crowd amid jeers.
Of course, this is the way an excited teenager behaves at a rock concert, but this was the 2008 Democratic National Convention in Denver and as a political reporter I found myself swallowed whole by that inevitably indefatigable inner nerd who had made a habit in his youth of holding people hostage while reciting the names of all the U.S. Presidents.
Having extricated myself from those dignified personages who had found themselves suddenly flattened by a falling geekazoid,  I reemerged on the main floor of the convention hall next to Brett Baier of Fox News, who looks exactly the way he looks on television only even more smug. He was looking up at Hillary Clinton and shaking his head while the former First Lady/U.S. Senator went through the requisite oratorical gyrations of demonstrating unity with her conqueror.
I found a place on the floor to continue writing what was undoubtedly yet another epic piece on the convention when I got a text message from my pal Matty Friedman, then a PolitickerNJ reporter, who told me in all caps text to get out of the hall because the Secret Service was looking for me.
Apparently I had been hanging off Joe and Jill Biden's private box when I had been trying to take that picture earlier.  Someone had evidently mistaken nerd-land fervor for a legitimate threat. Of course, I didn't want to give anyone the wrong idea about my intentions so I did what every smart and suave operative does to diffuse a situation: I fled in a blind panic, elbowing my way back through that same group that up to that point had managed to resettle without incident.
Anyway, we got out.
The next night, Barack Obama was going to be accepting his party's nomination at Mile High Stadium. I had a pass to get into the stadium, but no credentials to get on the football field where the real action was, obviously, and with the previous night's debacle hanging over me I managed to get in a shouting match with the Secret Service guy guarding the entrance way to where the real reporters freely roamed. Finally, I backed down and told him I understood that I wasn't allowed on the field. A mutual trust abided. Then something distracted him and I skirted past and down the first few steps.
I was right there, when I felt the hand come down like a steel clamp on my neck. Embarrassed for me, the agent walked me a few paces into the crowd, lecturing about trust before reluctantly cutting me loose. Wandering around the place in the lead up to Obama's speech, I tried to find a suitable vantage point.
I went up to the VIP section and started trying handles on doors, before one finally opened and I went into a Breakfast at Tiffany's style party that sat high above the stage where Barack was going to make his appearance. I was deep in a conversation with someone about politics when I felt a cold stare.
It was a delegate from New Jersey who was irritated with me because I had written a piece about her resistance to Barack Obama. She had been a big Hillary Clinton supporter, and was one of those diehard members of the so-called Group who found it difficult to back the winner of the Democratic Primary. For about three seconds I attempted to turn the scene into that bit in Casablanca, trying to summon my best "of all the gin joints in all the towns in all the world," but she wasn't having any of it. Then-Governor Jon Corzine had apparently come down hard on her for expressing anything less than full blown support for Obama, I had evidently sensationalized her comments, and now I was pretending friendly savor faire in an intimate upscale setting.
I found the door. Fast.
The sun was going down.
Obama was getting ready to speak.
America seemed well represented for the big moment, but I didn't immediately see anyone from New Jersey in the crowd. I had managed to climb up to the nosebleeds and it was while rooting around there for an empty chair that I ran into Assemblywoman L. Grace Spencer from Newark.
Obama gave a damned good speech as I recall, made more dramatic by the setting and a righteous pinpoint in history and walking out of there with Spencer into the Denver night it seemed like Democrats were headed for the White House. Everyone ended up at a downtown bar, as they always do, and I saw Michael Aron giving an interview out front on the sidewalk. The great thing about national conventions is being able to find that little sphere of New Jersey in a wholly different atmosphere.
I remember seeing Senator M. Teresa Ruiz in there dancing with Bill Payne, brother of U.S. Rep. Donald Payne (D-10). Democrats wanted unity? Ruiz and Payne had fought a brutal primary just a year earlier for the 29th District Senate seat. Now they were old pals again.
Denver was coming to an end, and that same morning, news would break of presumptive Republican presidential nominee John McCain's selection of Alaska Governor Sarah Palin as his running mate.
I got Senator Kevin O'Toole on the phone for a reaction.
"A stroke of genius," he declared.
There was barely any time to get up any content before we had to get back on the road.
Eight years ago, our media company Observer owned numerous Politicker brands around the country. It was very exciting as a political reporter to wake up each morning and get on a conference call with colleagues from Ohio, Maryland, Massachusetts, Kentucky, Pennsylvania, and Maine to find out the things they were writing about in their respective states. Now I was meeting many of those guys, and certainly the west coast reporters, for the first time. They were all frantically churning out stories about McCain/Palin with their own local twists.
The company had chartered two buses to take both the east and west of the Mississippi reporters from Denver to the Republican National Convention in Minneapolis. Along the way we would stop in Des Moines for an overnight. David Wildstein (AKA Wally Edge) was on that trip and I remember him selecting the movies for the long, corn-tapered drive across middle America: The Candidate, All the King's Men and The Last Hurrah.
The event itself, the way it was conceived, with the buses and all those committed reporters, and the movies setting the scene, reflected real creative intelligence and, at the heart of it, a genuine love of American politics.
No one at that point gave the GOP much of a chance against Bush-deflated America.
But I recall liking the Republican Convention as much as the Democrats'. More than the presidential contest, what characterized much of the drama at the hotel where the NJ delegation stayed was the rivalry between the allies of U.S. Attorney Chris Christie and biotech millionaire John Crowley.
Most believed Christie would challenge Corzine in 2009, but at the convention, Crowley was making a concerted effort to establish himself as the future of the New Jersey Republican Party. He hired a riverboat to sail everyone up the Mississippi, complete with a jug band and regional foodstuffs. When everyone was good and drunk he appeared, resplendent on deck with his wife, undoubtedly the new power couple in the constellation of New Jersey Republican politics. But for all Crowley's tasteful theatrics, Christie's allies could be spied on the stools and in the shadows.
Then-Assemblyman Rick Merkt had declared his candidacy for governor during the Democratic Convention. Now the establishment was considering Christie and Crowley. When former Governor Tom Kean climbed aboard the mini bus ferrying Republicans from the hotel to the convention center, someone mentioned to me that the boss had to decide between two qualified candidates.
There was no dour mood at the GOP convention. The insiders were looking ahead to 2009, and they had reason to be upbeat. Particularly Christie, who wasn't physically in attendance, but made his presence felt. On the last day of the festivities, someone mentioned that Bergen County Democratic Organization Kingpin Joe Ferriero was up on corruption charges. Amid depressing pineapple finery and McCain's ballooned face on a suspended bar TV set, a prominent newspaper reporter toasted Ferriero's memory to New Jersey Republican Chairman Tom Wilson.
Eyes twinkled in expectation.
Of course, we know what happened in the end.
Crowley faded into oblivion. Christie took the stage for the GOP in Jersey.
Obama resoundingly defeated McCain. Then Corzine, who had partied hard in Denver, tried to elongate the Obama parade into his own cycle, as a retiring Christie looked to put the brakes on resurgent Democrats in a blue state. It's fascinating now to look back on that process of Corzine – who'd campaigned passionately for Clinton – folding into Obama and attempting to reinvigorate a brand he had depleted here with the energies supposedly now abundant in the White House. Up for reelection after all the hoopla from 2008 died down, and amid whispers of weakness despite his most fervent effort to glob on to the O Man, the flagging New Jersey Governor's survival essentially became one of the new president's political priorities.
National Dems conceived that summer 2009 event at the PNC Bank Center when the President unveiled his vision for affordable healthcare as the staging area not only for the country's future, but for Corzine's reelection.
But as it turned out, the national parties had long ended.
A new era in New Jersey politics, inevitably related to the national stage, was about to begin.