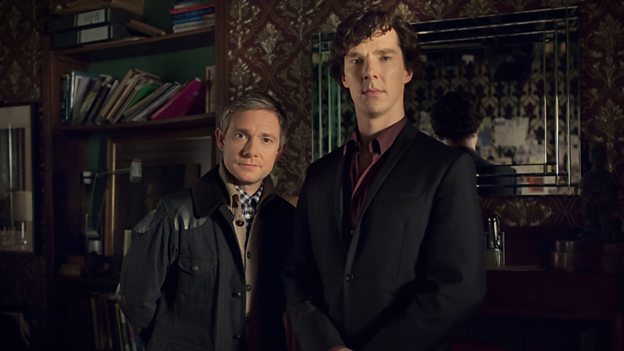 The teaser for Season 4 of BBC One's rip-roaring Sherlock came out on Sunday, and though it was slight on actual plot details, it gave viewers a taste of the departure in tone awaiting them.
Gone is the jaunty, playfully menacing theme song. Gone are the quips. And gone, too, is that comforting sense that Sherlock is consistently one or two steps ahead of the competition.
This teaser basically pivots Sherlock from Marvel to a DC vibe, with a dash of 24 thrown in. Moriarty's specter hangs over every frame, turning the usually upbeat, if thrilling, crime-solving show into what might as well be an ad for the new Bourne movie. Sure, it's spooky that Moriarty, who we saw die in no unequivocal terms back in season 2, seems to be back – but those Inception BWOMPS and fade-to-blacks are just a little grim, no?
It's always jarring to see Sherlock frazzled, but we get not one but two of the same shot of him looking positively distraught (and scraggly). We also get normally mild-mannered Mrs. Hudson hissing, "Get out of my house, you reptile!" at Mycroft. The closest thing we get to a joke is the last line ("Keep me informed," "Of what?" "Absolutely no idea,") which doesn't inspire laughter as much as fear, and also fear that Sherlock is flirting with the "gritty reboot" treatment.
Probably the most important plot-based development here is our first look at Toby Jones, who, according to both co-creator Steven Moffat and the cackling heard in the trailer, will be playing a villain. Whether he will be joining Moriarty (wait, is that him, seen from the back, on the beach?) in the rogue's gallery remains to be seen, and will depend on some drastic plot manipulations. But any additional chance to watch the maniacal Andrew Scott devour the scenery as Sherlock's arch-nemesis is a chance I'm willing to take.
The last episode of Sherlock, a holiday special released on January 1st, was England's most watched television episode over the Christmas-New Year's period, drawing 8.4 million viewers on BBC One. Season 4 is set to premiere in 2017.