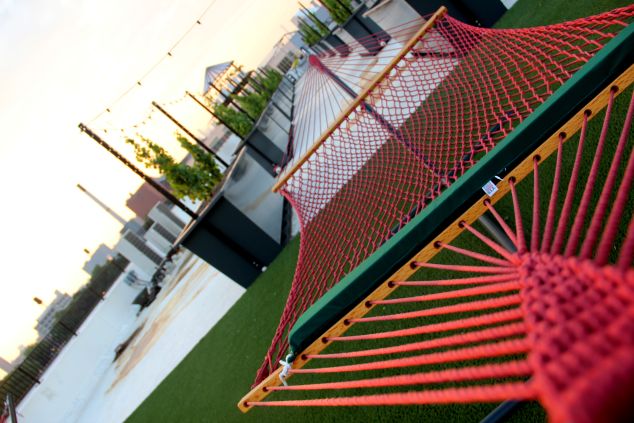 In the city and want to visit a vineyard? Head to Brooklyn.
It does, however, take a while to find. Set deep within the Brooklyn Navy Yard, make your way through the Sand's Street gate at the west end (we had to talk to the guard—don't worry, he's cool), walk past the NYPD tow pound and take a right. Then, beyond a long, sectioned wooden wall emblazoned with "post no bills" and various orange flyers depicting rather menacing skulls and crossbones, you'll find building 275. Climb four stories up to Rooftop Reds, the world's first commercial rooftop vineyard.
The vineyard, which opened in April, features both a wine bar and tasting room, which is where the Observer found Rooftop Reds founder Devin Shomaker and partner Chris Papalia on a brutally muggy evening. Both men wore shorts and displayed similar indifference to securing the upper few buttons on their shirts. Having first met at the viticulture and wine technology program at Finger Lakes Community College in Canandaigua, New York, Shomaker had two seemingly irreconcilable desires as a student there: work on a commercial vineyard and live in Brooklyn. Rooftop Reds was his way to do both. 
"We are serious about producing a commercial product from this rooftop," Shomaker said. "We are in this manufacturing hub for a reason. We want to use that and produce something that we are going to be proud of, something that New York is going to be proud of."
The 14,800 square foot rooftop holds 42 large, trough-like planters arranged in rows. Each planter is the home of four grape vines, 168 total, that tangle around the wires strung above the planters, which were custom made for the vineyard. The vines, which have already grown thick with leaves and are above eye level, will be harvested in October and the first vintage, a blend of the five traditional Bordeaux red varietals, will be available next fall. Shomaker expects a yield of 3o cases, which will be sold exclusively in the Rooftop Reds tasting room.
But the roof is not just for growing grapes. It's also a garden space that feels like an urban satire of a country club. There are four large hammocks near the southern end of the roof, along with long sectional couches, a few tables and chairs in different corners, as well as a picnic area with fake turf, a cornhole set, a ladder toss game, a projection screen for movie nights and a service window built into the back of the tasting room to make ordering a glass and roaming the grounds effortless.
"This has to make money," Shomaker explained. "It has to be a space where people want to go to, an urban oasis all focused around wine."
As Shomaker walked the rows gently removing twigs from the beds of the planters, he said producers from the Swedish version of The Bachelor had contacted him about shooting a segment on the roof (he declined). The view of the Manhattan skyline, combined with the Christmas lights strung around the vineyard, do make it a romantic setting. But over the western side of the building is a reminder of the "urban": a view of Admiral's Row, a strip of decrepit naval officer housing currently under excavation (it will eventually be a Wegman's supermarket.) "We talked about having a demolition party," Shomaker said as he looked down onto the crater of a lot and the bulldozers and excavators around its edge.
When Shomaker first proposed the idea of a rooftop vineyard to a professor at his viticulture program he was met with resistance. "He definitely did not want this to be pursued," Shomaker said. But Shomaker and Papalia, along with partners Evan Miles and Shomaker's brother Thomas, built a prototype on Thomas' rooftop in Windsor Terrace in the summer of 2013. After that, they believed a rooftop vineyard could work. A successful Kickstarter campaign in the spring of 2014 convinced the faculty at the Finger Lakes Community College as well. "What other kid in our program raised $17,000 to launch a business?" Shomaker said. They began setting up the roof on building 275 last summer.
Although an urban industrial rooftop may not seem like the ideal location to raise grapes, it does have its advantages. The reflective surface of the roof provides more sunlight to the vines than a normal vineyard would, and the airflow and elevation provide the grapes with protection from bugs and disease.
"We don't have any pests," said Papalia, who perked up when the discussion turned from the business of Rooftop Reds to the nitty gritty of rooftop viticulture. "We get so much air movement. This is probably one of the only vineyards I know of, probably the only one documented, that has no disease pressure."
But on this particular evening, air pressure was a problem. A low-pressure system was moving through; the darkening sky and heavy air threatened a scheduled cornhole tournament. Customers began to trickle into the tasting room and order glasses from the wine list, which contains wines from the Finger Lakes, as well as a few bottles of whites and rosés with Rooftop Reds labels from Point of the Bluff Vineyards, a partner. Shomaker was sure to ask the customers, mostly in their late twenties and early thirties, if they were there for the cornhole tournament. As a few drops started to fall outside he confidently asserted "It's just a passing shower is all."
Turns out he was right. By the time the tournament started around 7:30, the air was clear again. And while Shomaker kept tabs on the games, other guests lounged in hammocks or poured glasses at tables next to the vines.
"I'm just excited about this much Wednesday traffic," Shomaker said as he took a moment to survey the scene. Then he ran back to the bar to help Papalia pour wine, which, someday soon, will be roof-grown.